A fantastic documentary was done on Indian American Dr. Frank Islam of Azamgarh, India. Azamgarh is a district in the largest state of Uttar Pradesh. It is highly recommended. The below was transcribed from the documentary. It does not tell the story of or do justice to this great man named Frank Islam and his achievements or accomplishments. One has to actually see the video to feel his voice and humility. He is simple and very charismatic; few can be compared to him. He is not fooled by money or fame although he socializes with powerful political personalities and has interacted with countless heads of states or governments including Trump, Obama, Modi, and Biden. He served on Biden's campaign committee.
Frank Islam is well known in Washington circles and has close connections with White House and Congressional officials. Once can just google his name to access documentaries done on him and or on he and his beautiful wife, Debbie. Among those paying tribute to Dr. Islam in the video documentary are noted personalities: JAMIE RASKIN, US HOUSE OF REPRESENTATIVES; Speaker NANCY PELOSI; RICK ROTH, JAWAID BASHIR, SHELBY COFFEY III, CHRIS VAN HOLLEN, IKE LEGGETT, GARY SEROTTA, President Barack OBAMA, among others.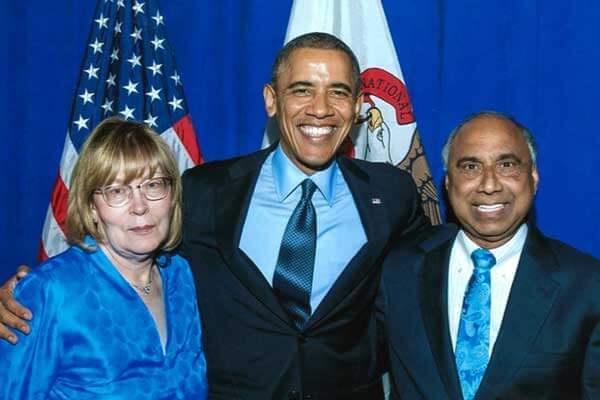 The United States of America is an immigrant nation. From the time it was established several hundred years ago, immigrants have come to America to seek the founder's promise of life, liberty and the pursuit of happiness. The American dream was first conceptualised by James Truslow Adams in his 1931 book The Epic of America where he writes: "… It is that dream of a land in which life should be better and richer and fuller for everyone with opportunity for each according to ability or achievement".
There are also new American dreamers who came to the US over the last fifty years or so. They are mainly from hard scrabble backgrounds and their children and grandchildren…. maybe second or third generation… taking the opportunity to develop their skills to aim high, to work hard, to persevere, and to succeed. Frank Islam is one of those dreamers. The documentary tells his journey.
Frank Islam was born in 1953 in a remote village in Azamgarh in Uttar Pradesh the most populous state of India nestled between Delhi and the mountains of Nepal. (Azamgarh is the district from where hundreds of thousands of immigrants were recruited as contracted indentured laborers (girmits) and shipped to far flung places in the Pacific, Indian Ocean, Caribbean Sea, Africa, Asia, and South America).
Frank was the eldest of six children. The Islams were a distinguished middle class family that emphasised education, optimism and the value of hard work. Frank received his formative education in Azamgarh. Later, he enrolled in Aligarh Muslim University (AMU), one of the highest quality educational institutions in India. There, he pursued his studies in computer science. This was a pivot point in his life, building on the values imbued in him by his family Aligarh Muslim University played.
A chance meeting with a visiting professor gave him the opportunity to study abroad. 1969 with only a few hundred dollars in his pocket, Frank was preparing to leave India for America — in pursuit of expanded opportunities in the field of computer science.

Frank chose to leave his close knit group of friends and close knit family because he knew time and America was essential to acquire the knowledge skills and opportunities to succeed in business. Departing India was an emotional moment.
Frank supported himself by working at fast food restaurants like MC Donald's and Shaky's pizza. The loneliness was hard at first but the University of Colorado was welcoming and he built friendships including one with Jawaid Bashir.
Frank's thesis advisor suggested he pursue a PHD degree at MCMaster University, Hamilton, Ontario. After a short time, Frank concluded that PHD was not for him and went to work for an Information Technology consultancy firm. There, he met Debbie Driesman who was employed as a programmer
Frank and Debbie were married at Pittsburgh Pennsylvania in 1980. Two years later, they moved to Washington DC where they both found jobs at Computer Science Corporation (CSC), a large government contractor.
In 1988, Frank left CSC to work at Raytheon in aerospace engineering and systems integration mostly related to NASA space programs and satellite communication engineering. In 1994, Frank risked his life's savings to buy a company that blended engineering, science and information technology. Later, he sold his company.
Consistent with his vision, values, and commitment to teamwork, Frank distributed roughly 40 million dollars from the sale of the qss group to nearly 5 dozen of its key executives. Frank used his part of the sale to change the course of his journey transitioning from entrepreneur to philanthropist and civic leader to what he calls the most meaningful aspect of his life.
The foundation's focus includes education, arts and culture — areas that are near and dear to their hearts and to the future of the American dream. Here in the US, Frank and Debbie have supported countless educational institutions. In India, they contributed 2 million dollars to build the Frank and Debbie Islam Management complex at AMU, his Alma Mater.
Other beneficiaries of the foundation include the Kennedy Center in Washington D.C, and The US institute for Peace. The latter works to get ahead of crises and focuses on how to prevent, resolve, mitigate violent conflicts. Frank's personal journey has attracted him to USIP.
In addition to his substantial philanthropic investment Frank is fully invested in civic engagement.. individual organisational community social and political.. all contribute to making the American dream a reality for all citizens.
Frank also writes for the Huffington Post on issues that are important for America and Americans. In these contentious times in America community engagement is essential bringing all points of view forward and fostering understanding among disparate groups. He also writes commentaries in several other publications internationally.

Islam was helping his homeland and his country when he joined President Obama's delegation to visit India and meet Prime Minister Narendra Modi.
Frank has received many honours including the Martin Luther King Junior International Service Award and induction into the Montgomery County Maryland business hall of fame.

In the early 2000s Frank and his wife Debbie began to lay the foundation for what would become Norton Manor, his foundation. It would serve as a meeting place for prominent American and world leaders to advance charitable, community, social, and political causes. Norton Manor is symbolic of America's great diversity and the contribution of cultures from all over the world, a first floor in the French neo classical style, a rotunda like the Capitol hill dome, the elms of Newport Rhode Island built by Vanderbilt, a reflecting pool similar to Taj Mahal in India, Murals in the manner of Italian Renaissance landscapes, and there is inspiration from Muslim architecture.
Norton Manor is a launching pad, a place at which new dreamers can get the support they need in what has become increasingly difficult times. New immigrants enrich America in many ways. Research shows that immigration contributes on average more than 50 billion dollars a year to the economy. Some 44 percent of tech companies between 2006-2012 had an immigrant founder and created hundreds and thousands of jobs according to the Coffman foundation.
Frank Islam is a new American Dreamer, one of tens of thousands of new American dreamers who are making the Great American nation a bigger, better and braver place to be.