Jean-Bedel Bokassa, Idi Amin and David Granger have one thing in common- they are military men who took power by force and made a mess of it.
Bokassa and Amin are not with us. They have been big disappointments for their people and were driven out of office. Granger has once again rigged an election to reinstall himself in power. His reign over the past five years has been disastrous and the people rejected him. But that was not enough to move him out of office. Now he has illegally retained power. His only hope is that his CARICOM colleagues will endorse his reign of terror now that the international observers have left Guyana in frustration, calling for sanctions against his government.
Bokassa came to power by a military coup in the Central African Republic in 1965. After ten years he declared himself an emperor after Napoleon 1 and changed the name of his country to Central African Empire.
His economic policies were centered around nationalization of farms and other private enterprises that finally failed because of poor management. It took the intervention of the French to remove him from office.
Accused of cannibalism and feeding the flesh of his opponents to wild animals, Bokassa was forgiven for all the atrocities committed by the then President on the 50th anniversary of Independence much to the shock and chagrin of the world.
Idi Amin came to power in a military coup in 1971 in Uganda and was brutal to his opponents. Reputed to be guilty of cannibalism, Idi Amin was a buffoon. Indians were expelled from the country and their shops were given to Amin supporters. In less than three months, the businesses had no stocks and were finally abandon.
Removed from power by an invasion of troops from neighboring countries in 1979, Amin fled to Saudi Arabia where he was granted asylum. On news of his death in 2003, Indians in the UK, victims of Amin's racist policies, were nonchalant, indifferent and unruffled.
David Bokassa Amin Granger came to power in 2015 in Guyana and five years later is being accused by his opposition and international observers of rigging the March 02, 2020 General Elections and declaring himself President for a 2nd term.
Commander of the Defense Forces, David Granger supervised the rigging of elections under dictator Forbes Burnham and played a diabolical role in undermining democracy of Guyana. The economy of Guyana collapsed under the Burnham dictatorship. More than half the Guyanese people sought asylum abroad. Many opponents were murdered, imprisoned and forced to flee the country to save their lives.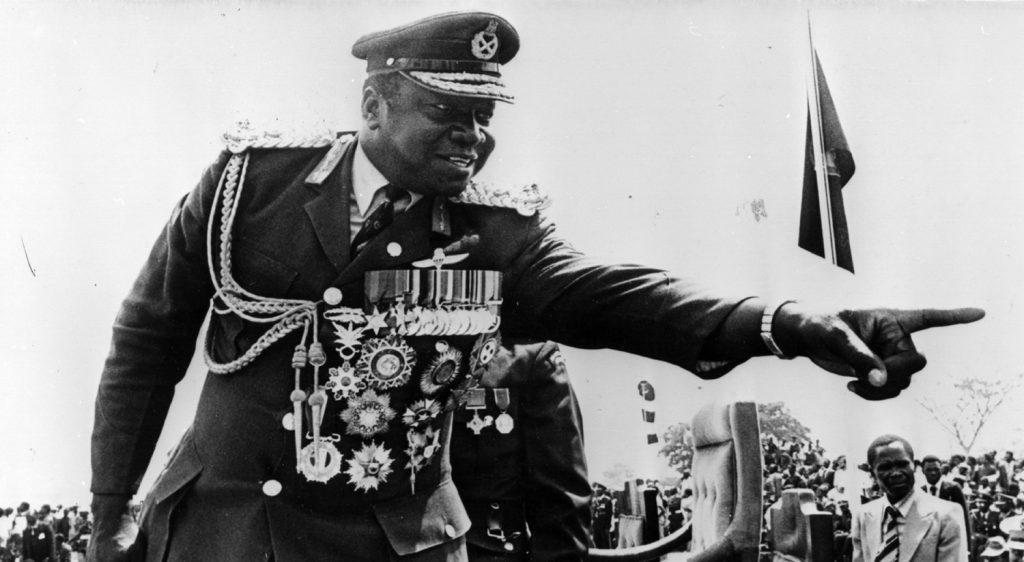 1964 was a grim year for Guyana. In addition to the bombing, arson and looting in Georgetown, there was the Wismar Massacre of May 26 when Indian families in the village of Wismar were beaten, murdered, raped, their homes looted and burnt to the ground with a black police force failing to act and no intervention from the military to arrest the situation.
Afro-Guyanese formed 95% of the military and police in Guyana and are pro-PNC. Following the Wismar Massacre, Janet Jagan, Minister of Home Affairs in the Cheddi Jagan government, resigned in frustration because senior police officers refused to act.
The electoral system was changed from first past the post to Proportional Representation to make it easier for the PNC to win. The British did not want to leave Independent Guyana in the hands of heathen Indians. In 1964 the United Force teamed up with the PNC and formed government. In 1966 Independence was granted on the anniversary date of the Wismar Massacre. (Despite the PPP/C being in power between 1992 and 2015 they failed to shift the date of Independence away from the sordid and apocalyptic massacre of innocent people at Wismar.
David Bokassa Idi Amin Granger is not only incompetent but abundantly foolish. Does the world need dictators like Bokassa and Idi Amin today? The answer is a big fat NO! The era of the Cold War is no longer with us. The reality is that Granger is not driven by right wing or left wing ideologies. The truth is, Granger is a BLACK SUPERMACIST.
In 1970s when Black Power erupted in the Caribbean, the wider world was in awe. They failed to understand why independent countries of the Caribbean with majority black populations and leaders should be clamoring for BLACK power. Following 1970 foreign owned firms in T&T including Texaco, National Flour Mills, etc were nationalized. In Guyana BOOKERS left and GUYSUCO took charge. Black supporters were given positions in management with large salaries, perks and entertainment and travelling allowances.
Guyana has no future with a BLACK SUPREMACIST as President. The windfall from oil would trigger a culture of state dependency, a rapid rise in the food import bill and the demise of agriculture. The solution to the Guyana problem ______________________.