January 2020: It is now slightly over a year since the first edition of Sanatana Dharma and Plantation Hinduism: Explorations and Reflections of an Indian Guyanese Hindu, written by Dr. Ramesh Gampat, has been published. The author, a former economist attached to the United Nations, spent considerable number of years abroad advising countries on economic and human development. 
Dr. Gampat builds this book upon considerable and painstaking research that required him to make several trips to Guyana and engaging many people schooled in Hinduism, both in Guyana and elsewhere.  He spent weeks gathering data in the National Archives. He also obtained information from talking and consulting with scholars and ordinary Hindus throughout the country, including members of his own extended family who are devout Hindus. He gratefully acknowledges the contributions of others in guiding and influencing and in planting ideas that ultimately influenced his writing on Hinduism and his thought process. 
The author comes from a deeply religious Hindu family and learned much of what he knows about Sanatana Dharma Hinduism from his extended family. To supplement his knowledge, the read extensively and familiarized himself with the Hindu scriptures (Shastras in Sanskrit). When he lived in Delhi, India, while working with the United Nations, Dr. Gampat was a frequent visitor to the Ramakrishna Mission and the Chnimayananda Mission to learn more about Santana Dharma. He listened to discourses, asked questions, purchased and read several very excellent commentaries on the Upanishads, Gita, Vedas and Sanatana Dharma in general. Most of the books he used were purchased in India and Sri Lanka – these comprised an enormous part of his research materials. And he interacted with and lived among Hindus in America. His experience in Guyana and abroad provided him with the background to pen this book. 
This book on Hinduism in Guyana is original and seminal. There exists none of its kind on Hinduism in Guyana or in the region or in the West. Such a book is long overview. It is comprehensive, well researched, and well written. It is a timely, if controversial, discussion of a local Guyanese or "West Indian" brand of Hinduism, brought from India to the region and adapted to alien surroundings.  We are happy that he is able to publish a second edition of the book. 
The author, in an interview, said research for this book began in 2012 and it was published in 2019. His motivation for writing the book was grounded in his Hindu upbringing.  He said: "I came from a very religious family and several of my family members are vegetarians.  I learned Hinduism from my father and from Aja and his brothers, among others.  My father did not see-eye-to-eye with most pandits and most of us saw pandits as religious salesmen.  Then there was the influence of Swami Aksharnanda, Ravi Dev and Somdat Mahabir, in addition to considerable studying of the Shastras." When working on the book, he said he brooded, meditated and asked Divine Reality for guidance. "I read at least one shloka from BG early every morning and would be inspired.  I saw issues in a new light and developed a deeper and more nuanced understanding of Hinduism. During our annual baithak  or get together (with Swami ji and Somdat ji) at my home, my work on the book would come up. These discussions were great.  Then, when I had a relatively clean draft of the book, I sent it to a UN colleague of mine, who is a Vedantic scholar.  Based on her feedback, large parts of the book were rearranged and rewritten".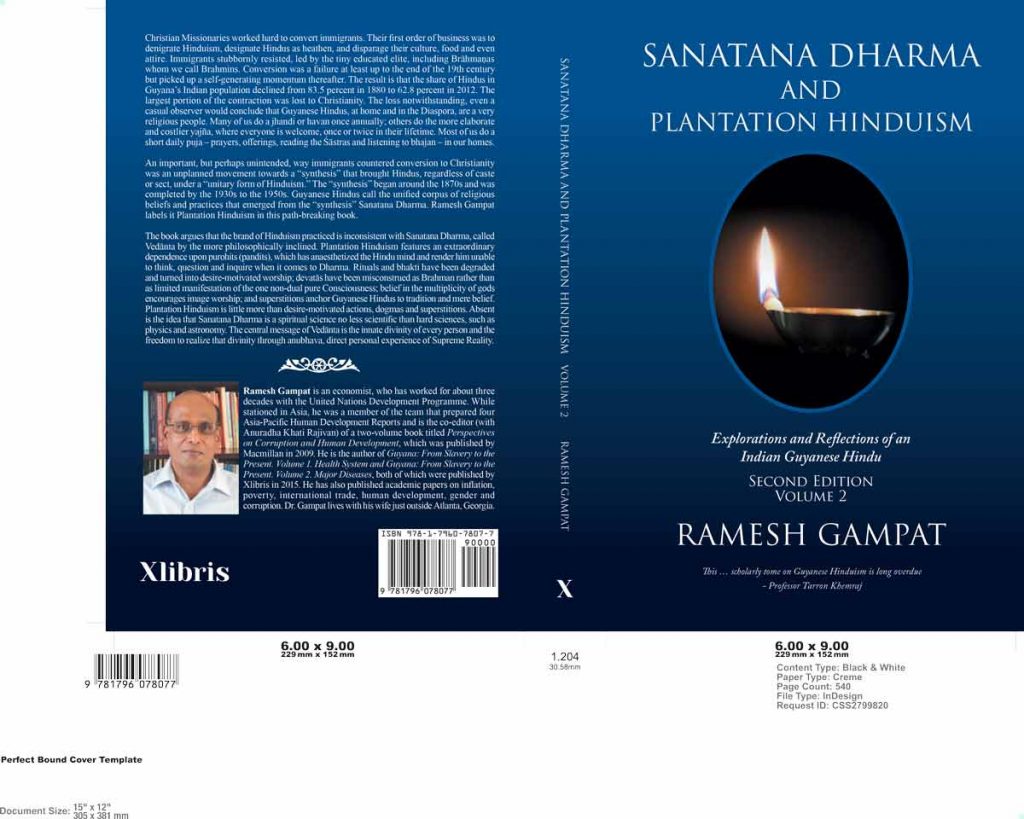 Sanatana Dharma is the world's oldest religion dating back thousands of years and and a rich historical background, with an equally rich culture and that has countless festivities, customs, and rituals, all intended to emphasize certain aspect of Hinduism. Hinduism is very vast, but the author focuses on practices that are penned in the religious books or shastras, and he feels the practices in Guyana deviate from these.  
This remarkable book prompted Professor Tarron Khemraj to write in his review "This … scholarly tome on Guyana Hinduism is long overdue." Dr. Somdat Mahabir wrote that "Dr. Ramesh Gampat's book is a must read for anyone interested in religion and culture," while Dr. Kumar Mahabir said, "Truth be told, this is a book with 'no holds barred.'" 
While an important and timely work, the book has not been free of criticisms. Most of the criticisms, when the book first came out, centered around the fact that the print size was very small. That made for a frustrating and irritating read.  For the elderly or those whose eyesight may be impaired, reading the book was a challenge.  Another issue was that the paperback version of the book did not open completely flat as do most books. This means that the end of sentences on one page and the beginning on the other page can barely be read. These two problems detracted from the utility of the book and were perhaps a turn-off for many readers. 
In terms of substantive criticisms, some people saw the book as too scholarly and pedantic; the book is indeed very academic and scholarly with serious research. Some readers saw the book as a veiled criticism of the way Hinduism was practiced and an attack on pandits in particular. Still others said the book is not sufficiently historical and comprehensive.  My reading of and commentary on the book does not agree with these "substantive" criticisms. However, Dr. Gampat's expectation that purohitas (pandits) would take issue with him did not materialize – as yet. 
Dr. Gampat has listened to criticisms and has brought out a second edition of the book. As he, himself, has accepted, it is beyond the scope of one book to include all that is to be learned about Hinduism in Guyana, considering the many practices and spiritual texts that belong to Hinduism. The author has decided to re-publish the book, and has divided it into two volumes to make it more manageable to read.The second edition, then, breaks the book into two:  Volume 1 covers Chapters 1 to 10, while Volume 2 covers chapters 11 to 18.  The font size is much, much larger but other changes have been made to enhance readability.  These include: the layout of the book, corrections of typographical grammatical missteps, fixing some tables, and re-making of some figures to make them more readable, illustrative and less confusing.  
In terms of substance, the content and issues raised in the book remain unchanged.  As I have reviewed the first edition of this book and since the second edition did not alter the substance in any significant way, this review will of necessity illuminate issues not addressed in my initial review of the book. (My first review was done in early April). 
Volume I takes the reader on a historical journey starting from the arrival of Indian immigrants on the sugar plantations. Dr. Gampat explains his motivation to write the book, discusses issues such as Indian immigration, caste and religious composition, the distinction between caste and jati, efforts to convert Indians to Christianity, literacy rate of Indians, why early Indians refused to send their children to school, how Christian Missionaries saw Hinduism, diversity of religious traditions, shared values, and how Hinduism was opened up to all castes.  The author calls the opening up of Hinduism to all and sundry the democratization of Hinduism.  
Perhaps presaging the very practical essence of Sanatana Dharma, Volume 2 opens with a powerful discussion of bhakti and murti. Other chapters take on karma, rituals and superstitions, gods and reincarnation, and also addresses the question of whether purohits (those performing rituals) can be pandits (priests) and entrepreneurs or both rolled into one. This 2nd volume also discusses the four purushastras (four values that guide life) and the distinction between Brahman, Brahma and Brahmana (Brahmins).  The last three chapters focus on Vedanata (the pinnacle of Sanatana Dharma), Ramanuja's view of reality, which is counter to that of Shankara, while the final chapters ask what are the issues that plague the Hindus Samaj and offers suggestion for fixing the issues identified. Throughout Volume 2, Dr. Gampat focuses on what the shastras says about various issues like bhakti and karma, and contrast these precepts with what Guyanese Hindus understand, believe and practice.  
The author analyzes names, castes, and physical characteristics of immigrants. From a sample (388) of historical records for the years 1874, 1888, 1890 and 1898 drawn from the National Archives, Dr. Gampat finds that 52.3 percent of the sampled immigrants carried the same or similar sounding-names, such as Sadhoo, Sadho, Dookhy and Dukhi. Mean height of adult male immigrants was slightly less than 5.5 feet; that of female immigrants just under five feet (59.7 inches).  There were five immigrants in the sample whose names were listed as "Persaud," Pershad," "Pershadi," "Purshad," and "Purshad." Interestingly, the immigrant with the name "Persaud" was a "Chamar," rather than "Brahmin." "Pershadi" was a "Lodha;" Pershad" a Noonia, one of the "Purshad," a Teily; the other a Koormee. An important, but perhaps unintended, way immigrants countered conversion to Christianity was an unplanned movement towards a "synthesis" that brought Hindus, regardless of caste or sect, under a "unitary form of Hinduism." The "synthesis" began around the 1870s and was completed by the 1930s to the 1950s. Guyanese Hindus call the unified corpus of religious beliefs and practices that emerged from the "synthesis" Sanatana Dharma. Dr. Gampat labels it "Plantation Hinduism" in this path-breaking and provocative book. 
Dr. Gampat argues that the brand of Hinduism practiced by Guyanese Hindus is inconsistent with Sanatana Dharma, called Vedānta by the more philosophically inclined. He contends that plantation Hinduism features an extraordinary dependence upon purohits. This dependence, he feels, has anaesthetized the Hindu mind and render them unable to think on their own, question pandits on practices, and inquire about dharma.  He says Hindus rarely read the scriptures and are too willing to believe whatever purohitas and others tell us in the name of Hinduism. They do not inquire, ask questions, ponder and reflect upon the purohitas' discourse – or anyone else for that matter.  They do not endeavor to ascertain the truth of religious discourses on and statements about Hinduism, many of which are incorrect, misleading or both. 
Dr. Gampat goes on to say that the mind of Hindus has become closed as far as Hinduism is concerned. While they areknowledgeable, competent, competitive and acquisitive as any other people in the secular world, they become submissive and too accepting when it comes to religion.  This may be a factor that aids conversion to Christianity. 
Drawing upon the Bhagavad Gita and Upanishads, Dr. Gampat writes that Hindus have discarded the very method of religious learning taught in the Shastras: listening carefully, asking questions, clarifying issues, digesting and reflecting on what was discussed.  They make no attempt to compare discussions and discourses with what the Shastras say, and they practice what was lectured to them in the discourses.  In fact, Dr. Gampat argues that the messenger (the preacher, including purohitas) does not himself practice what he preaches, which raises a deeply troubling moral issue. His or her message is meant for others to practice. This is contrary to what the Shastras teach. 
He contends that rituals and bhakti (devotion) have been degraded and turned into desire-motivated worship; devatās(Gods and Goddesses) have been misconstrued as Brahman rather than as limited manifestation of the one non-dual pure consciousness. He also states that belief in the multiplicity of gods encourages 'image' (murti) worship; and superstitions anchor Guyanese Hindus to tradition. Plantation Hinduism is little more than desire-motivated actions, dogmas and superstitions.  Absent is the idea that Sanatana Dharma is a spiritual science that is no less scientific than hard sciences, such as physics and astronomy. The central message of Vedānta is the innate divinity of every person and the freedom to realize that divinity through anubhava, or direct personal experience of Supreme Reality. 
Dr. Gampat has done a great job at shedding light over some cultural practices of Hinduism in this solid history and commentary of Hinduism in Guyana. I am most impressed by the vast amount information and research conducted to produce this masterpiece. This book is highly recommended to anyone interested in understanding Hinduism as practiced by people of Indian Caribbean decent not only in Guyana and the greater Caribbean region but also in the USA, Canada, UK, Holland, as well as parts of India and other areas of the Indian diaspora. Even those who are well-versed with the concepts of Hinduism may take something of value from the book. Dr. Gampat may be reached at Ramesh.gampat@gmail.com