Pandit Ram Hardowar, spiritual leader of Shri Surya Narayan Mandir of Jamaica, Queens, and who is also President of Federation of Hindu Mandirs in New York, was praised lavishly, and rightly so, for his humanitarian, cultural, and community work by other spiritual and community leaders as well as members of the Surya Mandir at a commemorative service held recently at his mandir.
Pt Ram's benevolence was publicly acknowledge on the occasion of his birthday that was held at the Surya Mandir, 172nd Street, off Jamaica Ave.
Pt Ram is also a Geotecnical Engineer by profession and worked for about 10 years in Guyana as an engineer with the Ministry of Agriculture.
When others would opt to have a big birthday bash at a catering hall with the full works of drinks and food, Pt. Ram 's family commemorated his birthday with a "puja" at the mandir with devotees and a sleuth of religious and community leaders. Pt Ram also donated money to several charitable causes both in New York and overseas.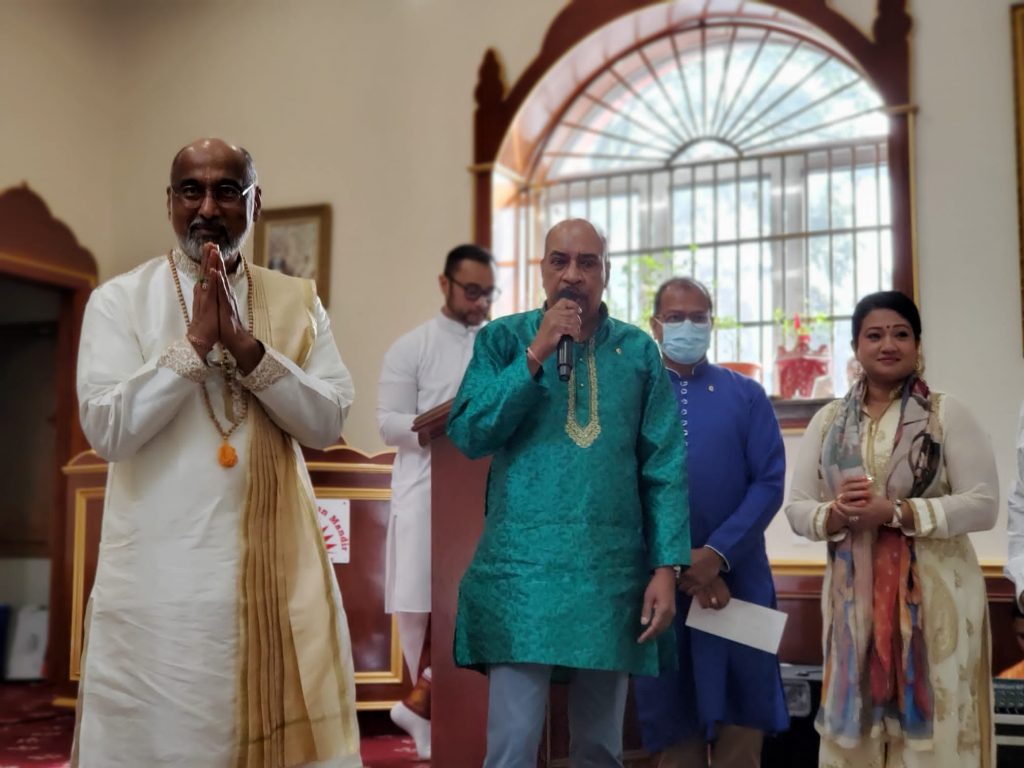 At the mandir devotees and religious and community leaders from other mandirs and organizations paid glowing tribute to Pt. Ram for his generosity as well as for his stellar leadership of Hindu organizations and the existing Surya mandir founded by his late father, Dharmacharya Hardowar.
As a mark of esteem that he is held, in October, 2021 Shri Surya Narayan Mandir was visited by the Prime Minister of Guyana and several Ministers of government as well as staff from the Guyana Consulate in New York. Just prior to the 2020 regional and national elections in Guyana, the PPPC presidential candidate, Hon Dr Irfaan Ali paid a courtesy call and congratulated the Pandit and the Mandir for their magnificent contribution to humanity.
The mandir program on the occasion of the birthday of Pandit Ram was emceed by his son Vishal. His other son Dr Anand thanked his father, Pt Ram and mother for bringing them up according to Hindu traditions.
The Mandir's outreach, SOS (Surya Outreach Seva) used the occasion to make several donations to charitable organizations and causes. Pandit Ram explained that in Bhagwat Gita Chapter 17 verse 20 Lord Krishna states: 'Charity given to a worthy people, simply because it is right to give, without consideration of anything in return, at the proper time and in the proper place, is stated to be in the mode of goodness'. Pandit Ram has been intensely determined to do charity for the poor, the homeless, and the elderly. As he consistently expounded in his kathas, people must see the lord in others and help others in need and those who are less fortunate. The Hindu scriptures say to give generously and the pandit lives by those words in the scriptures.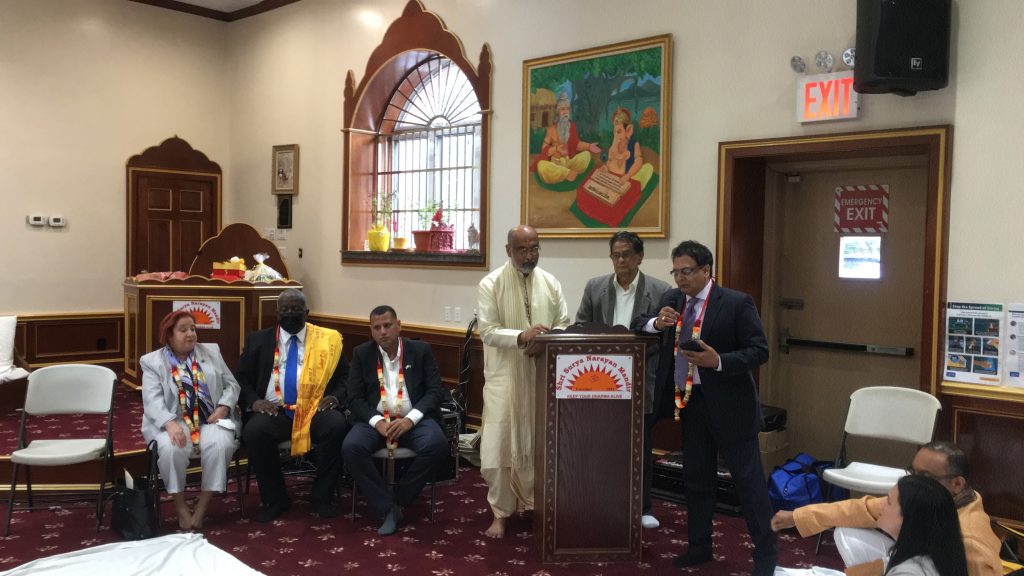 Among those organizations that he donated funds to are: Queens Lion Club, Pandits Parishad scholarship fund, Campaign against Hunger located in Brooklyn, GUYANA FOOD DRIVE, GUYANA CRABWOOD CREEK SHIVA MANDIR UPGRADES – KITCHEN AND A/C UNITS, ASSISTING THE VICTIMS OF THE HOLLIS FLOOD. In addition, a $750 a year scholarship was set up for studies in the arts and culture and in the memory of Rita Persaud who was killed in a road accident in Ozone Park in December 2020. Vishal also listed several charitable projects – both locally and internationally- that the Mandir has been conducting. All these have been done under the leadership of Acharya Ram Hardowar.
Community leader, Dr. Tara Singh, noted that "helping others is considered as one's duty. Acharya Ram has historically been very generous to Hindu and other causes in Jamaica, Guyana, New York and elsewhere. He is a great role model for other leaders. There are not many leaders like him in our community".