It is time that the religious heads and gurus of the community pronounce edits for the followers of Sanatan Dharma to follow. If those ground rules are not laid down, the community would continue to degenerate much to the detriment of the whole. Our pandits, archaryas and dharmacharyas must exercise a duty of care for the welfare and wellbeing of the community.
The recent killing of Pandit Rishi Bharrat of Guyana by youths who were under the influence of alcohol is an indictment against the Hindu leadership in the Indo Caribbean community. Despite this murderous act, not much have been said or written about it except an article by Ramnarine Sahadeo (www.icdn.today. https://icdn.today/death-of-a-hindu-priest-noise-and-alcohol/). Is the Hindu community numb to social issues that threaten its survival?
The Hindu community is under siege in the Caribbean, the diaspora and globally including India. Numerous forces are working both within and without to destroy the Hindu civilization. Despite this, too many of us naively go about our lives like children-at least children know their parents and elders are supposed to be looking out for them!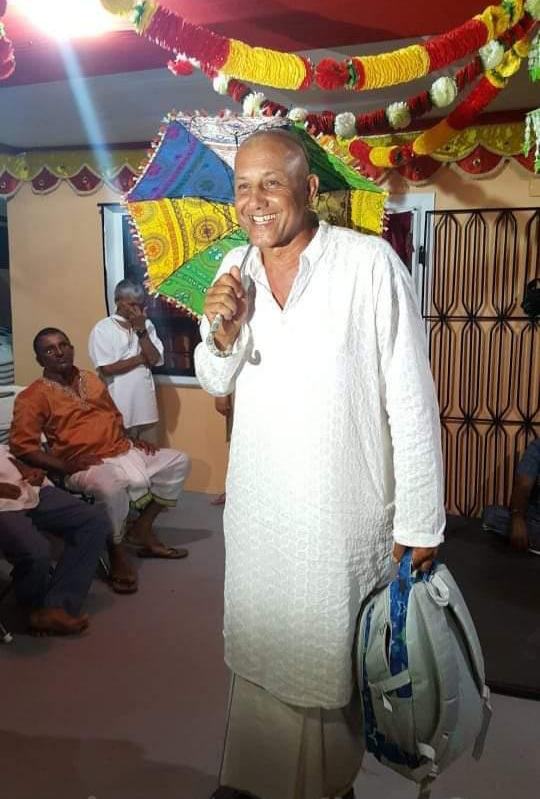 Our scriptures have cautioned us to focus on dharma, that is, to live righteously with moksha or liberation as our goal. Our dharma also gives us the freedom to pursue wealth (arth) and pleasure (kaam) but not at the expense of dharma and moksha. Unfortunately, we have marginalized dharma, put moksha on hold and are in hot pursuit of wealth and pleasure. Kaya, piya, mough karo (eat, drink and merry) have become our watch words.
Sai Baba has likened dharma to the foundation of a house. He said that when a house does not have a strong foundation, the walls are going to collapse and destroy the family. Is that not the challenge that our Hindu families are faced with today- a weak dharmic foundation and a growing number of dysfunctional households?
Dharma should be used as a filter to screen our actions- not every whim and fancy should be entertained. Sri Krishna said: "Therefore, let the scripture be your guide in determining what should be done and what should not be. You should perform your duty following the scriptural injunction." (B.G. 16:24)
Unfortunately, in our haste to copycat what is in vogue, we have abandoned our duty to protect dharma to our destruction. It is said: dharmo rakshata rekshataha-protect dharma and dharma shall protect you. Here is the full sloka or verse:
Dharmo eva hato hantee dharmo rakshati rakshitaah |
Tasmadhrmo na hantabhyo maa no dharmo hatovadhit

धर्म एव हतो हन्ति धर्मो रक्षति रक्षितः
तस्- माद्धर्मो न हन्तव्यः मानो धर्मो हतोवधीत्

Roughly translated into English as:
Dharma destroys those who destroy it, Dharma protects those who protect it.
Dharma does not destroy and cannot be destroyed.
Brahmins or teachers uphold dharma not just by transmitting knowledge but by their life-style. Here are some quotes about duties, goals and conduct required to be a Brahmana: serenity, control of the sense, austerity, purity, straight-forwardness, knowledge, insight, and faith in the Supreme Being – these are a Brahman's duties born of his own nature. (BG 18:42)
Our Brahmin are the role models for the society. More than that is that a Brahmin is supposed to correct others, not the other way round. A story is told of a Brahmin who strayed from his duties and the villagers never attempted to correct him. As far as they knew the Brahmin was supposed to correct their wrongs since he knew the injunctions of the scriptures. When the Brahmin died the villagers never bothered to take any actions and left his corpse to decompose as they go about their daily chores.
Many people strayed from dharma because they had no role models. Born in families where the parents and grandparents and other relatives exercised unrestrained indulgence of their senses, these individuals easily become victims of creolization and westernization. In the haste to 'make progress' they abandon dharma and adopt values and belief systems that are more fashionable and socially acceptable.
Today it is becoming more fashionable to celebrate birthdays and anniversaries where meats and alcohol are served and creole music are played. Very rarely are pujas held by families as was done in the past.
Shraddha ceremonies are more common Hindu practices-thanks to the departed. What happens after the one-year shraddha is completed? It is back to the fetes-chutney and soca, lavish dishes and alcohol flowing like water.
The society today is an open-air hospital with persons suffering from a range of life-style diseases-strokes, heart diseases, diabetes, kidney failure, etc. Despite these diseases raging in the community, there is no concerted plan to arrest this scourge. No Hindu leader is bothered!
Hindu society offers no social freedom to its adherents. So long as an individual lives in society he or she must follow rules and regulations without compromise. It is only the sadhus, saints and holy men who have renounced the world to seek the divine that are above social obligations. In the past we had panchayats or village courts that ruled over misdemeanor. Many times, individuals and families were expelled from the village because of breaches of social norms or dharma.
Today, the panchayat no longer exists. Social obligations are replaced by individual rights and freedom. Even if one chooses to go the LGBTQ way, it is one choice with no parent, pandit or elder having any right to question one choice. It is free choice but one must be prepared to live with the inevitable consquences.