Hanumanji had not only strength but also guile, that is social skills which is a scarce attribute in our community. Too many see success as having a good education, money and property but underplay the value of social skills which is defined as having the ability to win the trust and cooperation of others.
Trust and cooperation are social skills that do not come easily but only by defeating selfishness, that is, not putting oneself first at the expense of all. Successful people have won the confidence of others by demonstrating empathy, that is, putting oneself in another's shoes.
Looking around me I don't see much success. Most of the business families I knew growing up have failed more or less. New families have risen but are repeating the same errors of their predecessors.
The sporting clubs and the schools in the district usually get little or no help from the bulk of businesses. If there are businesses that are charitable, they are very few and they usually go out of their way. But the vast majority hold on dearly to their money and their gods…and yes, their gods!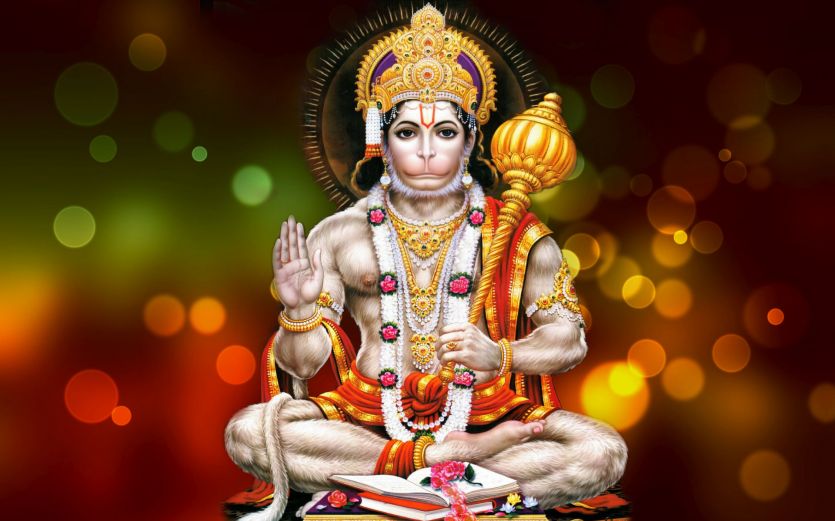 When Hanuman Jayanti comes along these devout Hindus make it their duty to offer some dhaar and rote which they proudly prepare with their own hands. And that is just enough! Never mind the school in the district may need a photo copier and a dozen children may not have the text books to take home to get the homework done. These successful people who get their livelihood from the community are convinced that they have done their duty- bribed Hanumanji with dhaar and two rotes!
And yes! Our business people love their gods, and hence the reason why they generously donate murtis to the mandirs. Almost every Hindu family who has come upon some money has manufactured a god and install it in a mandir in the country. The appreciative devotees usually come out in their numbers to join in this most sacred Hindu act.
In one mandir in east Trinidad more than twenty murtis of Ganesh ji are purchased from India for the commemoration of Ganesh Jayanti. The pandit said that he is afraid to tell the devotees that their moneys can be directed to other social services. In pomp and style theses murtis are paraded on trucks through the streets to the final destination for immersion in water.
The Ram Setu or bridge that Rama and vanar army constructed is still visible between India and Sri Lanka. Certainly, building a bridge across the sea was no easy feat. Nal and Neel were described by Sant Tulsidas as able and competent. It would mean that they would have accomplished several civil engineering feats. But in Trinidad our sons and daughters have the right to become certified engineers, not necessarily to come up with schemes to solve the annual flooding in Debe and Penal. However, when Hanuman Jayanti comes around, his highest dharma is to offer dhaar and rotes to Hanumanji.
Usually when I go to wakes I listen to the village folks taking about how to win the Play Whe machine-the concept of minding a mark, and dreaming etc. Only recently, I was given a demonstration of how wappie (gambling with cards) is played. At least, for the village folks not much is expected of them except to while away their time in gossip and laughter.
Our re-enactment of Ramleela is the efforts of individuals with limited or no experience in theater and the arts. Despite these limitations our Ramleela enthusiasts have continued to do a fantastic job much to the admiration of others including Nobel Laureate Derick Walcott who, in his acceptance speech when he received the Nobel Laureate for Literature in 1992, cited the Ramleela in Felicity which he captured in his poem- The Antilles: Fragments if Epic Memory.
Derek Walcott writing on Ramleela! I recalled mentioning Tulsidas as a great poet to a group when an individual stared me in the face as said: "Get real Hanuman!" That has been my experience throughout my university and working life- never talk about anything Indian or Hindu. such a subject is treated as taboo to be confined to the home and the mandirs or when only Hindus are together.
Hanuman Jayanti should not be confined to preparing and offering rote to Hanumanji but should be an occasion for us to reflect on our commitment to service. When Rama called on Hanumanji, he was always at hand to respond, not drunk and sleeping.
Much that passes for Hinduism today is a lame excuse to run away from responsibility. Being a Hindu should not be confined to eating paratha with pumpkin, channa and aloo and mango anchaar but much more. Hinduism is about confronting problems and overcoming them like the way Hanumanji did. He made what was impossible to others very achievable, a lesson that every Hindu must emulate.