By Vishnu Bisram (Advocate/Champion for Indians in the Diaspora)
A new holistic health center was opened in Debe/Penal, South Trinidad on Sunday February 20. The center is the brainchild of Bhagwatie Bhanu Dwarika and immediate kin. It was named after their parents Soondrie and Dwarika whose grandparents hailed from India.
Among those in attendance were: Dr Allen Sammy, chairman Penal/Debe Regional Corporation and Krishna Persadsingh, Councillor Oropouche. They both spoke and pledged full support. There were several other presenters who have outstanding credentials . Among them were Dr Catherine Ali, Dr Raymond Noel, Dr Jimmy Herrera, and Ramnarace Dwarika who has done pioneering work in Trinidad on Acupuncture. Ramnarance has rendered 38 years of work with Alcoholic Anonymous. He is also a former president of AA, former director of treatment centre in Piparo, and appeared on Radio and TV with weekly presentations. Ramnarace Dwarika is the eldest son of the family who is also a weekly presenter on radio and television Jagriti. He spoke on the pioneering spirit of the Dwarika lineage in Trinidad. Congratulatory messages came from various parts of the world expressing support.
Messages came from Lal Motwani , Ashook Ramsarran, well known reporter and columnist Dr. Vishnu Bisram, IDC Kritilata Ram of Mauritius Gopio International Coordinator for Africa , Ketty Carpaille, GOPIO President Reunion Island , Ravi Dev, Ashook Motwani of Mumbai.
The organizers of the event released the following information relating to the center and the proceedings of the launch.
The Mission Statement of the Centre
To support drug less living
To ensure health by connecting with nature
To teach healthy cooking and gardening
Who is welcome at the center?
Participation of all health related activities and groups working on encouraging health like Alcoholics Anonymous, Rehabilitation groups like Acupuncture support for recovery
What we ask of the public now?
To Join this effort in bringing transformation to this community and neighboring ones.
The program opened with keyboard accompaniment of the National Anthem by Anushka Dwarika, great grand daughter of the family . This was followed by
Invocations from Anand Arjun – Gandhi Village Temple
Imam Masood Mohammed – Debe Mosque
Mrs. Merle Jeewanlal Restoration Assembly – Prayer Center Diamond
Padre Gutemberg – St Dominic's R.C Church, Penal
Brief Presentations from Family Members:
Bissoondaye Roopnarine Vidya Dwarika Chanerdaye Ramdhanie Ramnarace Dwarika
Bhagwatie Bhanu Dwarika – Founder of S&D Centre Ramya Ajay – Director, Mahatma Gandhi Institute
Nela Khan, former Deputy Speaker of the House, former MP for Princes Town, Member of IDC, GIO Women's Council
Krishna Persadsingh, Councillor La Fortune Debe North Dr. Allen Sammy, Chairman Penal Debe Regional Corporation
Message from Clifford Rambharose, Senior member of the ruling party, businessman, and well-known resident of the Debe community
Message from Dr. Roodal Moonilal, MP Oropouche East presented on his behalf by his office manager, Joe Sirju
Ribbon Cutting Presenters/Practitioners:
There was a Book Launch "Gems of Debe" by Jang Bhagirathie; Jang presented a copy to Bhanu Dwarika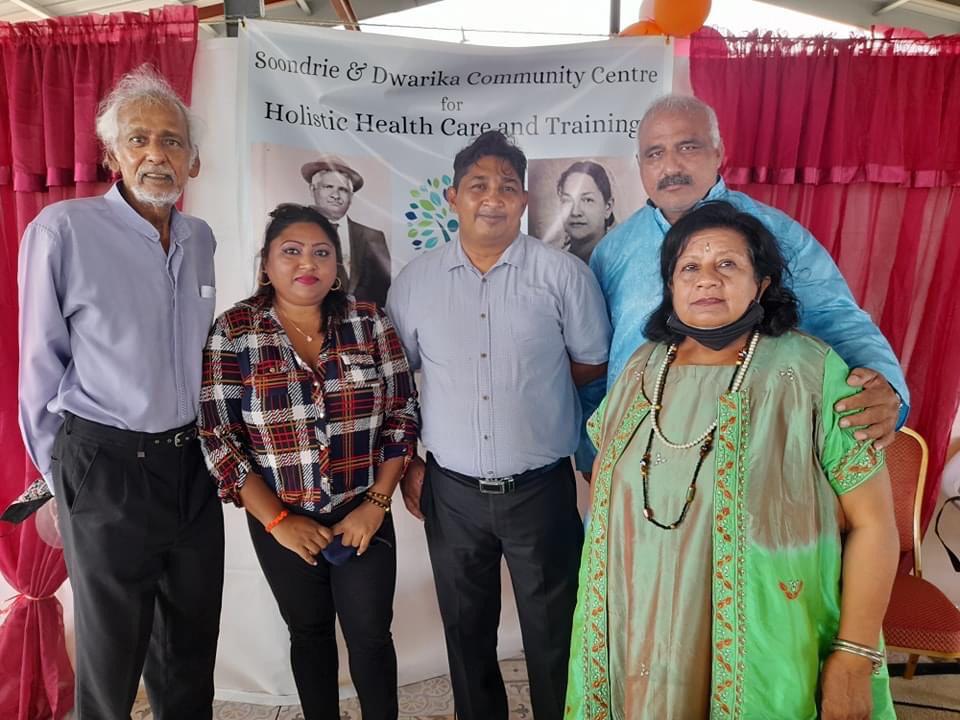 Messages were delivered from politicians, community leaders, and other prominent individuals applauding the project.
Here are some of the Messages:
"Thank you to everyone in the planning committee, for including me in your program today it is a great honour to have been invited.
I would have preferred to be spending this joyous occasion with you all, and extending my warmest congratulations to you all in person but unfortunately although fully vaccinated I'm currently in isolation due to Covid.
Although I'm not able to be a part of today's festivities I want to extend my warmest and heartfelt congratulations to Bhagwatie Dwarika or as Bhanu as I've personally known you for years.
Today one of my proudest days in my political life I come to you as an extremely proud member of this communication I beam with pride every time I see progress in the village where I was born and raised. Especially when it's the villagers themselves who are responsible for this progress.
It's not often you see persons move abroad to improve their lives put down root in another country and then return home not just to retire and enjoy the fruits of their labour but to share their success with the members of their community. Then there is there is Bhanu who has made a wonderful, comfortable life for herself and her family but no matter where life took them she never forgot her roots. She's found her way back and is set on making a difference she is determined to use her success for the betterment of our small village, the lives of our existing villagers and the ones not born yet. For generations to come.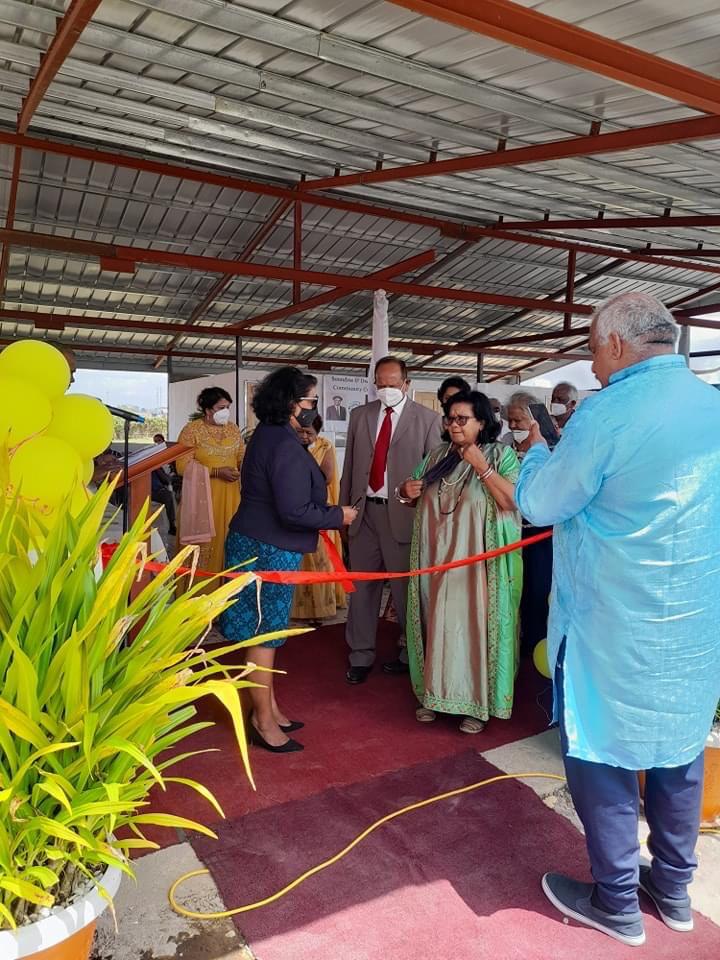 We have seen in the developing world the rise of Community-driven development which gives control of decisions and resources to community groups. This is a prime example that where poor people as assets and partners in the development process, building on their institutions and having a say in the betterment of their community.
May God continue to bless you and your family for generations to come. The facility you all have constructed here will live on ensuring the community of Gandhi Village always has a community center to call their own. Your charity work, community upliftment and a real want to share knowledge to members of the community will change our community forever.
Thank you for inviting me although I'm not able to be here today I know this is just the beginning of something bigger which I will definitely be here to support in the future. Congratulations to Bhagwatie Dwarika on the opening of the Soondarie & Dwarika Community Center.
In closing I'd like to say in closing Community centres demonstrate how wonderfully we can all work together. Race, age, gender, class, education and other protected characteristics should not be noticed in a community centre. People are valued for their own individuality and socialise together no matter what. Community Centers are seen as safe spaces within the community. I know that this communication center will be everything and more because of the wonderful woman who is responsible for it.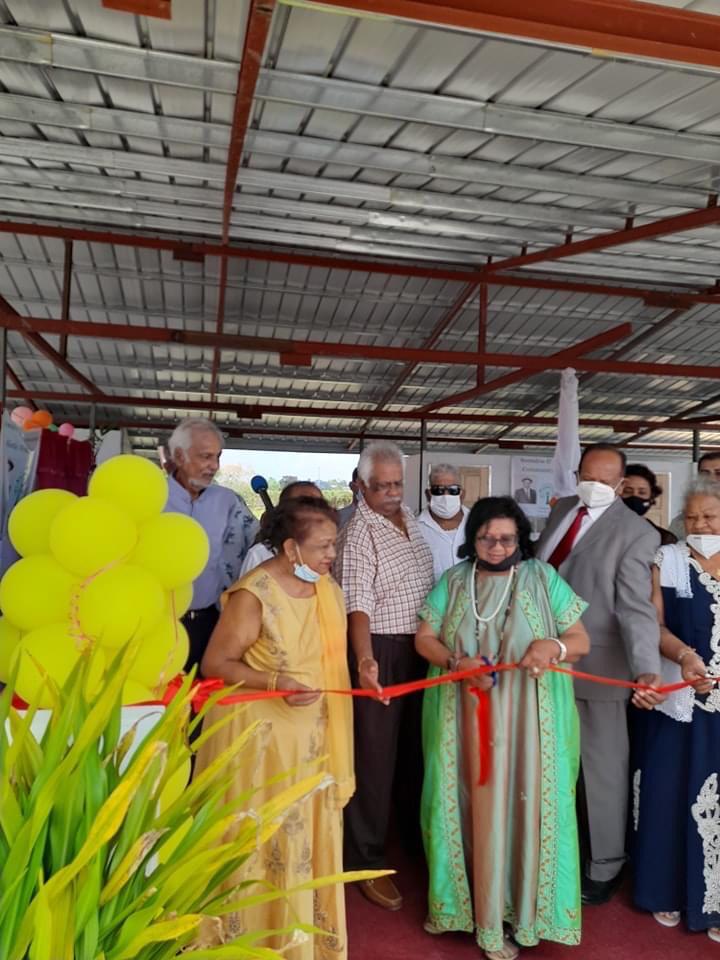 Thank You and Congratulations again on the Opening of the Soondarie & Dwarika Community Center".
Clifford Rambharose
Senior Member of The Governing Party of The Republic of Trinidad and Tobago
The People's National Movement; Shadow MP for Oropouche East.
Ravi Dev, Esquire ( NY), Leader ROAR, Former MP, SANGHACHALAK HSS (Guyana), SEVA (Guyana), Consultant (Times Media Group – Guyana) writes: "I have known Bhanu since 1985 when she was a pioneering activist in the growing Indo Caribbean Community in Queens NY. Bhanu blazed a trail in so many areas – broadcasting, community organizing ( Indo Caribbean Federation), GOPIO etc. I wish her all success with this Community Center Initiative".
Another message: "It is with a deep sense of happiness that I recognize once more the outstanding contribution that my friend and colleague from GOPIO is making to society Bhanu Dwarika is a life member of GOPIO and we have collaborated on many projects together in New York . She has always proven herself as dedicated worker aiming at excellence and efficiency.
Today I take this opportunity to extend to her our sincerest congratulations and wishes for success . We look forward to the day when the Soondrie & Dwarika Community health centre will be contributing powerfully to the health and well being of the citizens of Trinidad and Tobago.
The Indian Diaspora Council International (IDC) congratulates Bhanu Dwarika on the opening of the Soondrie and Dwarika Community Centre in Trinidad.
IDC recognizes the selfless contributions of Bhanu Dwarika to make such a lifelong vision become a reality.
We also recognize Bhanu Dwarika's motivation and desire to provide much needed community service which would be facilitated by the services to be provided by this centre.
It will obviously take continuing effort and support for this centre to sustain its momentum, and it is incumbent for support and nurturing from many sectors to be forthcoming.
IDC commends Bhanu Dwarika for her vision and determination.
Our best wishes for the success of the Soondrie and Dwarika Community Center and the people it serves.
Sincerely,
Ashook Ramsaran
President, Indian Diaspora Council International
Ashok Motwani / Vishwa Vibhag (Bharat) Executive EDITOR: DIASPORA TIMES
Author: INDUS WATERS STORY; Executive Producer: 'Jeewon Mooliyoan Ki Paathshala' writes: Dear Bhanu Dwarika Ji, Congratulations for this Great Initiative, We wish u very Best.
Love& Regards".
Catherine Ali, PhD, writes:
"Catherine taught Mediation Studies at the University of the West Indies, founded and led NGO's, Chaired regional and international NGOs, served on government committees seeking integrated solutions to the social problem of crime, introduced mediation policy, legislation, education, training and practice, and Restorative Justice Policy and practice, and reintegration of incarcerated inmates. She set up and directed Trinidad's first mediation centre and has researched the transformation of traumatic crime disputes and conflict resolution trends in Trinidad WI. Her research interests include culture, gender, empowerment, and peace. She developed a gender policy for PDRC schools, under Dr. Sammy. Currently she is an active member of NGO networks, including Caribbean Centre for Human Rights, Gender violence and Interfaith dialogue.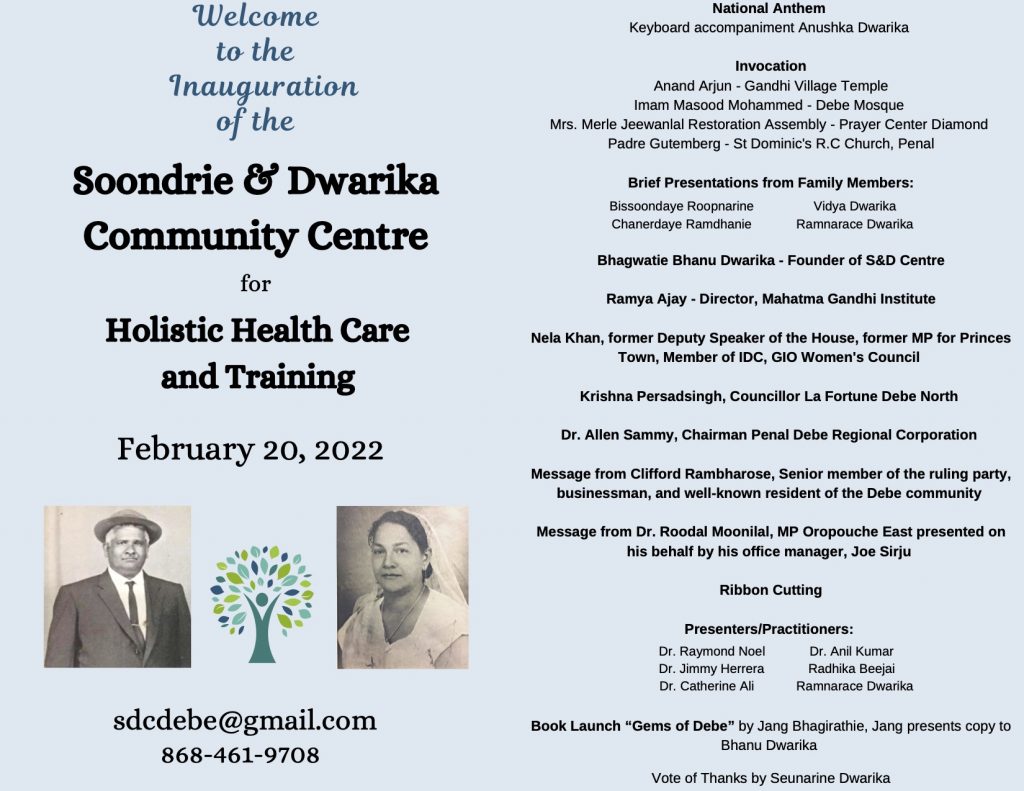 Catherine led an agriculture project with The Practical Agricultural Training Institute of Trinidad and Tobago for Venezuelans in 2019.
Her background in wholistic health comes from Yoga and Meditation TT, Energetic Healing Touch and Photobiomodulation, which is putting light photons inside michondria of biological cells to energize the body and regenerate healthy cells for pain relief, repair, and stress reduction in trauma informed therapies"..
RAM KRITILATA, from Mauritius
(INTERNATIONAL AFRICA COORDINATOR, GOPIO INTERNATIONAL) writes:
"I AM DELIGHTED TO BE AMONG YOU THROuGHTHIS SHORT MESSAGE, TO CeLEBRATE THE OPENING OF THIS Community Centre, which marks a new phase in this village of Trinidad. I would like to thank Mrs Bhanu Dwarika, for this great inspirational and uplifting work done for the community. It is indeed befitting that the center is named after two great, respected persons, Mr and Mrs Dwarika, whose roots are from India and arethe dearest and lovable parents of Our Sister BhanuDwarika.
A big round of applause to you my dearest and respected Sister .Believe me Bhanu, you are a woman whose vision, experience ,time ,talents, skills and yearning have left an indelible marks among the citizens there. Your move is impressive not only in the completion of the building but for the noble intentions with which it has been created.
This is the beginning of a very challenging project— but interesting journey for you and the people there. This is the time for you all to strengthen your personality and character and to bring new ideas together. Trinidad needs thinkers and innovators like Mrs Bhanu. Trinidad need people with the capacity to think differently, people with a positive mind, people committed to work for the benefit of the country. After all people who can contribute to nation building.
Congratulation to you again, to your respected Parents, Late Mr & Mrs Dwarika for the celebration of today, not for the building, but how in turn this building will serve as a centre and a home, to bring to help and support the community so desperately needed.
Bravo, my love and respect to you all lovely people of Trinidad.
Remarks of MP for Penal/Debe Dr. Roodal Moonilall:
"Let me commence by expressing my profound gratitude and deep
Appreciation to Mrs Bhagwatie Dwarika and her husband, Mr Shakeel Ajaz and by extension the entire Dwarika family for envisioning and bringing to reality this project here today.
The Dwarika's have kept good on their promise of giving back to the community and today we see the
Second of their community projects being commissioned. Adjacent to me is the Chinmaya preschool catering to the foundational educational needs of our children.
Today we are indeed privileged to be part of this historic opening of this community centre here at Dwarika Avenue in Debe. According to Mrs Dwarika the centre will adopt a multifaceted operational approach from alternative Medicare, senior citizen social and therapeutic care, cultural and social activities.
It is highly commendable of Mrs Dwarika after spending and working with the Indian Diaspora in New York for over fifty years that she has decided to invest and embark on charity work in her own community of Debe.
Let me as Member if Parliament of Oropouche East pledge my support for this initiative and look forward to working with the Dwarika's in improving the lives of our people in these parts.
Once again congratulations, best wishes and blessings in all future endeavors".
Dr. Raymond Noel MD, MPA, AAHIVS also applauded the the launching of the center.
Doctor Noel is a graduate of Howard University BSc., State University of New York (Buffalo) School of Medicine and Valdosta State University, Master of Public Health Administration.
He was trained at the Cleveland Clinic and the University of Arizona School of Medicine at Tucson. He is Board Eligible in Internal Medicine, certified as an HIV specialist by the American Academy of HIV Medicine, an Addiction Specialist by the American Society of Addiction Medicine. Dr Noel has been a Medical Researcher with the NHLIB of the US National Institute of Health for over 25 years and for seventeen years has been the Medical Director of The Tobago Health Promotion Clinic which is a holistic clinic for all chronic diseases including HIV/AIDS.
From a Medical management perspective, Dr Noel was the:
• Medical Director of Valdosta State Prison 1986-95.
• CEO Val-Oak Professional Corporation 1986-2003.
• Medical Director of Midian Corporation 1996-2000
• Owner /operator of Lauderhill Family Care a 53 bed Nursing Home in Lauderhill Florida.
• The author of a grant from the European Union to treat HIV/AIDS in Tobago.
• Tobago Regional HIV/AIDS Director 2000-2017.
• District Medical Officer, Cedros, Trinidad 1982-5.
• In 2002, Dr. Noel received the Martin Luther King jr. "Living the Dream Award" for his public Health contributions to South-West Georgia.
• In 2011, Dr. Noel and The Tobago Health Promotion Clinic received the PAHO, WHO award for best practices in HIV care for Latin America and the Caribbean.
• Dr. Noel has an active Public Health Practice (16 years) of 24,000 registered patients in Tobago.
• Dr. Noel's presently practices Regenerative Medicine in Point Fortin and will be associated with Dr. Christine Ali in Marabella.
Ray Noel, MD.