High Commission of India in Guyana in collaboration with the Indian Swami Vivekananda Cultural Centre organized a yoga event on Sunday June 19. This June 21 marks the 8th International Day of Yoga as approved by the UN. Yoga exercise was held annually in Guyana on that day going back to 2015. Indian embassies around globe also held yoga programs.
Last Sunday, yoga was held at the Everest Cricket Ground in Georgetown. This event follows the run up to yoga exercises held with the GDF and GPF in the last few weeks.
A release from the High Commission says this latest event was organized "under IDY 2022 theme "Yoga For Humanity" which very aptly symbolizes how Yoga has been instrumental for mankind in overcoming the mental and physical stress of modern day life especially in the testing times of Covid19 pandemic".
Tge release says that among the guests were the Hon'ble Manzoor Nadir – Speaker of the National Assembly of Guyana, H.E. Donald Ramotar – Former President of Guyana and Hon. Dr. Vindhya Vasini Persaud-Minister of Human Services & Social Security, several resident Ambassadors and members of the Diplomatic Corps, representatives from media, faculties and students from Universities, schools, and members if a number of social and cultural organizations graced the occasion.
The release states: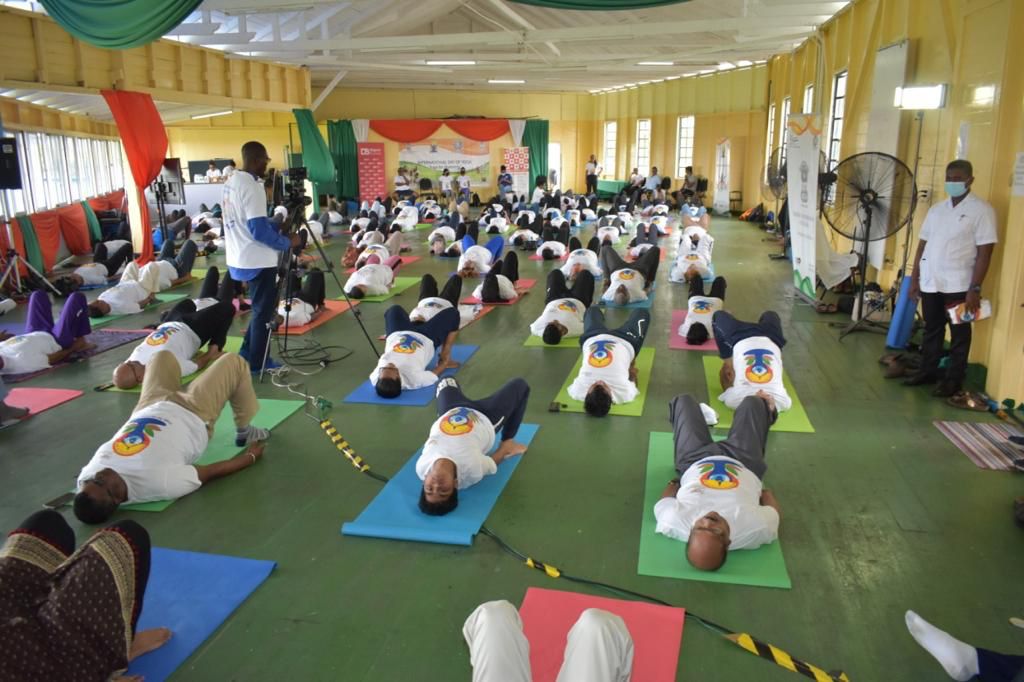 "Hon. Speaker Manzoor Nadir, in his remarks mentioned his three decade long association with Yoga and rewarding experience of learning Yoga from different gurus and how he has made Yoga a part of his daily routine. He also delved on ability of Yoga to not only connect one human with other but also at a cosmic level. Hon. Minister Dr Vindhya Persaud, in her insightful remarks on Yoga philosophy spoke with deep knowledge of yoga and her long association with it. Former President Donald Ramotar in his remarks extolled the positive and healing effects of Yoga and even its possible use in dealing with mental, physical and social issues. He stated that Yoga and Indian culture are deep-rooted in Guyana and the efforts of the High Commission to hold regular Yoga events would help to spread it far and wide all over Guyana.
High Commissioner Dr. KJ Srinivasa, in his remarks detailed the various Yoga events being conducted in India and across the world by the Government of India and Indian Embassies abroad, including the primary event being led by Hon. Prime Minister Shri Narendra Modi at Mysore to celebrate the 8th IDY 2022. He also informed the audience on the unique Yoga events in 75 heritage locations, and 100 cities to celebrate the 75 years of Independence of India under the 'Azadi Ka Amrit Mahotsav'. Dr. Srinivasa also gave out details of India's 'Guardian Ring' Yoga project on the 21 June wherein Yoga sessions from all over the world – from Japan in the East to US in the West will be live telecast of which Guyana is also a part of. High Commissioner invited all participants to join the Yoga event being organized by the High Commission at Palmyra Indian Monument in Berbice under the 'Guardian Ring' Yoga project on 21 June. The High Commissioner especially underlined the efforts of the High Commission in the target inclusion of youth in the Yoga programme so that younger Guyanese could benefit from this traditional Indian science of well-being. High Commissioner also extended his best wishes on the Father's Day and urged all to continue practice and also encourage their family and friends to benefit from Yoga regularly to achieve physical, mental and spiritual well-being. To underlined the message of Yoga, the High Commissioner quoted the words of Hon'ble Prime Minister Modi himself, "Yoga is a journey from 'me' to 'we'. Yoga makes an individual a better person in action, though, knowledge and devotion."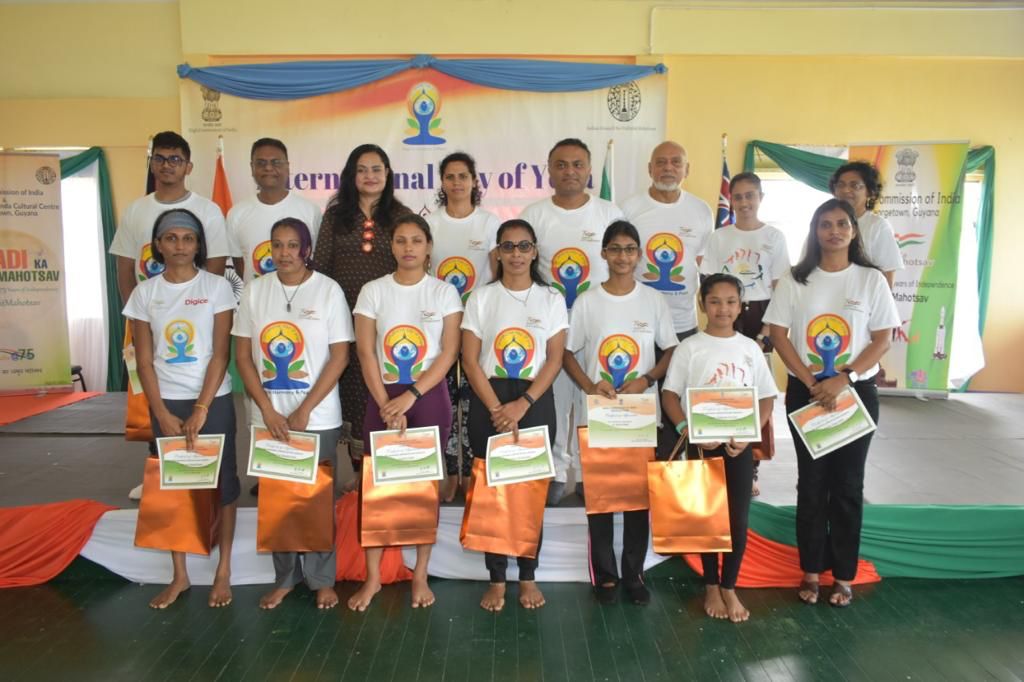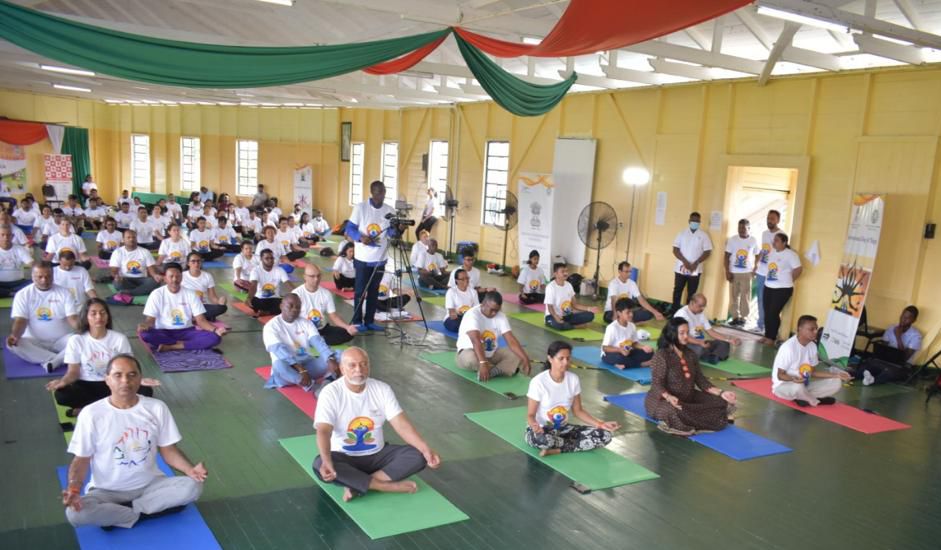 This was followed by performance of Asanas based on Common Yoga Protocol by all the invitees present at the event under the guidance of the yoga instructor Ms Agnela Patil.
Caribbean Toppers of CXC and CSEC exams hailing from Guyana were also felicitated by the High Commission during the event in addition to Yoga volunteers.
As the world cautiously return backs to normalcy after Covid19 pandemic, this year's IDY event attracted a large number of enthusiastic Yoga participants. The event was live streamed on the social media accounts of the High Commission and SVCC and telecast live on prominent television channels of Guyana to maximize the Yoga outreach.
Yoga, an intrinsic part of Indian tradition and culture for holistic living, has transcended the barrier of race, religion and culture to become a global health movement. Yoga is essentially a mental and physical discipline based on an extremely subtle science which focuses on bringing harmony between mind and body. It has been the endeavour of the Government of India under the leadership of Hon'ble Prime Minister Mr. Narendra Modi to promote and propagate Yoga globally so that the whole world could benefit from this traditional Indian science of mental and physical well-being. Towards this end, due to Government of India efforts United Nations General Assembly adopted a resolution sponsored by 177 member nations out of the total 193 members of the UNGA to unanimously proclaim 21st June, the longest day in the northern-hemisphere, as the International Day of Yoga."
Georgetown
19 June 2022