The High Commission (Embassy) to Guyana recently distributed musical instruments to a cultural organization in Essequibo. The Embassy has had a history of donating musical equipment to groups all over the country.
His Excellency, Dr. K J Srinivasa, the High Commissioner (Ambassador) to Guyana, traveled to Essequibo and handed over two sets of tablas (they come in pairs of two) — one each to the members of the Richmond Mandir and Anna Regina Mandir in Region Two (Pomeroon-Supenaam) on 26 May 2022, in coordination with the Indian Council for Cultural Relations. Essequibo is a long journey from Georgetown requiring the crossing of two major rivers – the Demerara River and the Essequibo River. It takes several hours to travel to Essequibo Coast from Georgetown.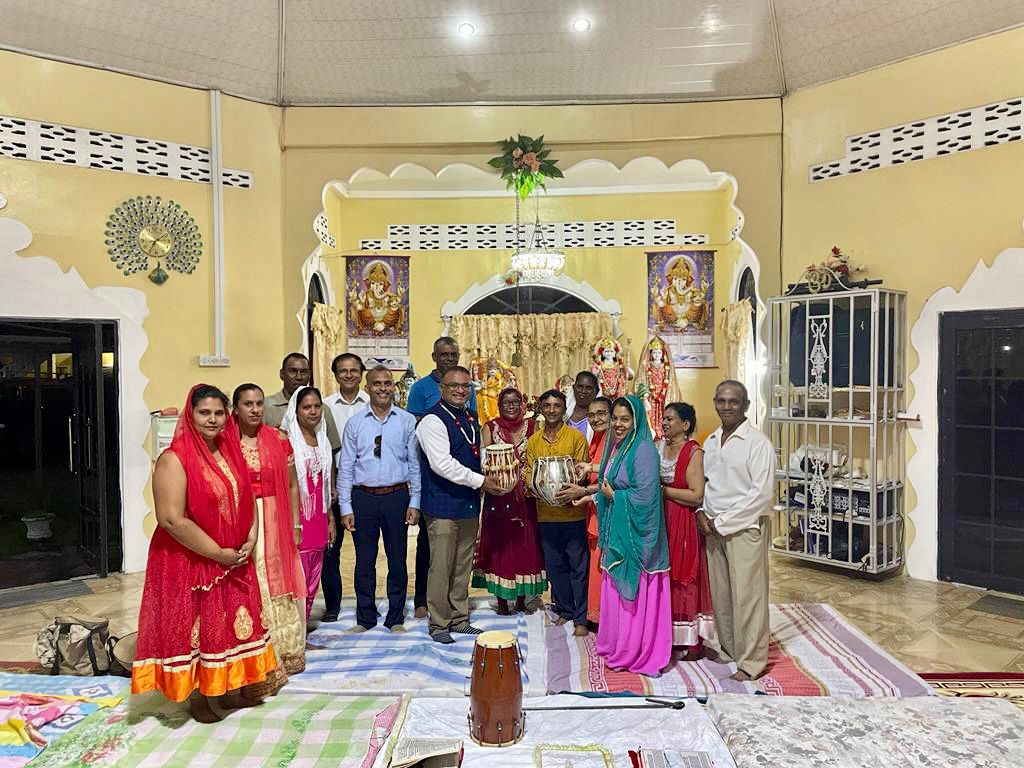 The High Commission issued a release on the handing over of the tablas. The release stated that during the interaction with the congregations and the Diaspora of Indian origin, Ambassador Dr. Srinivasa remarked: "India cherishes the long relationship with Guyana and is doing everything possible to promote the rich tradition and historical relationship that both countries share."
The release also noted that Dr Srinivasa stated: "High commission is working closely with the Ministry of education on introducing Yoga, Hindi, Indian music and dance in Guyanese schools as extra curricular activities."
The High Commission, the release says, has so far donated various musical instruments including tablas, dholaks, harmoniums, etc, across Guyana to some 53 Mandirs, where they form an integral part of the service to their communities. Various books concerning interpretations of religious texts which are required for the Pandits, along with simple books for children on Indian history, culture and philosophy, have also been donated across the country.