India's President Ram Nath Kovind arrived in Jamaica on Sunday May 15, just days after Indian Arrival Day, for a state visit at the invitation of the government of Jamaica. President Kovind is the first Indian President to visit the Caribbean country or any Caricom state. Indian Prime Minster Atal Beharri Vajpayee visited Jamaica two decades ago when it hosted a Commonwealth summit.
Indians in Jamaica observed Indian Arrival Day on May 10. A report says that the first ship, SS Blundell, carrying 261 Indians arrived at Old Harbour Bay on May 10, 1845, marking 177 years sine the Indian presence on the island. Another report stated that the first ship to arrive in Jamaica was the Maidstone in 1845. Some 36,000 Indian laborers or girmityas came between 1845 and 1917. Indian activists complain that historically Indians have been treated as second class in Jamaica.
The President and his touring party arrived on India's Air Force One, a jumbo jet. The President was welcomed at the airport by the Governor General of Jamaica Sir Patrick Allen, the head of state, and the island's First Lady as well as the Prime Minister and his wife. The President was accorded a guard of honour on his arrival. Prime Minister Andrew Holness, the head of the government, said he was deeply pleased to extend a warm Jamaican welcome to Mr. Kovind and his wife.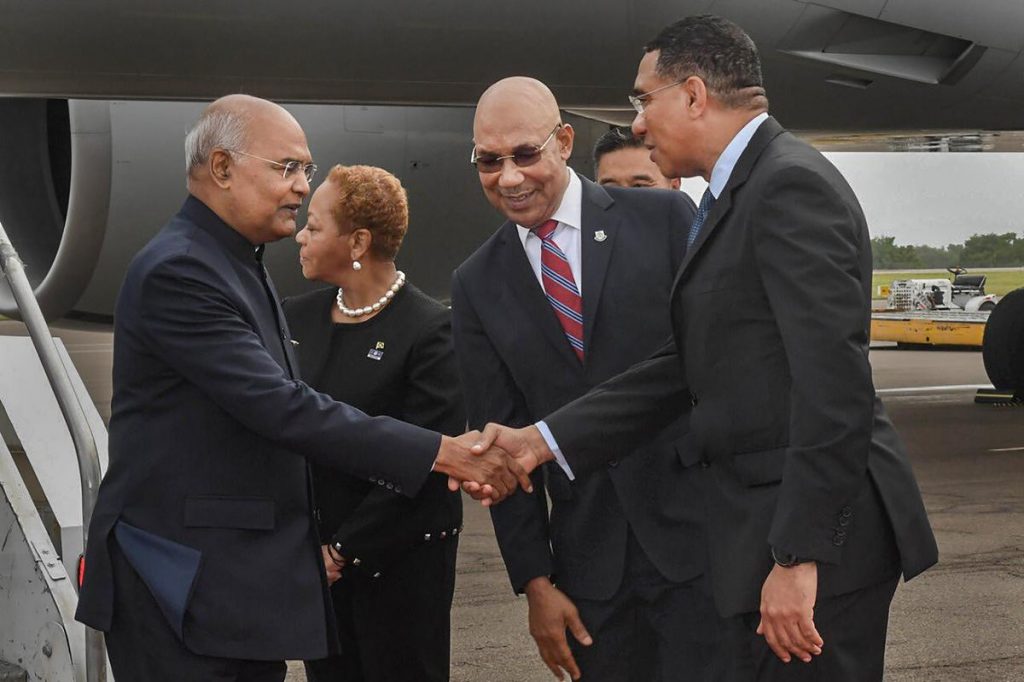 While in Jamaica, President Kovind will hold talks with his counterpart Governor-General Patrick Allen and Prime Minister Andrew Holness to strengthen relations between the two countries. He will address the Joint Sitting of the two Houses of the Jamaican Parliament, the elected House of reps and the appointed Senate. India has provided a lot of financial assistance to Jamaica, including medicines, machines, and vaccines to combat Covid.
The Indian President is being accompanied by his wife Savita Kovind arrived at Kingston on Sunday on the first leg of his two-nation tour that will also take him to St. Vincent and Grenadines.
The visit comes on the heel of the two countries commemorating the 60th anniversary of the establishment of diplomatic relations.
"Welcome to Jamaica, His Excellency the Honourable Ram Nath Kovind", tweeted Holness.
The President leaves Jamaica on May 18 for St. Vincent and the Grenadines where he will also be on a state visit.
By Vishnu Bisram