Hindus in New York observed Hanuman Jayanti (birth of Lord Hanuman) on Monday night April 25 and Tuesday morning April 26 with puja services in mandirs and in their homes. Covid protocol was observed at the mandirs. Many thronged the mandir with social distancing and mask wearing observed. The mandirs offered take away bhojan. Hanuman Jayanti was also observed globally falling on April 26th in the Eastern hemisphere.
Hanuman is the "hairy, monkey-like warrior" who is presented in the Ramayana as the most devoted and loyal servant of Lord Rama whose appearance in the world was celebrated the previous Wednesday evening April 21. All of the nearly sixty fifty Indo-Caribbean mandirs in the metro area had services paying obeisance to Hanuman-ji.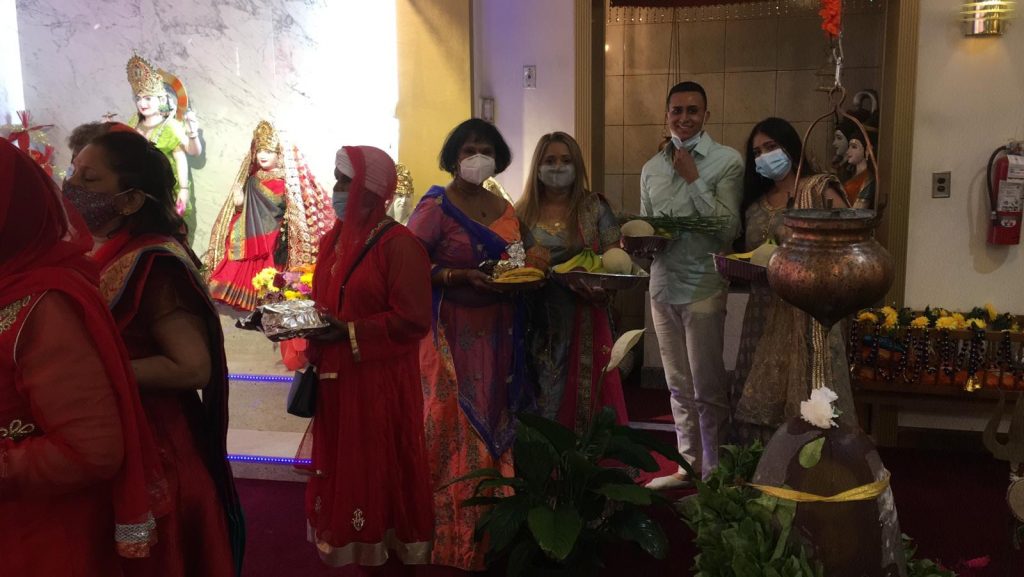 Hanuman Jayanti is usually observed on the full moon in the month of chaitmas in the Hindu calendar which coincides with mid April in the western calendar. It usually falls about a week after Ram Naumi. Hanuman is called by many names including Marutie, Pawan Putra, Bhajranbali, Mahavir Swami, Anjanee Putra, and Kesharie Nandan.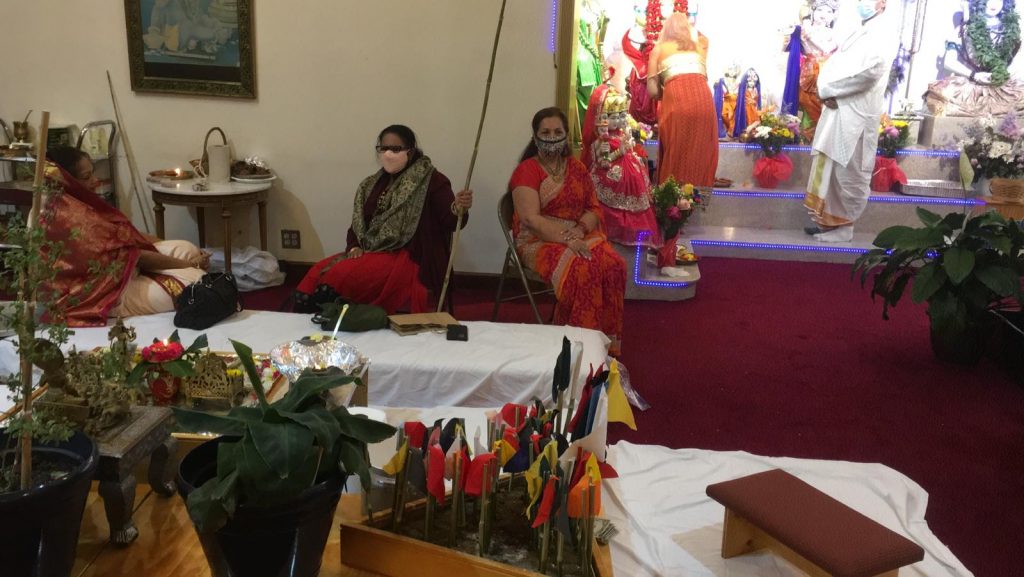 According to the holy scripture, as Lord Rama himself stated, Hanuman was a great intellectual. Hanuman knew the holy scriptures, shastras and vedas, and was well versed in Sanskrit. And his various actions symbolized his ability to control the mind and senses, to maintain celibacy, and to surrender himself completely to the feet of Lord Rama. He also had yogi powers; his ability to lift the mountain and fly with it (with ayurvedic medicine to rescue Lutchman who was wounded in battle) symbolized his strength and meditation powers.
Hanuman was a great devotee of the lord with his actions, thoughts and words were completely enveloped in Lord Rama. He was Lord Rama's most trusted warrior and is also known as the 11th rudra (reincarnation) of Lord Shiva; it is believed that Lord Shiva wanted to serve Lord Rama and took the appearance of Hanuman so that he can worship Rama.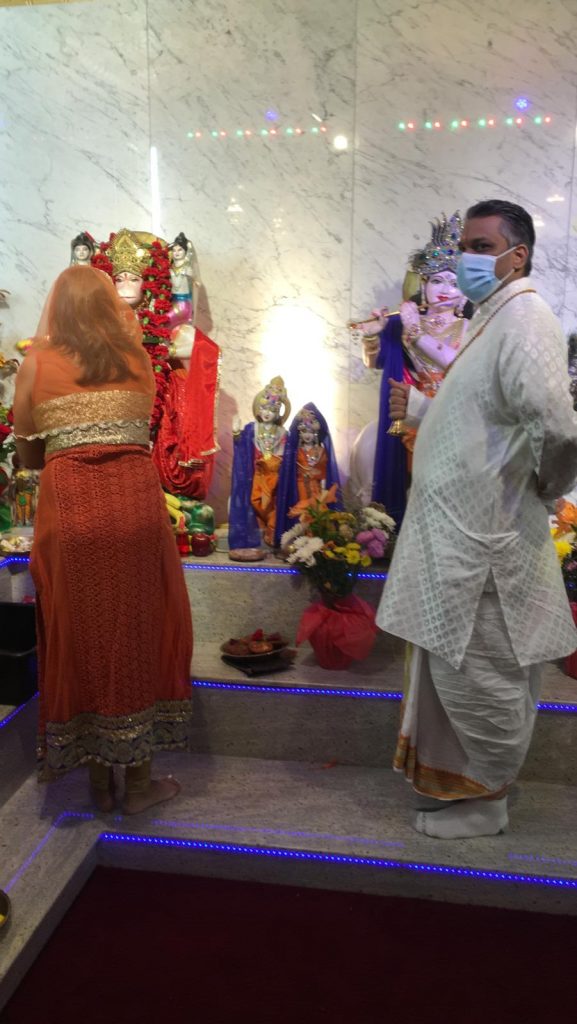 Hanuman is also known for his bravery. He saved the brothers of Ram, Bharat, Lutchman and Sugrim and his own community from the ravages of the evil Rawan as related in the Ramayana; in particular, he was able to procure the herbal medicine necessary to save Lutchman's life. He also rescued Goddess Sita, consort of Lord Rama, from Rawan. Without Hanuman's help, Lord Rama would not have won the battle against Rawan. For his tremendous sacrifices and services to Ram and Sita and to humanity, Hanuman received special blessings from Ram and Sita.
Hanuman is one of the most revered deities among Indo-Caribbean Hindus. And they frequently hold kathas or religious discourses on the Hanuman Chalisa or the Ramayana. They usually perform poojas for Hanuman on Tuesdays and Saturdays. But Hanuman Jayanti can fall on any day – usually on the full moon in April. Worshippers usually make offerings of flowers and red malas, fruits, other paraphernalia, and prasadam consisting of rote (a sweet roti fried in ghee) and "mohanbhoog" and perform oblations at the lotus feet of Hanuman. After service, Hindus fly a red flag in front of their homes; red is the symbolic color of Hanuman. These flags can be commonly seen in sections of New York, New Jersey, or Florida where Caribbean Hindus are settled. In any religious pooja, Hanuman is worshipped before other Gods.
On Hanuman Jyanti, devotees normally offered jal or dhar at sunrise and then visit the mandirs for special service in the evening. Some of the temples hold Ramayana katha in honor of Hanuman. At all of the mandirs, minds prostrated to the feet of Hanuman and the various reincarnations of the one supreme Lord. Joy, bliss and peace pervaded the atmosphere and generated a feeling of togetherness among the worshippers. A stream of devotees made offerings and performed aartee on Hanuman and other murthis. Later, bhojan was served.
Worshippers were advised to live every aspect of life prostrating to the Lord and of performing services to humanity – be humble, good and kind to others, to destroy the rawan (jealousy, greed, anger, hatred, lust) within each of us. Hanuman performed selfless service to the lord and to humanity and did not look back for reward. Everyone should do the same.