The large Indo-Caribbean Muslim community in America observed Eid-ul-Fitr with traditional prayers at Masjids across the city on Monday morning followed by feasting on snacks. Eid culminates the month long dawn to dusk fasting period of Ramadan that commenced on April 2. Heavy rain showers and dark clouds above did not deter attendance at the Masjids which were packed to capacity for the festival that began with prayers from the Holy Koran. Attendees overflowed from inside of the Masjid onto the sidewalks of streets. The police facilitated the worshippers with flashing police vehicles parked in front of or near masjids — Al Abidin Masjid on Liberty Ave. and Jama Masjid on 102 Street and 95th Ave., 123rd Street and 103rd Ave., in addition to other locations.
Eid was celebrated similarly as in Guyana, Trinidad, Surinam, and other Caribbean societies. Islam was transplanted in New York among the West Indian community by Guyanese and Trinidadians since the late 1960s. Muslims of varied nationalities cooperated in practicing and institutionalizing their faith. Indo-Caribbean Muslims and Hindus also collaborated with practicing their faiths. They rented and shared space at hotels and apartments for the observance of their religious festivals until such time that they acquired their own buildings that were transformed into temples and masjids. Guyanese and each nationality or Islamic sect has had its own Masjid; worshippers tend to patronize their own group masjid. Guyanese and Trinidadian Muslims tend to collaborate in masjid establishment.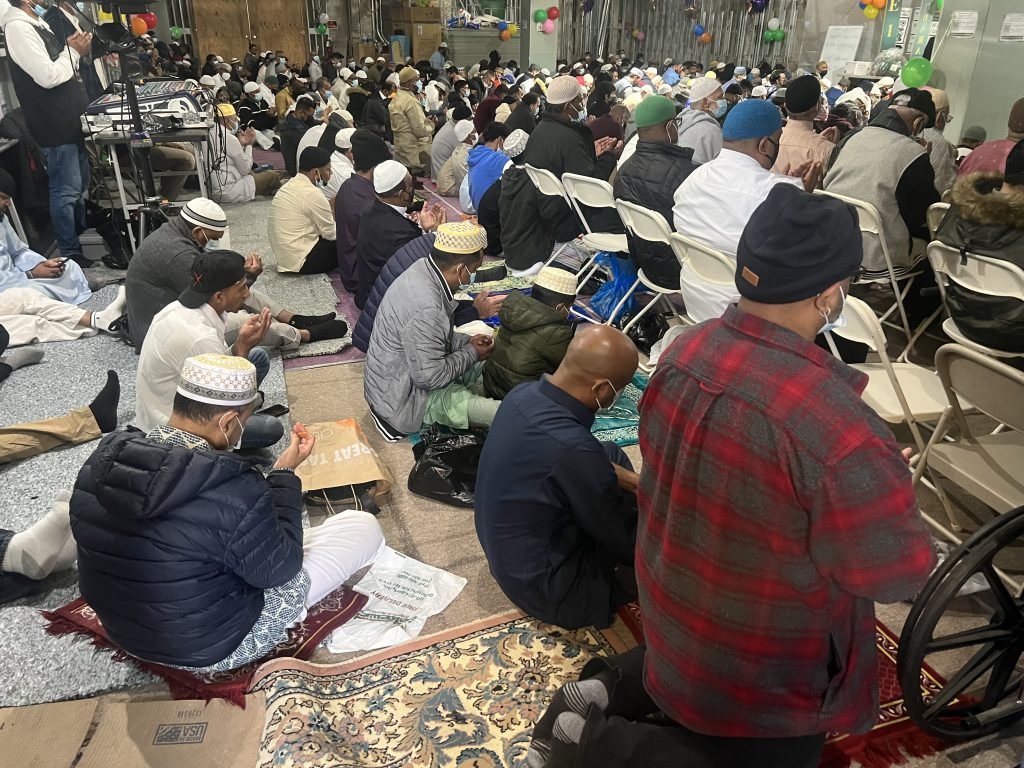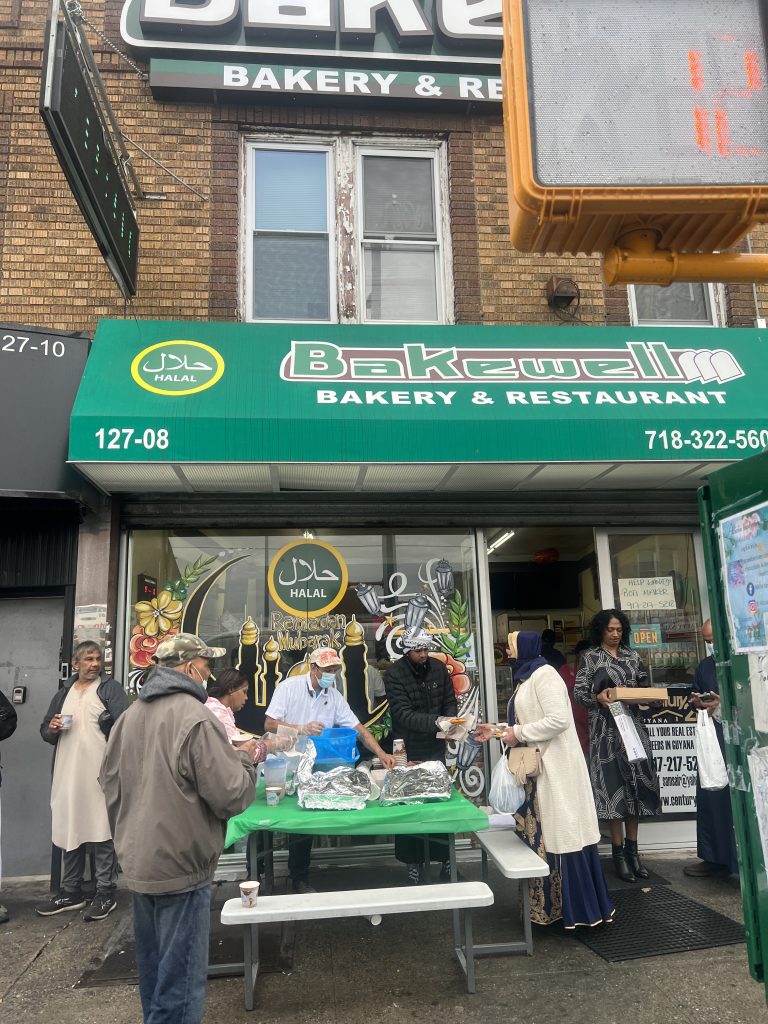 Non-West Indians also patronize Guyanese Masjids. And West Indian Muslims tend to patronize Masjids of other nationalities where Guyanese Masjids are not available in their communities. There is a dozen Indo Guyanese Masjids in the greater Richmond Hill area and several more in other parts of Queens, Brooklyn, and Bronx to cater for the spiritual needs of the large Guyanese community in the New York environs. Tens of thousands of Guyanese Muslims are settled in the New York metro area. During Ramadan, Masjids and jamaats held nightly service for breaking of the daytime fast with dates and delicious snacks or full meals.
For Eid, worshippers were immaculately dressed with traditional garb – very colorful kurtha pajama and sherwani for males, shalwar, choli, and lehenga for females. Old, young, children, strong, weak, disabled were all well dressed for the occasion — prayers and giving of alms to the poor, the masjids, imams or meiji, muezzin, and other Islamic activities. At the conclusion of prayers, there was much enthusiasm among the flock as they embraced or hugged each other, exchanged greetings, and shared gifts. Sawine or vermicelli (liquid and cake), flour cake, pastries, dates, mithai, sirni, gulab jamun. other sweets, and foods were distributed to the gathering. There was much euphoria and fervour and laughter as they snacked.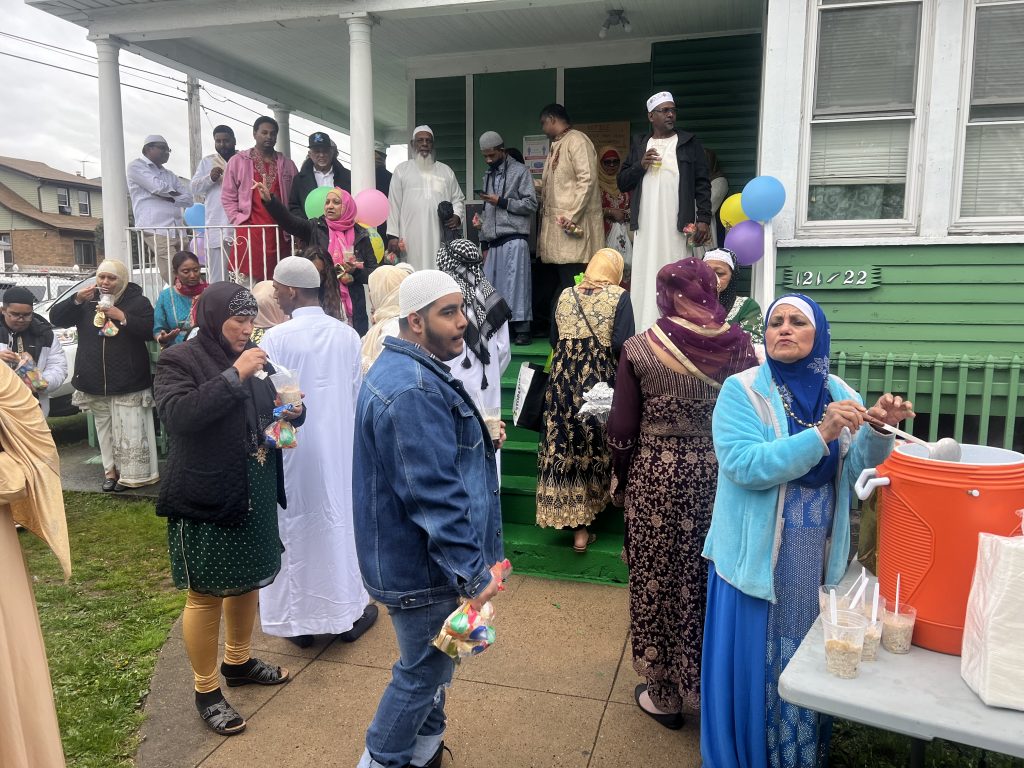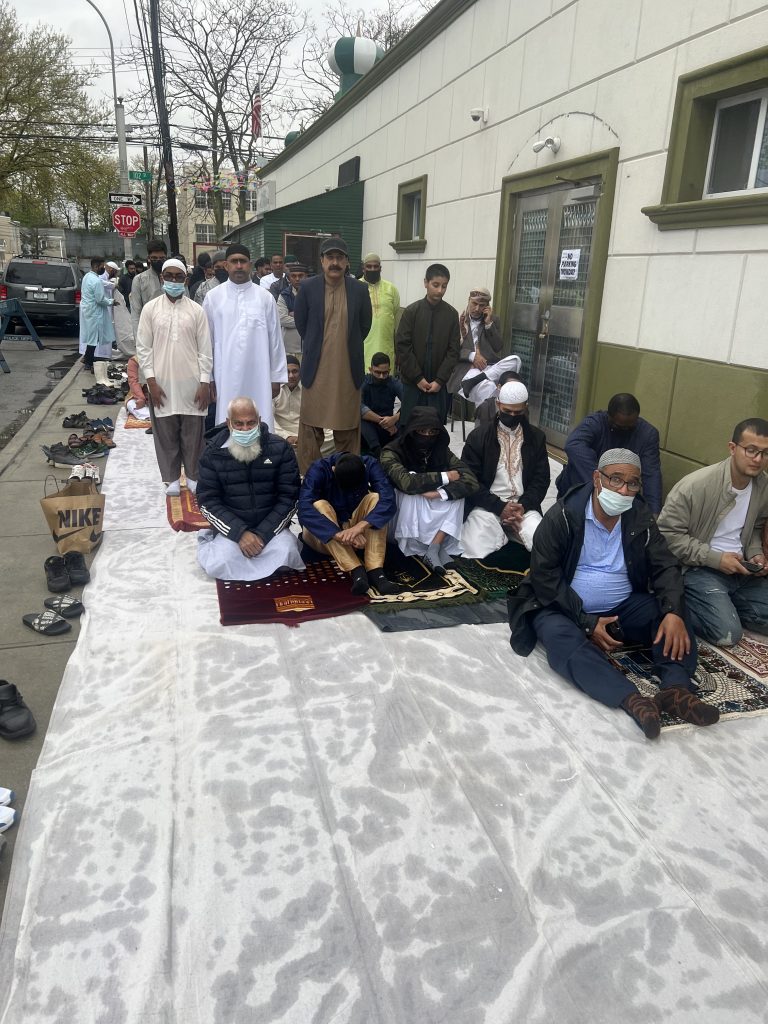 Charitable contributions or zakats were given to the less fortunate,. Boxes were placed in front of the gathering for zakats with worshippers giving generously. Tents were constructed outside of masjids to accommodate the large gathering. Celebrants embraced each other and offer "Eid Mubarak" greetings.
Eid is among the most important days for Muslims. It is a school holiday for New York City and some private schools. The city also accords official recognition with an excused parking holiday. Muslim businesses were also closed for the day. Several Muslim owned businesses sponsored gifts and or snacks for distribution at masjids. Bakewell on Liberty Avenue, half a block from the Al Abidin Masjid distributed coffee, dates, pastries, and atar to passers by on the occasion of Eid. For Eid, families planned to host luncheons and dinners. Catering halls were reserved for festivities.
For the Eid festival, qawalis and qaseedas were aired on the Pradeep Kumar (Arsalan) TV show. For the entire month of Ramadan, he hosted special programs in the morning before dawn. Politicians conveyed Eid greetings to the Muslim community.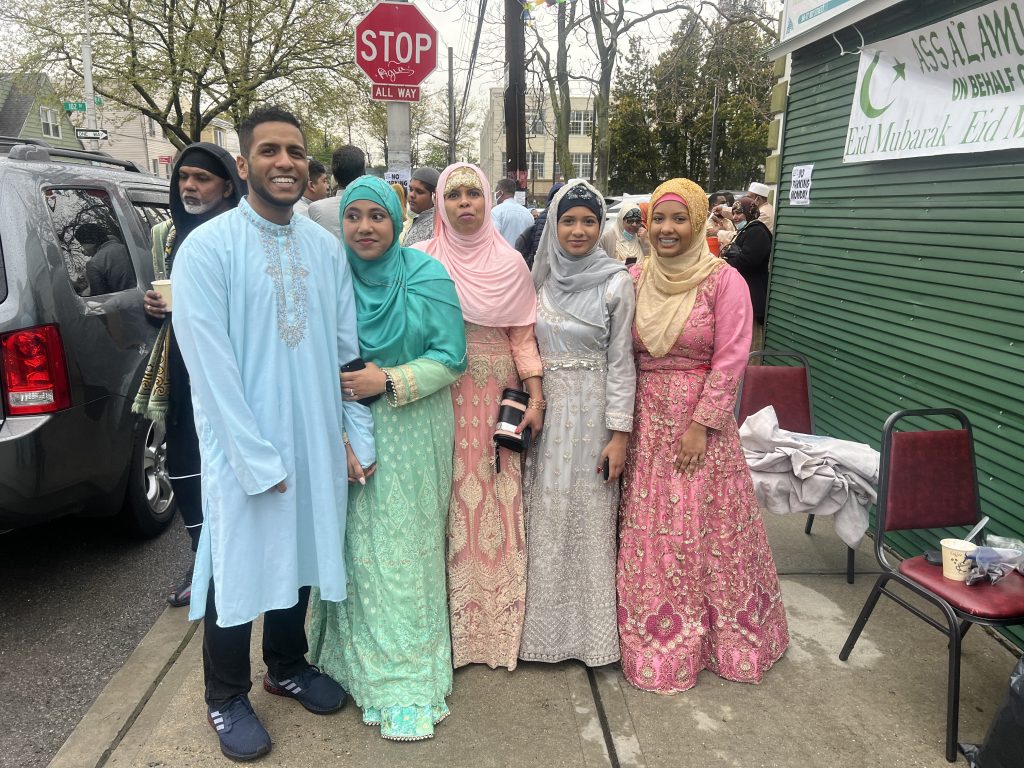 By Vishnu Bisram