A group of Indo-Caribbeans, joined by individuals of other ethnicities, gathered at the Triangle in front of Sybils at the junction of 133rd Street and Liberty Ave in Richmond Hill (Little Guyana) early Saturday morning to commemorate the 20th anniversary of the 9/11 attack on America which claimed the lives of some 2753, including twenty five Guyanese and fourteen Trinis. Nationals of some 90 countries perished in the 9/11 attack on the World Trade Center in downtown Manhattan (New York County) by terrorists. In addition to those killed on 9/11, thousands more died from various ailments (including cancer and lung diseases) related to pollutants of the destroyed buildings. That site since then has come to be known as Ground Zero. First responders and those who were exposed to pollutants continue to suffer from various ailments with many dying.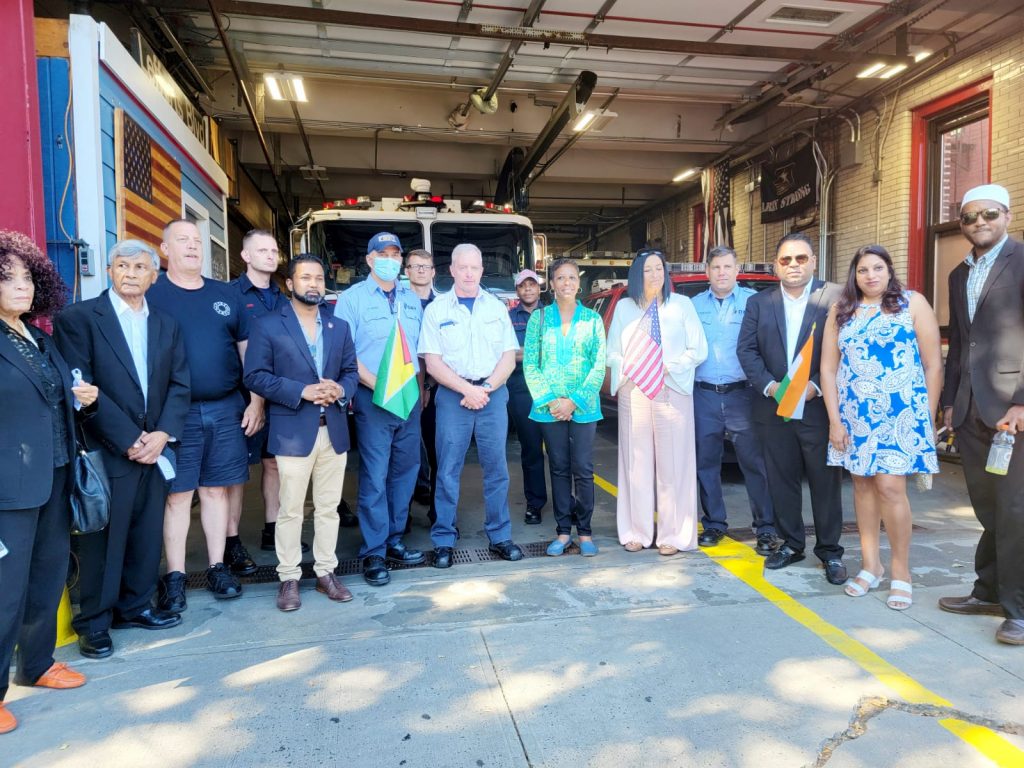 The memorial tribute was organized by Caribbean American Coalition (CAC) (Ashook Ramsaran & Dr Dhanpaul Narine), Richmond Hill-South Ozone Park Lions Club (RH-SOP) New York (Romeo Hitlall, Guyana Tri-State Alliance (GTSA) (Pat Longford), Interfaith Council for Community Development (IDDCD), Indian Diaspora Council Int'l (IDC), Richmond Hill Economic Development (RHDEC) (Vishnu Mahadeo), South Queens Women's March, and several Other Community Organizations. Representatives of the groups and many more delivered brief remarks about 9/11.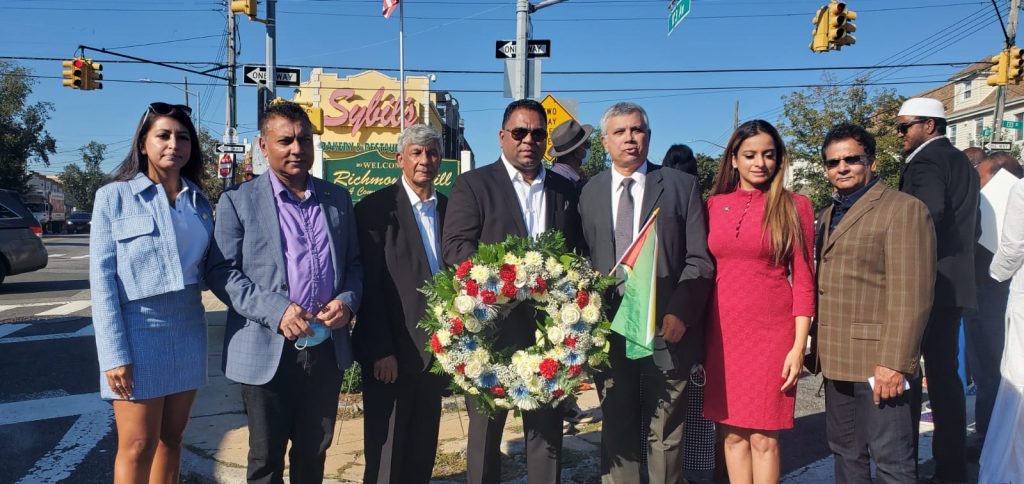 Moderator of the program was Pat Jordan-Langford (GTSA). The program began with invocation prayers: Pt. Arun Gossai, Imam Safraz, Pastor Ejaz Nabie. There were three one minute period of silence to mark the exact time when the planes hit each of the towers and the Pentagon. The names of the Guyanese and Trini victims who lost their lives were read.

Names of Guyanese killed on 9-11-2001

Patrick Adams
Rudy Bacchus
Kris Romeo Bishundat
Pamela Boyce
John Charles
Annette Dataram (aka Priya)
Sabita Guman
Nizam Hafiz
Ricknauth Jaggernauth
Charles Gregory John
Bhowanie Devi Khemraj
Sarah Khan
Amarnauth Latchman
Shevonne Mentis
Marcus Neblett
Hardai Parbhu
Vishnu Ramsaroop
Ameenia Rasool
Sita Sewnarine
Shiv Shankar
Kamini Singh
Ronald Singh
Astrid Sohan
Joyce Stanton
Patricia Stanton
Vanava Thompson
The names of the 14 Trinidadians were read by Anoop Dhanpat (Trinibagonians):
Conrad Cottoy, 50
Rena Sam-Dinnoo, 38
Joan Francis
Winston Grant, 59
Clara Hinds, 52
Stephen Joseph, 39
Boyie Mohammed, 50
Paula Morales, 42
Glenroy Neblett, 42
Jerome Nedd, 39
Oscar Nesbitt, 58
Anthony Portillo, 48
Vishnoo Ramsaroop, 45
Goumatie Thackurdeen, 35
There was a wreath laying ceremony at the conclusion of the program. After the program, the attendees marched to the Fire Station 308 on Lefferts Blvd and 107 Street. There speakers spoke briefly. Police Captain Ayube Khan, a Guyanese, related to how he rushed to the 9/11 scene evacuating people.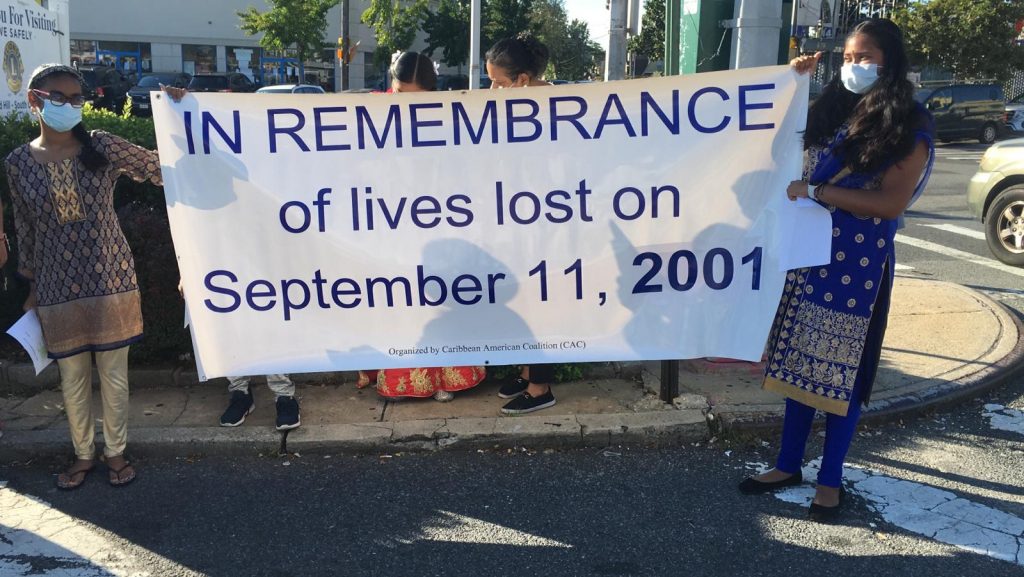 Two decades on, images from 11 September 2001 are vividly imprinted in the memory of every one who witnessed it or saw the atrocity on television. Everyone could remember where they were and what they were doing. Speakers related how they witnessed the planes flown into the buildings as well as some jumping to their deaths or being pulverised by the collapsing twin towers, a horrific sight. There were also stories of survival and heroism.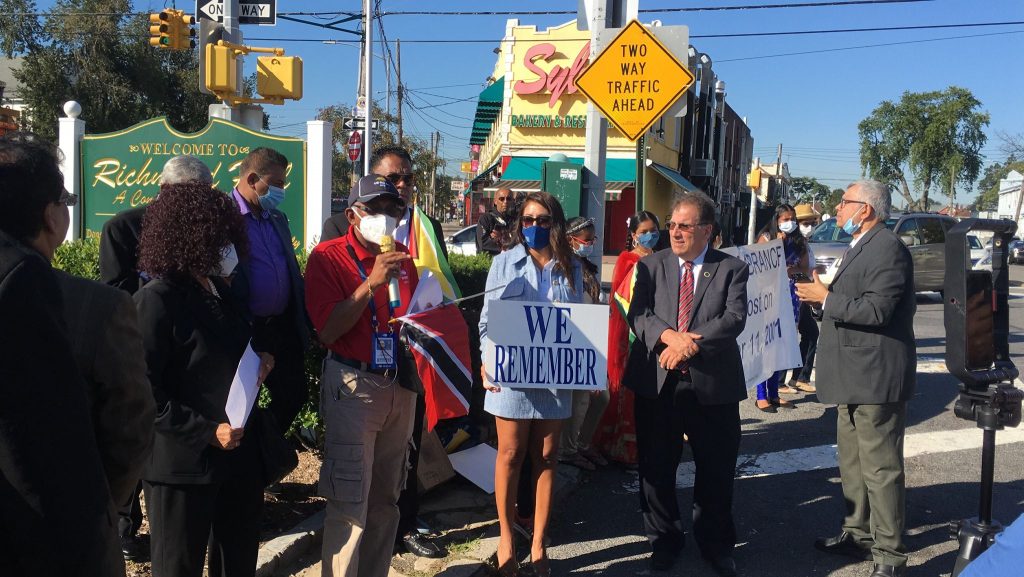 Ashook Ramsaran described it as a day of infamy and among the darkest in America's history. He, Pat Longford, and others praised the resilience of the families of the victims and of the American people to cope with the disaster. "For everything, there is a season. A time to cry, a time to grieve, a time to mourn, a time to reflect, a time to remember – the 2,977 souls who perished on September 11, 2001 from the terrorist attacks on America. We share in this national grief and remembrance which unite us as a nation. This is the time to honor, to remember and never forget. Such a horrific attack and destructive deaths always leave a gaping hole in the lives of loved ones as evidenced today when the names were read at the 20th anniversary 911 Memorial attended by Pres Joe Biden and former Pres Clinton, Bush and Obama. We will never forget. We pray for the wellbeing of families of those who lost their lives. God's blessings be with them, first responders and all those who make our lives safe and secure. God's blessings be with all of us, everywhere."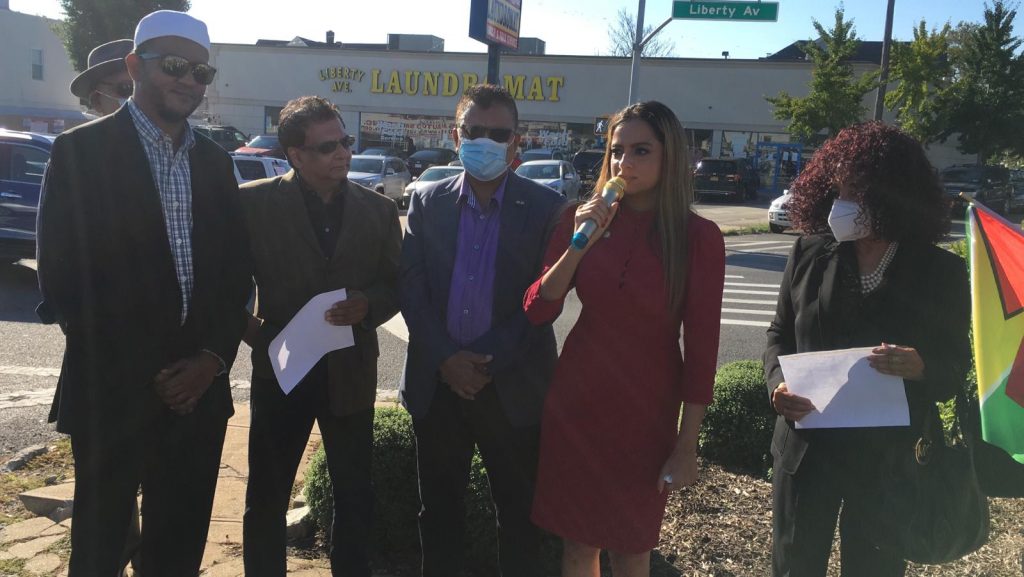 Among the many speakers were: Anthony Lemma, Rep Assemblyman David Weprin Council Member Adrienne Adams, District Leader Richard David, Court Judge Ogle (Guyanese) Felica Singh (Candidate NYC Council), Lt. Brian Storz of the 308 Fire Station, a wreath was laid at the entrance of the firehouse. There were signs with names of the 2 firemen from #308 who died on 9/11/2001.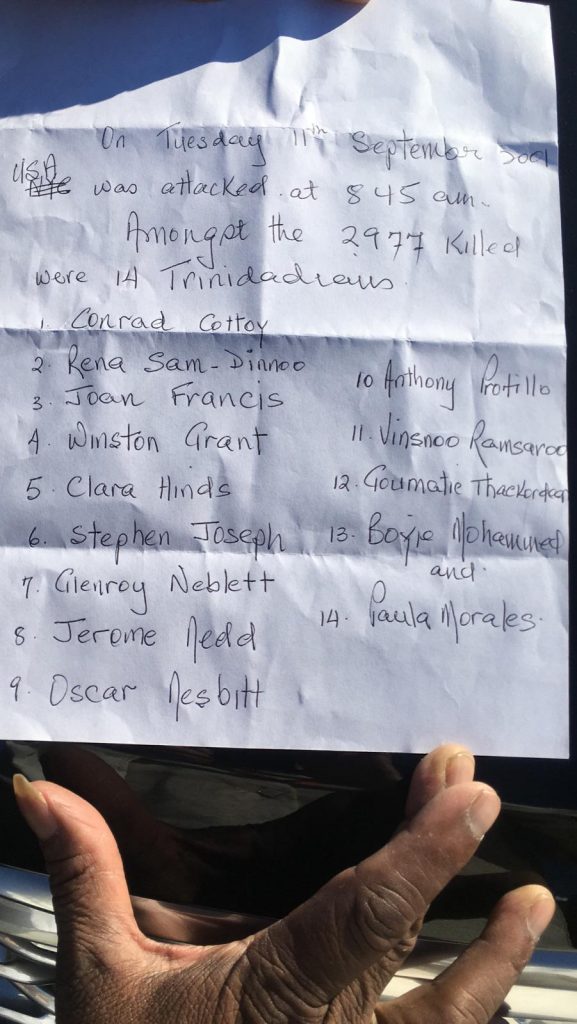 Earlier, at the Triangle in front of Sybil's restaurant, Peter Ramsaroop, head of Go Invest, delivered remarks on behalf of the President expressing Guyana's solidarity with the American nation in the fight against terror. Fazal (Joe) Yussuf also spoke on behalf of the government and people of Guyana and the diaspora mourning the loss of so many lives. Other speakers included who memorialized the victims and or spoke of memories of the day included Assemblywoman Jenifer Rajkumar, Queens Dep. Boro President Rhonda Binda, Veerapen Naidoo of Federation of Mandirs, Vishnu Bisram, Romeo Hitlall, Vishnu Mahadeo, Dhanpaul Narine, among others.