Some time ago, kidney transplants were performed in Guyana. Dr. Raul Jindal of India, practicing in America, led the team of doctors that performed the first kidney transplant plus a dozen more in Guyana. The death of an Indian national, Kalki Kumar Gaur, brother in law of Dr. Jindal, who was immersed in Guyanese affairs in Queens, led to kidney transplants in Guyana. That was his gift to the people of Guyana. I know Kalki because I used to see him when I attended events as a reporter and or as an activist. And he knew of me from my political activism and my writings.
Kalki is from Agra, Uttar Pradesh, the state from where some two-thirds of Indo-Guyanese trace their ancestral roots. I used to see Kalki around Guyanese activities in Queens since around the late 1990s and was always curious how and why he patronized our events. What led him to live and socialize in the Guyanese community? Kalki had heard of Indo-Guyanese, Indo-Caribbeans and their Indian cultural lifestyle. But he never socialized with them. As faith would have it, he met Jass Persaud, a radio broadcaster and New York Guyanese community advocate. The two met by sheer coincidence in visiting a Swami from India in Elmhurst. Jass invited Kalki to Jamaica to have 'chai' (tea), and they became close friends. Kalki was looking for an apartment to rent. Jass offered Kalki a room at his home, and he would live there for some fifteen years along with Haji Zakir who Jass also housed for a long period. Jass introduced Kalki to the Guyanese business community in Jamaica, Queens Village, Richmond Hill, and surrounding areas. Haji took him to Islamic festivals. Jass took him around to cultural events, including the Holi and Diwali parades, mandirs, and Islamic celebrations. Jass said Kalki was very fond of Haji Zakir. Kalki related well with Pandit Ramlall, one of gthe leading Guyanese community leaders in NY; they conversed in Hindi.
As faith would have it, Kalki suffered a massive heart attack and was rushed to the hospital where he was pronounced dead. There was no contact for family members. Jass proceeded to solicit donations among Indo-Caribbeans to help pay for the cost of cremation services for Kalki. Meanwhile, Jass decided to search through Kalki's belongings for documents and contacts to family. With luck, he found a phone number among Kalki' papers; it was a landline number for a location somewhere in mid-West US. Jass decided to phone it. It turned out to be the number for Kalki's sister who was a medical doctor attached to a hospital in the mid-West. Jass related the sad news of Kalki's passing. The sister asked Jass to phone her husband, Dr. Jindal, who was a leading surgeon at Downstate Hospital. Dr. Jindal informed Jass that there was no need to solicit donations for the funeral expenses. He said he would pay all of the costs relating to the funeral and religious rites.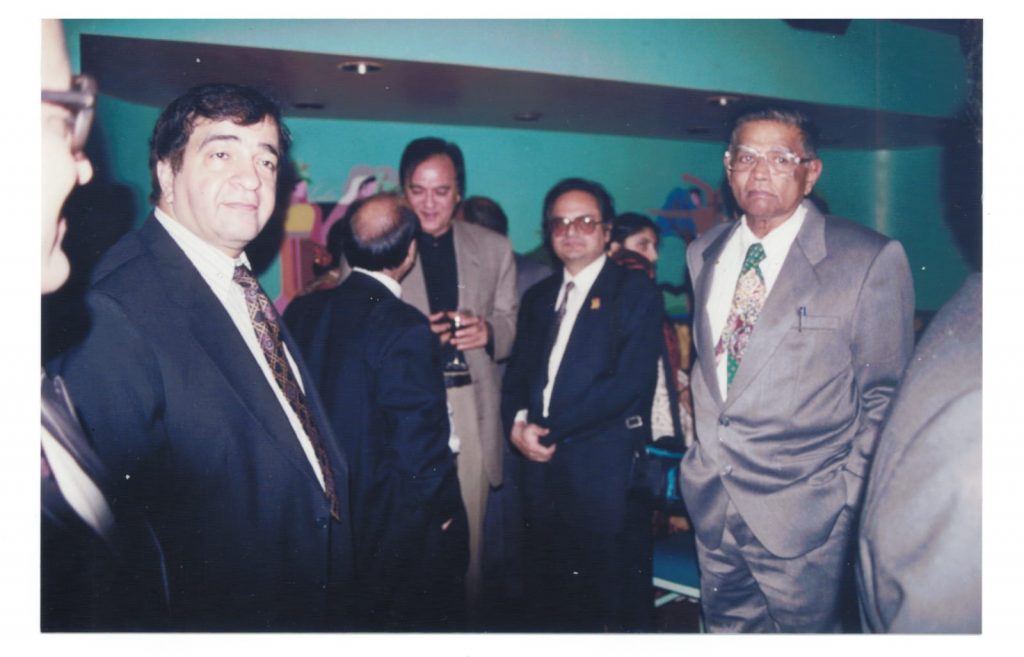 I met Kalki at countless events. I was impressed with his vast knowledge on politics, business, and stocks and commentaries on Guyanese in my interaction with him. He knew me through my countless writings in the media and was informed of my political activism since the 1970s. He wrote extremely well on varied issues including on Guyanese affairs and culture and Indian politics. His articles appeared in NY Guyanese newspapers. At his funeral, at the eulogy, it was learned that Kalki was trained as a political scientist in Agra where he received a PhD. He also worked for an investment company in Manhattan. And he was a computer techie. Kalki wrote a 1000 pages book titled "Clash of Civilizations". He sent the book to Prime Ministers and Presidents including Bill Clinton and Atal Beharri Vajpayee. Jass said he knew and recognized that Kalki was very bright but never knew of his educational credentials until the funeral. (Kalki also has a brother in Agra who is a retired high court judge).
Jass said: "Kalki was very simple, honest, humble, quiet, and peaceful. He was always contented with whatever he had. Boarding and lodging were never an issue. He shared whatever little he had. He did not want to burden anyone. He never asked anyone for anything and he never owed anyone a cent. He was not wealthy and he offered his services for free to help others in business. They became multi-millionaires from his brain power and investment prowess, and he never asked them for anything. He worked for major investors and had an office right in front of the World Trade Center and in mid-Manhattan. He was brilliant. Investors trusted his analyses and judgments in stocks and other investments. I accompanied him to his office buildings to retrieve files after 9/11. He was well known by guards. He was allowed into the buildings without ID because of respect he earned. He was a very proud man. He never asked anyone for taxi money or subway fare. If he ran out of money, he would not jump the subway turn style or beg someone to pay his fare. He walked several times between Manhattan and his home in Jamaica. That was the integrity of the man".
After his funeral rites, in gratitude to the Guyanese community for their support, kindness and generosity to Kalki, brother in law, Dr. Raul Jindal, offered his medical expertise to friends of Kalki and the Guyanese community. He committed to performing kidney transplants for free in Guyana if they so desire. He said he would lead a team of doctors to perform surgeries. Dr. Jindal was attached to Walter Reed Medical Center in Washington and currently is lead surgeon of kidney transplants. Walter Reed is the hospital for America's political elite (President, VP, Members of Congress, Judges, generals, military officers, etc.); Dr. Jagan was taken to Walter Reed after his massive heart attack in 1997.
Dr. Jindal made multiple visits to Guyana to perform free surgeries. Some of these were conducted at the Georgetown hospital and Balwant Singh hospital. I had the good fortune to meet and interview Dr. Jindal in Guyana and in Queens through an introduction by George Sobhraj who made all the travel arrangements for the medical team that went to Guyana. The Sobhraj family sponsored the medical team to Guyana and the surgeries. George and Jindal said they were pleased to help Guyanese with medical issues and facilitating their surgeries. Everyone who benefited from their generosity expressed gratitude. Jindal said he was most impressed with Indian cultural values and Indian cuisine in Guyana. He said at Downstate he helped to train Guyanese doctors and nurses.
Jass said he misses Kalki and Sobhraj who also passed on. George was very supportive of medical outreaches in Guyana and led several initiatives. As Jass stated: "Kalki's death resulted in kidney transplants in Guyana. But without the Sobhraj family and Kalki, there would not have been kidney transplants in Guyana".
Jass noted that Kawal Totaram was very supportive with funding of the kidney transplants in Guyana. Dave Narine also provided support and encouragement. Minister Maniram Prashad (Trade and Tourism), Minister Leslie Ramsammy, and the then government of Guyana led by President Jagdeo were very supportive to the medical team.
Yours truly
Vishnu Bisram