I woke up one morning to find my yard covered with more than ten inches of water. It was incessant rainfall all night and one should expect this type of flooding. Unfortunately, that is what we have been brainwashed to believe. What we are suffering from is not flood but the result of the failure of the relevant authorities to clean the rivers, drains and regulate construction.
It was reported to me that a contract was given to a party financier to install a sluice gate to prevent the water from flooding into a village when the river is high. Unfortunately, the installation was done incorrectly and water continues to leak through and flood the village. The problem was brought to the attention of the politician who did not bother to get the contractor to correct his error. Is the contractor/financier more important than the people? What was the politician's aim in this project? Certainly, not to alleviate the sufferings of the people!
In a recent flood at Bamboo No 1 in Valsayn, villagers had to live with water under their homes for seven days. Of the three pumps installed to remove water two were working at half capacity and the third was down. That year water came from across the highway, from the farm in St Augustine, and from east of Carib in Champ Fleur. The villagers were confident that if the pumps were functioning at full capacity, the floods would have been avoided.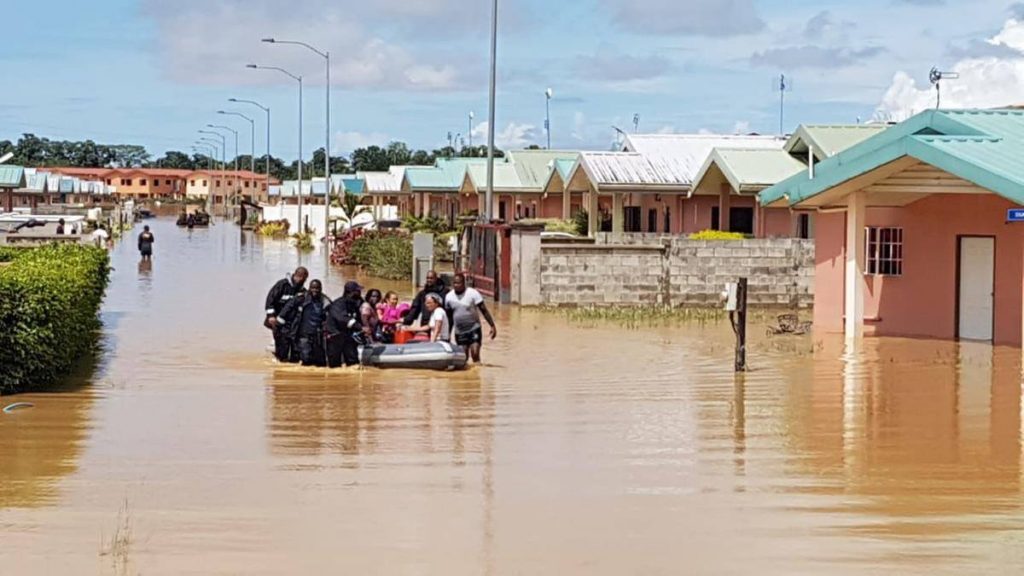 Millions of dollars in losses were suffered. Businesses were kept closed for weeks to clean up and discard damaged goods. Households had to discard appliances and couch sets and carpets, etc. Crops and livestock were affected and many businesses went under, never to recover.
The sitting Minister of Works came in person and viewed the calamity. Immediately four portable pumps were installed and the water was pumped out. As for the three pumps, all three were repaired and put back to work. Now almost three years later, villagers have not suffered any flooding.
There is no policy to encourage more green and less concrete. Should the government make it compulsory that 15% of land should be kept under vegetation? With such a policy there would be a slower runoff of water to contribute to flash floods. There are residential areas across the country that do not have a shrub or a tree. It is like vegetation represents backwardness and concrete is development!
Today we are witnessing what is happening across the globe and more so in the developed world. There are extreme weather conditions in Europe, Australia to Japan. It is not only floods but also forest fires caused by extreme heat. Only last week Italy recorded 45 degrees Celsius in temperature, the highest ever. Haiti continues to be in an unfortunate state-earthquake and a storm a few days later. What is even worse than these natural disasters in Haiti are the criminal gangs that are blocking aid workers from reaching the affected areas.
I am definitely not going to rule out extreme weather conditions and climate change. However, in the Caribbean I would like to identify corruption, laziness, and dependency as major contributors to floods. Have your Member of Parliament in your constituency conducting tours of the affected areas with the relevant technical staff to see the problems on the ground prior to the start of the wet season? I am a retiree and usually at home and I have not been fortunate to see these officials coming to affected families to find a solution to these problems.
It is becoming clearer to me that the politicians come around during these disasters not so much to help but to mamaguy the gullible electorate. What can an MP or a councilor do during a flood? He should be asked to account to the people for all he has done to avoid the flood. I remember my former councilor coming around only because his term in office was coming to a close and he wanted to be re-elected to office. Fortunately, he was not offered as a candidate by his party and the elected councilor that replaced him is no better!
It is a shame that people hold up the holy books pledging their commitment to serve the people but renege on their promises. Are these individuals of sound state of mind? … taking an oath to serve and then not having the time to come around to hear people's grievances…the very people they besieged for their votes with the promise to represent their welfare!