Chanka Maharaj was a politician who served in the Legislative Council for two terms-1946-1950 and 1950-56. Prior to this, he served for 17 years at the local government-level; and as a member of the Constitutional Reform Commission, he played a major role in the formulation of the Peoples Representation Act for local government to bring local government closer to the people.
Among other achievements, he was a founder member of the Maha Sabha and was elected one among four of its trustees. Chanka Maharaj donated lands for the construction of the El Socorro Hindu School and played a major role in the construction of several Hindu schools throughout the country.
 Despite these many achievements what is most remembered about him is the popular joke that painted him as an illiterate. It is said that Chanka was on a political platform when he said "Brothers and Sisters. What the people want is bread- B-R-E-D." A member of the crowd shouted: "You skip out the 'a'" and Chanka said: "B-R-E-D-A."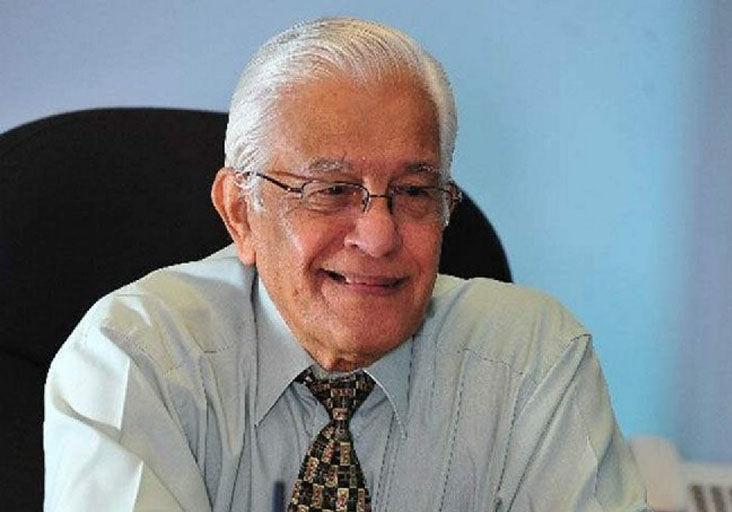 This apart, Chanka remained one of the most loved politicians in this country and few surpassed him where service to the people was concerned. It is said that at 6 am one day a group of ladies from Cedros arrived at his home for his intervention to have their husbands, all fishermen, released by the Venezuelan coast guard. It is said that Chanka welcomed them, served them breakfast, and promised that he would see to it that their husbands were released. That very day Chanka took a boat to Venezuela and secured the release of the fishermen. Off-course this would have been done with the involvement of the T&T Immigration Department.
Our pandits also sacrificed for the people. Pandit Lakshmi Persad of El Dorado told me that he traveled by bus to Sangre Grande to conduct puja and received 12 cents for dakshina and a seeda. One pandit said that he had to chain his bicycle to a cocoa tree and then walk three miles through a forest to reach the home of the devotee to conduct a pooja.
Do we say the same for our professionals and academics? Is the aloofness displayed by several of our professionals and academics not alien to our culture? Dr. Mackenzie Brown in the "White Umbrella-Indian Political Thought from Manu to Gandhi" said that in Western society an individual would be propelled from working class to a professional class, not to return. He said that in Hindu society, the individual who gains an education returns and identifies with his clan. This was best demonstrated by B. Ambedkar, framer of the Indian Constitution and first Attorney General in the post-independence Government of India. Today Ambedkar is venerated as the Father of the Dalit community of India. His struggles granted them a social and political identity rather than being an appendage of another dominant community.
One local example of this was Sibhoonath Capildeo who encouraged all his nephews and nieces from the countryside to live in St James and access education in the capital. Capildeo said that at one time he had almost fifty nephews and nieces attending school. Capildeo was able to receive a discount from the electricity bill after a senior official of the Electricity Commission learned of this reality. No wonder, the Capildeos (and Naipauls) have won more national scholarships than any other family, not excluding V.S. Naipaul winning the Nobel Prize for Literature.
Hindus must be thankful for Bhadase Sagan Maraj who did not use his wealth selfishly but made it available to the community. His leadership saw the building of more than thirty-five Hindu primary schools and scores of mandirs across the country. He also provided political leadership and struggled for better wages and working conditions for the sugar workers.
Basdeo Panday was no less academic. In 1966 Basdeo Panday, on his way to India from England to take up a Commonwealth Scholarship, he touched down in Trinidad to greet his parents and siblings. The social reality on the ground changed his mind and he plunged himself into a long struggle, almost 55 years, serving the people. His sacrifice saw the improvement of the working conditions and wages of sugar workers. He was also instrumental in the development of a strong opposition party that resulted in the defeat of the PNM in 1986. Subsequently, he formed the United National Congress and again won the election and served as Prime Minister.
I want to salute Dr. Bhoe Tewarie for his articulating his view on public issues while being an academic attached to the St Augustine Campus of the UWI. Through the pages of Tapia, a paper inspired by Dr. Lloyd Best, Dr. Bhoe Tewarie articulated his views on social and political issues of the day.
Bhoe Tewarie went on to be elected a Minister of Government and never ceased to identify with his religious and cultural roots. He served as Principal of UWI and later returned to politics serving as a minister of government with distinction. As an opposition Member of Parliament, Dr. Bhoe Tewarie never failed to identify with the culture of his constituency.
Dr. Suruj Rambachan has been an exemplar where the promotion of Hindu teachings and music were concerned. His position as a lecturer at the UWI never dissuaded him from singing bhajans and giving discourses on the Ramayana and Bhagavad Gita. Dr. Rambachan went on to serve as an ambassador and later as Mayor of Chaguanas and Minister of Government in several ministries with distinctions.
Where are our academics in our politics or in the mass media today? Apart from Kamla Persad Bissesar and Dr. Roodal Moonilal who had stints as academics, there is not a single individual in parliament who has a background in academia. And why? Are our academics afraid to identify with their community? Dr. Bhoe Tewarie and Dr. Suruj Rambachan were never afraid!
Our Hindu academics and professionals having mistakenly copied those early academics who had only contempt for their ancestral heritage. In a nutshell, they hated themselves and their extended family and never bothered to remain and struggle with them.
Guyanese Indians are more inclined to cooperate because the influence of the Church was never that strong, thus explaining why Guyanese in New York would pool their resources and own massive portions of real estate.
Dr. Bhoe Tewarie and Dr. Suruj Rambachan are definitely no junior sec academics but have been among the best minds in the country. Nevertheless, there is a lesson to be learned and, the older I grow I am coming to embrace it. It was first articulated by Dr. Rudranath Capildeo who said that "when you send a donkey to university he comes out an educated donkey."
My Baap and Mai knew that not all their children were university material and never bothered to waste their small savings on them.