Our leadership-political, social and commercial- appears to be static or in decline in Trinidad and Tobago. Most leaders have a penchant to occupy office but are at a loss, dazed and not understanding the nature of the tasks that they have undertaken.
No leader lacks intelligence and learning; what they lack though is commitment and courage to do their duty. It is Arjuna's fever all over again. More than 5000 years ago, on the battlefield of Kurushetra, India, Arjuna, the prince warrior (reputed the greatest warrior of the land), refused to fight the enemies. Instead, he succumbed to an avalanche of ill-founded excuses to justify his inaction.
One area a leader should show courage is in his ability to earn an income or rise above the need for an income. When a leader leads a hand to mouth existence such an individual can be bought and sold in the market and it is now a security issue for any political party to be packed with officers who cannot afford their basic needs. Most of the great leaders of the world were men and women who were professionals in their own right with the ability to earn their money for their upkeep. Mahatma Gandhi not only came from a wealthy family that afforded to send him to London to study law in the 1890s, but he was also a successful lawyer with a lucrative practice in Johannesburg, South Africa. Had he been dependent on an income from the government, the British would have still been ruling India!
Ho Chi Minh's father was a public servant and was dismissed because of his anti-French political view. Young Ho was conscious of the victimization of his father by the French colonial government. In his early life, Ho migrated to Paris and the USA where he worked, studied and interacted with other third world revolutionaries who wanted to throw off the yolk of colonial rule in their countries.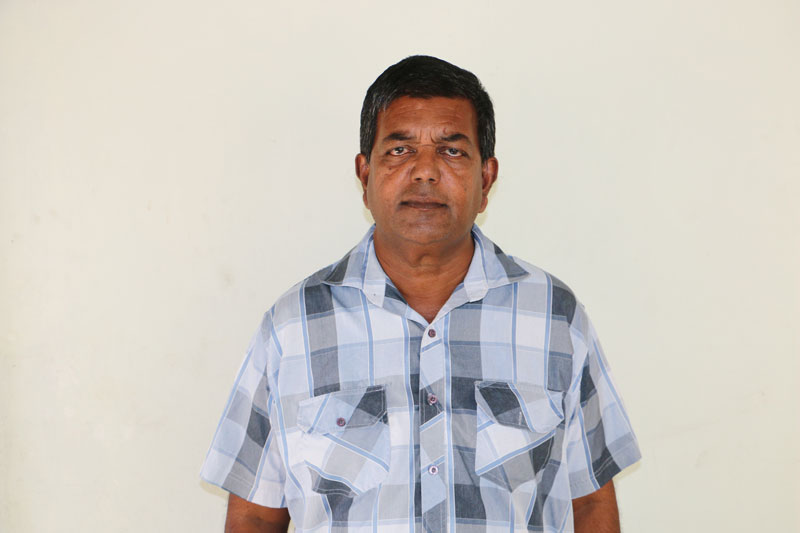 When Gandhi and Ho returned to struggle to liberate their native lands they were never part of the middle class social trappings but focused on their sole mission to rid their respective countries of foreign occupations. Armed with the Bhagavad Gita, Gandhi boldly declared that the "British must leave India and Indians must be left to run their affairs." In the study of Indian History, Gandhi is classified as an extremist leader while those who were dressed in suits and accepting invitations to cocktail parties at the Viceroy's residence were described as moderates. With limited faith in themselves, those moderates surrounded themselves with the trappings of office, without knowing that power was with the people.
How do we reconcile men and women receiving tens of thousands of dollars monthly and not having a party group to show for it? I live in the Constituency of Chaguanas East, and the UNC, to my knowledge, does not have a single party group. Despite this failure, the MP and other officers receive income from the state every month. Where is the integrity to demonstrate productivity for the money earned?
It would be convenient to claim that it is a COVID 19 pandemic and the practice of social distancing and other inconveniences make it difficult to organize. But the MPs must come to the reality that social media exist and through proper planning systems can be developed to reach out to the constituents. Unfortunately, this is not being done as members of the public in need remain hopeless, praying that a few miracles may occur and change for better their current bleak situation.
Party discipline is not party dictatorship. UNC MPs do not seem to have a voice. When I voted for my candidate I voted for her to speak on my behalf. However, it appears that the Political Leader has total control over what her MPs say or do not say! How do you reconcile the shadow Minister for Agriculture not holding a press conference to discuss issues confronting farmers? What is the UNC position on the proposed privatization of WASA? It is clear that political statements from the UNC MPs must be confined to the walls of Parliament and subject to the jurisdiction of the whip; it is stripping the MPs of their freedom to exercise an opinion on an issue of the day. Such dehumanizing action must be loudly condemned!
The politics of Ms. Kamla Persad-Bissesar and her band of sycophants are very disheartening. Instead of emboldening these young men and women, she is stifling their growth and development. No individual who has the welfare of the people at heart or who wants to realize his fullest potential should subject himself to such a slow and painful journey to the pyre. This action of Ms. Persad-Bissessar is very similar to the 1966-71 parliamentary term when the then Opposition Leader and Political Leader of the DLP were in London lecturing and instructed the Opposition MPs to remain silent. I know of one individual, then a young man, who was elected an MP but was never given an opportunity to speak in parliament. This individual shares with audiences around the world his many experiences but never uttered a single word about his five years of shame and political castration.
Such a scenario can only exist because the UNC has no ideology. I must agree with Nisha Ramracha who underlined that the UNC has no political ideology except hamper distribution and toy-drives in depressed communities. It is this culture of dependency and humiliation that has got into the psyche of these young politicians under the tutelage of Ms. Kamla Persad-Bissessar who is in a contest with the PNM to demonstrate that the UNC can have bigger and better hamper -distribution and toy drive that the PNM.
The UNC must have a revolt and Ms. Kamla Persad-Bissessar must be placed in a safe house with her family. She is incapable of taking the UNC forward into government. However, the most vulnerable individual in the politics of Madam Kamla will be Dr. Roodal Moonilal, who is akin to the character Boxer in George Orwell's Animal Farm. Boxer was too committed to the revolution and did not pay attention to the demise of his other colleagues- Bhoe Tewarie, Suruj Rambachan, Fazal Karim et al-when they were dragged to the slaughterhouse. Ms. Bissessar needs to announce to the East-West Corridor that her hands are clean and that she stands for morality in public life and to demonstrate her sincerity she is going to make Dr. Roodal Moonilal her sacrificial lamb.
For Dr. Moonilal time is fast running out and he must make his move to rid the party of this albatross that is Ms. Kamla-Persad Bissessar.