Welcome to the haberdashery man- someone who knows little of everything but not enough in one field to earn a livelihood. The haberdashery man is the typical shop-fly that hustles drinks from customers by idle boasts and lies.
Swami Vivekananda: "Greatness lies in the earthwork that goes about its duty."
Identity is important. It helps you to know who you are. If we don't have defined duties or tasks we become wayward and aimless, like a feather in the wind, to be blown hither and thither. This lack of purpose was well portrayed in the characters Jai and Vijai played by Amitabh Bachchan and Dharmendra in the blockbuster, Sholay.
The characters, Jai and Vijai, were two young men engaging in petty crimes that landed them in prison. They had no higher purpose in life until a jailor, recognizing their daring and bravery, hired their services to protect his village from outlaws. Jai and Vijai soon found meaning to their lives and destroyed the gang with Jai dying in the process.
The Hindu caste system (fraternity) is a highly complex social system that give every individual a sense of purpose and social identity. Belonging to caste provides its members with skills to earn their living. Secondly, it provides the members with social support during good times and bad times. Through fraternity, business houses raise capital, find customers and provide general good will. In time of challenges such unemployment, natural disasters, financial crises, and death the members of your fraternity are always available to render assistance.
Belonging to a caste is like belonging to an industry. For example, the film industry would have a fraternity that goes beyond the set. Many people married within the industry, thus strengthening bonds and fraternity. At one point the largest family in the film industry was the Kapoors that 'reigned' over Bollywood for decades.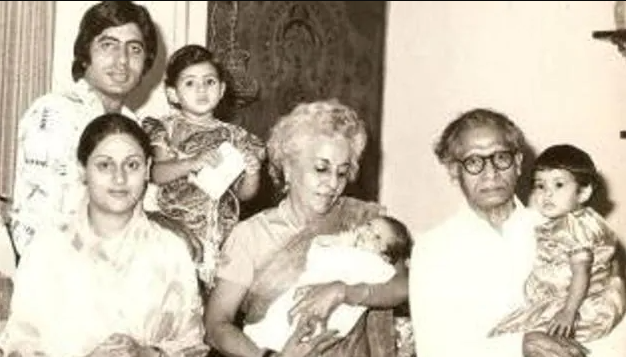 Amitabh Bachchan is the pinnacle of a family that has been engaged in the arts. Harivansh Rai Bachchan. Amitabh's father, was a renowned poet and teacher at a university. His mother, Teji Bachchan, also dabbled in teaching and was a known social activist who served as a director in the Film Finance Corporation in 1973. With this background, the foundation was laid for the rise of this towering personality in cinema.
The Bachchan clan in the film industry includes Amitabh, his wife, Jaya Bachchan, their son Abhishek Bachchan and his wife Ashwarya.Rai-Bachchan. It is with certainty that Amitabh Bachhcan's grandchildren, including Aaradhya Bachchan, would be involved in the film industry.
Recently Abhishek Bachchan revealed that he wanted to quit acting after a few flops and his father encouraged him not to give up but to persevere and things would change for the better. Abhshek took the advice of his dad and he was able to make a big comeback. Had Amitabh not been a part of the industry, it might have been difficult for him to offer advice to son.
When disaster strikes and the chip are down, the fraternity can always be there to fall back on. In a television interview, Amitabh Bachchan, spoke about his bankruptcy and creditors knocking at his door. His production house flopped and he had to return to acting. He said: "I walked across the road and told Yash Chopra that I am ready to work." He went on to share with his listeners that he accepted the be host of the program "Kaun Banega Croerepati"- (Who wants to be a millionaire) to earn money to repay his debts.
The western world's concept of specialization was the production assembly line that was first inspired by Gerald Ford in the motor car manufacturing industry. But the Hindu concept of caste or division of labour, is buttressed with a philosophy that embraces the highest aspiration of mankind -Moksha or liberation. So work and duty is not drudgery but worship of the divine. By performing our duties, we play our roles in the cosmos, thus breaking away from our individual self that binds us to maya and rebirths.
Hindu society was always like a huge conglomerate with highly trained individuals providing specialized services for the welfare and success of the institution. It was the most complex social system in the evolutionary ladder.
As Hindus we need to overcome our narrow unicellular amoeba mentality and embark on a broad highway to experience the height of success. In Trinidad and Tobago, the leading business houses are huge, pooling resources and with a complex management arrangement. Sadly, Hindus are left to chorus others' lamentation of the success of the so-called one percenters. The one percenters have unity; they are focus and would continue to dominate the economy in all areas-banking, insurance, manufacturing, fast food, malls, private security and as suppliers of goods and services to the State.
Welcome to the haberdashery man- someone who knows little of everything but not enough in one field to earn a livelihood. The haberdashery man is the typical shop-fly that hustles drinks from customers by idle boasts and lies.
Our families are no longer families but a disparate and desperate band of haberdashery men and women. Today we don't have business families or teaching families or medical families. Kul dharma or the duties of the family is lost when the younger generation do not know what to do. Amitabh Bachchan followed in the footstep of his father – a love for the arts. Long before standing before the movie camera, Amitabh was a prominent figure in the arts reciting his father's poems before large audiences in the Hindu heartland. The participation of Amitabh in the rendition of his father's poem was not a rendezvous or adventure but a profound dedication to sharpen his skills so that the arts may flourish. Today his son, daughter -in-law are all actors and soon we may be lucky to see his grandchildren's engagement in the film industry, not as haberdashery (casual hands) but as specialists in their chosen fields.
The world is not in crisis for us to be running around like crazy ants to save it from destruction. We need to use action to liberate ourselves and this can only be done by enjoying the work that we are doing. Only when we enjoy what we are doing that we will excel; otherwise, we will be trying to change the world to mask our personal failing.

Swami Vivekananda: "Greatness lies in the earthwork that goes about its duty."