My first encounters with Dr. Brij Lall was in late 1987 when we corresponded back and forth about his proposal to present an academic paper at Columbia University that a group of us was organizing to commemorate the 150th Anniversary of the Presence of Indians in the Diaspora. This was the Fourth Conference of People of Indian Origin (East Indians as they were called then) with Trinidad scholars taking the initiative in the first three conferences. Later, I was tasked to make arrangements for his accommodations in New York as well as transfer to and from the airport. He arrived at La Guardia Airport and I picked him up in early July 1988. I accommodated him at my home for about a week with Kumar Mahabir and Shamoon Mohammed also being hosted at my home in greater Richmond Hill, Little Guyana.
Brij and I, and Shamoon and Kumar, had lengthy discussion about politics in Fiji, India, Guyana, Trinidad. He asked a lot of questions about politics and culture of the countries of the Anglophone Caribbean and I asked a lot of questions about Fiji. I jad learned a lot about Fiji in my readings and my association with Ganesh Chand. Ganesh was studying for his PhD at New School in Economics and I was doing doctoral studies at nearby New York University. The New School was owned by NYU or had some kind of relationship with students from both universities allowed access to both campuses, including library facilities. I would visit New School to engage Ganesh who was on the staff as a foreign Fulbright scholar. Ganesh knew of Brij's work as an academic. Ganesh, like me, was an academic activist who fought authoritarian governments and who were punished for that role by our respective governments.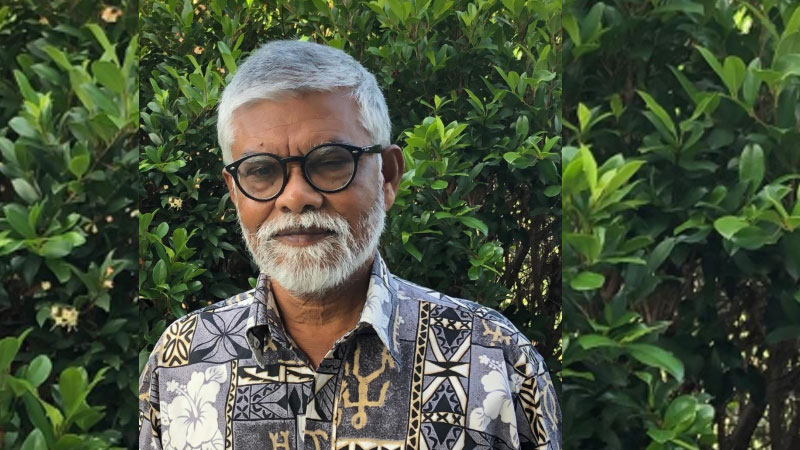 There was much for Brij and I to talk about and time abound with his presence in my home. Fiji's democratically elected government was overthrown in 1987 and replaced by an anti-Indian racist government. We shared a commonality – focusing on girmityas in our studies – the indentured laborers who enriched so many societies with and their descendants their hard slave like labor without just compensation – and writing on contemporary political issues in our respective homelands – he on Fiji and me on Guyana (as well as on other countries like Trinidad and elsewhere).
Guyana was in the throes of a racist dictatorship. So there was much to talk about. We also shared other similarities – in food habits, faith (Hindu) and culture being descendants of girmityas (indentured laborers). I remember him upon entering my house, he went over to my mother-in-law and offered her a gift he brought from Hawaii. (Brij Lal was a Professor at the University of Hawaii Manoa campus). He bowed to her and offered her the gift in clasped hands as Hindus normally would do. He enjoyed our hospitality and loved our cuisine that was similar to Fiji's — roti, dhal puri, bara, pakoras, dhal, fish curry, etc. Brij was nurtured by the cultural milieu of the community where he was raised from Tabia on an island of Fiji as I was raised in Ankerville, Port Mourant, Guyana.
With his religious and cultural upbringing, Brij paid respects to the little Mandir I had in my home. As in Fiji, Caribbean Hindus don't forget their Hindu ancestry, having a mandir in their home or yard. I drove him around Queens, Elmhurst Little India shopping district and to Manhattan. I also took him to Richmond Hill (Liberty Avenue) shopping area that was coined Little Guyana by Vassan Ramracha. He was able to interact with Indian Caribbeans and visited mandirs and get a taste and feel for Indo-West Indian culture. He got to meet Basdeo Panday and Cheddi Jagan at Columbia University where both had come to deliver keynote addresses. Like me, he courageously shared his views on the politics of his former homeland as I have done on mine. He was not very au fait on India like me. (Hawaii didn't have much of an Indian community with access to Indian newspapers and Indian TV as we did in New York to stay up to date with events and politics in the ancestral homeland). He talked a little about cricket but was not very familiar with all the big Indian names in the game.
Brij's specialty as an academic was in Fiji indentureship and Pacific History. He presented a paper on Indians in Fiji. In 1988, his writings were not well known. But he would become an eminent and leading historian after leaving Hawaii and taking up a post at Australian National University in Canberra. He produced several books and penned dozens of peer reviewed papers that were published in leading academic journals.
When I visited Canberra at ANU in August 1995, he was out of town, and we did not get to meet. Also, we didn't get to meet when I visited Fiji as he was busy working on the draft constitution that mandated power sharing between the major ethnic groups (parties). But we stayed in touch via letter correspondences and phone calls. We met several times in Trinidad, India, and Mauritius, talking about politics of Fiji and Guyana and Trinidad and had extensive discussions on varied issues pertaining to Indians in the diaspora. We talked about Modi and the BJP government and on the previous Congress led government. He loved cricket although he was not familiar with some prominent Indian West Indian cricketers the way I was. He was an admirer of Shivnarine Chanderpaul. He felt Shiv should have been afforded the opportunity to play a few more tests to break or equal the record of Brian Lara with the most test runs by a West Indian. Brij was familiar with the racism that Indians in the Caribbean faced. He was blunt that race prevented Shiv from going on to score the most test runs. Unlike most Indian West Indian academics, he spoke out against injustice and racism. As a retiree, unlike Indian Caribbean academics, he did not speak in hushed tones. He was not fearful of consequences. He made his views known. He spoke his mind publicly.
In 2019, we corresponded about the need for a journal on Indian diaspora affairs. I had penned a proposal and mission statement for such a journal and obtained academic affiliates from several universities and requested that he be editor in chief. He politely declined saying he was already editing two acclaimed journals. Our last communication was by phone a couple months ago. And just
During the 1990s, Brij had become a leading researcher on indentureship andand the modern era of Fiji and intellectual par excellence. He was a prolific writer producing voluminously – books and papers annually published by reputable publishers. His several books are of immeasurable value. He was also a very good speaker. He did not shy away from controversial topics. He spoke out against the coups in Fiji – in 1987, 1988, 2000, and 2004 all of which impacted on the Indian Fijian community. During a visit to Fiji in 2009, he and his wife Dr. Padma were ordered deported for an innocuous comment he made about the military dictatorship. He was never allowed to return to his homeland that he loved dearly and that he held dear to his heart. He became involved in the struggle for the restoration of democracy in his homeland after the first coup in 1987 and became even more immersed in freedom struggle after he was banished from the land of his birth.
Brij was not a politician. He did not take political sides. He was on the side of democracy. Professor Lal spoke up for democracy and rule of law at a time when other academics were quiet. He was committed to academic scholarship not political struggle. And by the end of the first decade of the new millennium of 2000s, Brij had acquired a reputation as a giant in the field of academia on the world stage especially on Pacific Affairs and indentureship. He also did quite a bit of creative writings or what would be called novels. He studied and or taught at some prestigious universities in Fiji, America, Canada, Australia, and India. He presented papers at leading universities globally. He was sought after to give keynote addresses at international conferences on Indians in the diaspora. His work is well known by historians, including in the Caribbean, Mauritius, Africa, and India, other soceities who write on Indians.
Prof Lal died with a reputation as a world renowned historian, thinker and public intellectual on issues impacting Indians. He was a man of character and fortitude. He was among a few academics who wrote on various countries and groups instead about their own country and nationals. I thank him for his prolific writings on indentureship history. There was (is) only a handful like him around.
Brij's death is a major loss to the social science academia and to those of us who struggle for freedom and democratic governance. His lifelong commitment to his homeland and to democracy as well as to freedom and to his fellow country folks, are incomparable among academics. He deeply cared for his people, the girmit ancestors and their descendants. As a fellow girmit and one who also writes about issues facing my people, I can relate to him and he can to me. The entire girmit community globally will miss him.