Over the past weekend, the well-known medical and humanitarian group, New York Guyana Mission (NYGM) conducted a food hamper drive at Black Bush Polder (BBP) and at Mahaica Creek. The four settlements of Black Bush Polder (Mibicuri, Lesbeholden, Johanna, and Yakusari) were devasted by floods, and so were several communities across all regions of Guyana.
This hamper drive was a continuation of NYGM's humanitarian work in Guyana and elsewhere. It has been conducting specifically food hamper drive in Guyana since the closure of Wales sugar estate in 2016. Prior to 2016, NYGM focused on medical, clothing, school supplies and equipment (computers and TVs) outreaches.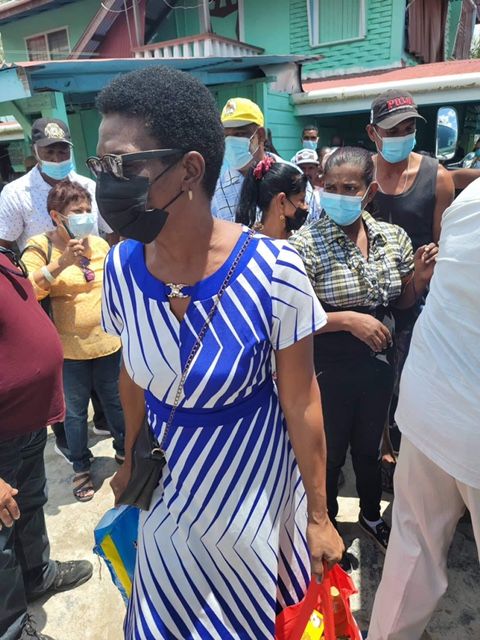 The NYGM team traveled to BBP on Saturday August 7, 2021, and distributed 240 hampers at Mibicuri, Johanna, and Lesbeholden. Recipients were identified by Shurmie, Dharmendra, and Vedo, residents of BBP. The BBP Coordinator of this project was Pt Son Son, who did an excellent job. For the Yakusari settlement, Pt Narayan Latchana (Pt Bhaiya) and his team rendered directly significant financial and material support to residents of Yakusari two weeks earlier.
NYGM team comprised executive members Rohan Rai, Srad Kublall, Vijay Kublall, Rithik Rai who procured, prepared, and distributed the hampers to the villagers with support from Pt Son team. The Deputy Regional Chairman, Mr. Zamal Husain, strongly supported and praised the outreach effort. The reaction from villagers was heart wrenching. On the way to BBP the NYGM team delivered 20 hampers to an existing outreach organized by Canada-based Ramnarine Sarju.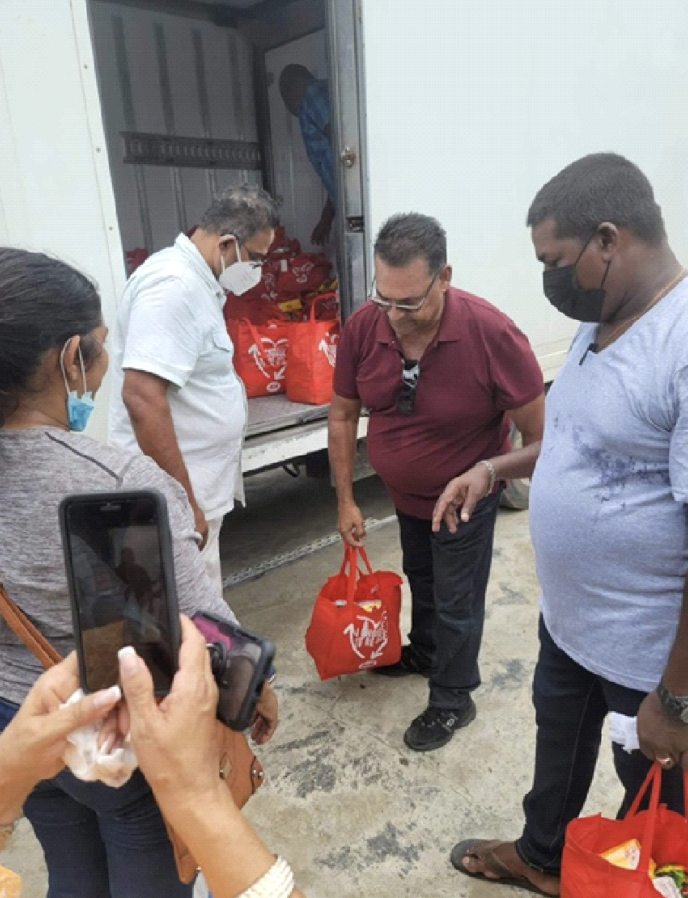 On Sunday August 8, 2021, NYGM joined the Sarju team as well as the Ministry of Health (MoH) outreach team on their mission to Mahaica Creek. Also in attendance were Minister of Finance Dr Ashni Singh and Faizal Jaffarally, MP. The Sarju team and MoH team donated water, hampers, supplies, and conducted medical checks and administered Covid-19 vaccines. NYGM provided over 200 hampers to residents there. Most hampers at the Mahaica outreach were donated by Komal Singh, a fellow villager of NYGM President, Dr Tara Singh. The Mahaica outreach offered so much comfort and joy to residents. Like the BBP outreach, residents know and appreciate that people do care about their plight and are willing to do something positive to offer relief from distress.
NYGM also distributed, through a request made by Victor Singh and Region 3 Police Commander Watts 20 hampers for accident victims on the West Coast of Demerara. These hampers were donated by NYGM executive Rohan Rai. NYGM also shared 10 hampers to some needy residents in the Mahaicony Creek.
The Black Bush Polder and the Mahaica outreach projects were the joint efforts by Guyanese Diasporans and local Guyanese. Dr Tara Singh urges others to help in whatever way possible and assures those suffering that there are people of goodwill who will always help in deserving cases.