New York City Council Member Nantasha Williams, newly elected and representing Council District 27, Greater Jamaica and Richmond Hill, on Sunday morning February 13 graced the Indo-Caribbean Shri Devi Mandir where she was warmly received by spiritual leader Pandit Tillackdharry Seerattan. The mandir is located at 93-20 173rd Street, Jamaica. The mandir has been engaged in humanitarian projects in New York as well as in Guyana, Jamaica, India, and other countries.
Going back since 1988 when it was founded, the mandir has been conducting weekly religious services on Sunday mornings. Council Member Nantasha Williams was invited to grace the mandir. Ms. Williams made a grand entry bedecked with a beautiful red sari with all eyes cast on her. She was welcomed by Pandit Seerattan and other devotees with invocation and remarks.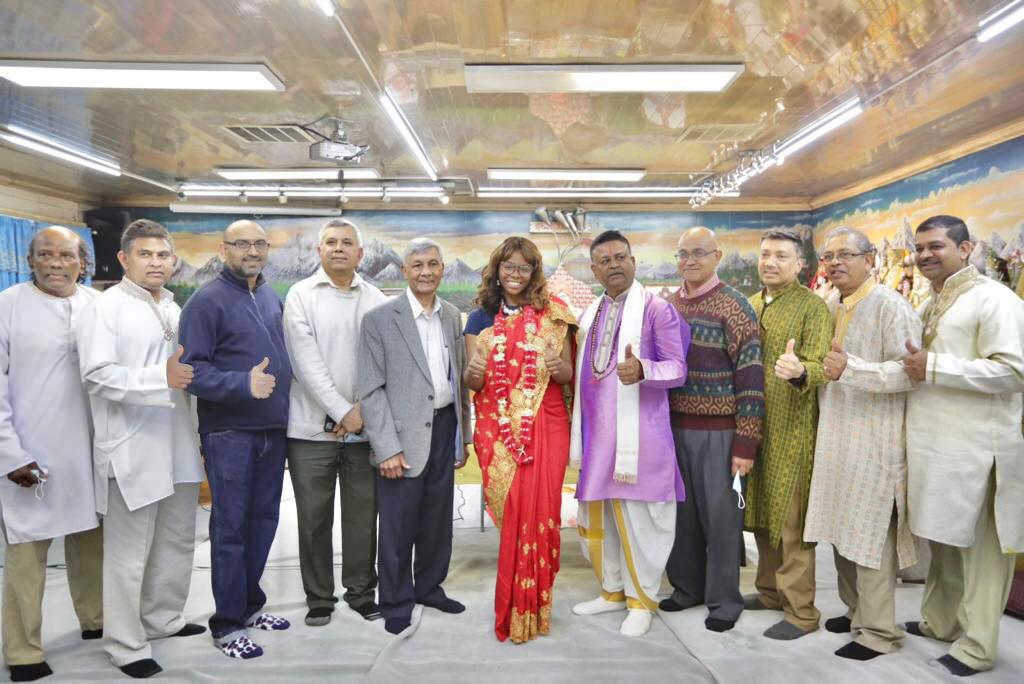 Pt Seerattan thanked her for visiting the mandir and lauded her support for the organization's spiritual and humanitarian activities. He remarked that he is proud and honored to have participated in her inauguration on February 6, representing the Hindu community. Pt. Seerattan briefly outlined the mission of the mandir and narrated its history as well as some of its community activities. Shri Devi Mandir was started in 1988 by his late father, the late Laldharry Seerattan, emphasizing spirituality and charity in New York and abroad. The family is from Upper Corentyne, Berbice, Guyana.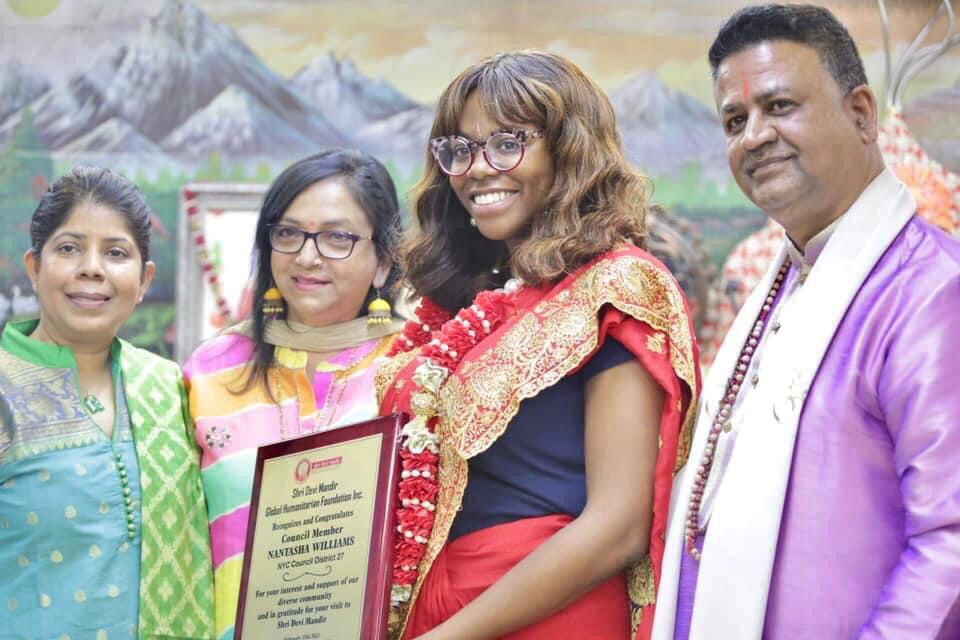 Pt. Seerattan noted that his family is fully engaged in carrying on the outstanding work started by his late father. He requested CM Williams' support for co-naming 173rd Street in honor of his late father, his life and legacy. The late Pandit is well known among Indo-Caribbean people in New York as well as on the block and in the surrounding community. The Seerattan family and members of the mandir have been very active on the block as well as the surrounding community with various social, cultural, and humanitarian activities. The mandir donates hampers to the underprivileged in the area in addition to undertaking humanitarian missions abroad. Pt. Seerattan prayed for the well-being and success of Council Member Williams and encouraged her to make future visits. "You are always welcome here, anytime", he told her.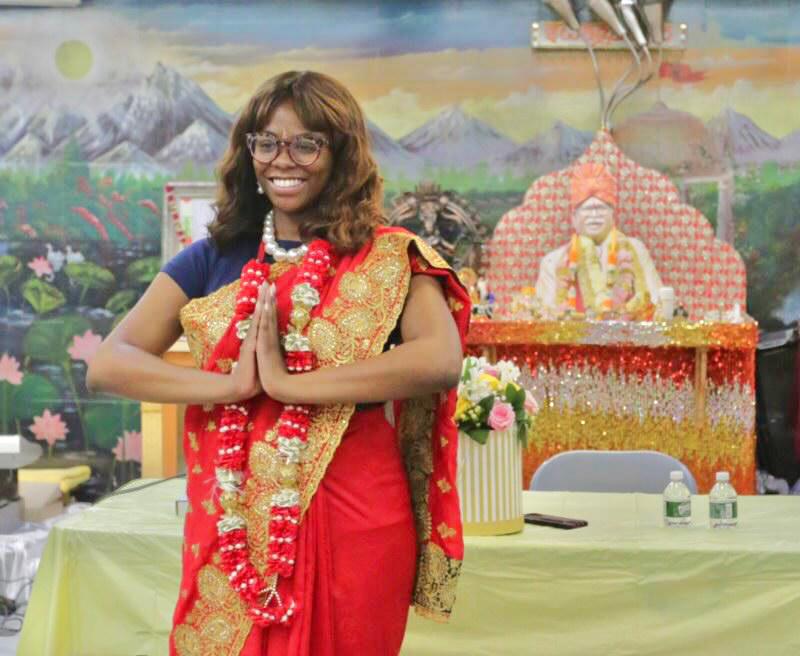 He noted that everyone is anxiously looking forward to the approval of the application of the co-naming of the street and the unveiling event.
Pt. Seerattan introduced the Coordinator of the Application for Co-Naming of the street and the one who spearheaded and guided the process towards the noble effort: Ashook Ramsaran thanked Ms. Williams for her visit, interest and support for the application for co-naming 173rd Street in honor of the late Laldharry Seerattan. He also commended her on forming her CD27 South Asian Round Table and his efforts to assist. He pointed out that Indians take the 3Ms – mantra, music and masala – with them from India to wherever they go, and that has sustained them over the many journeys.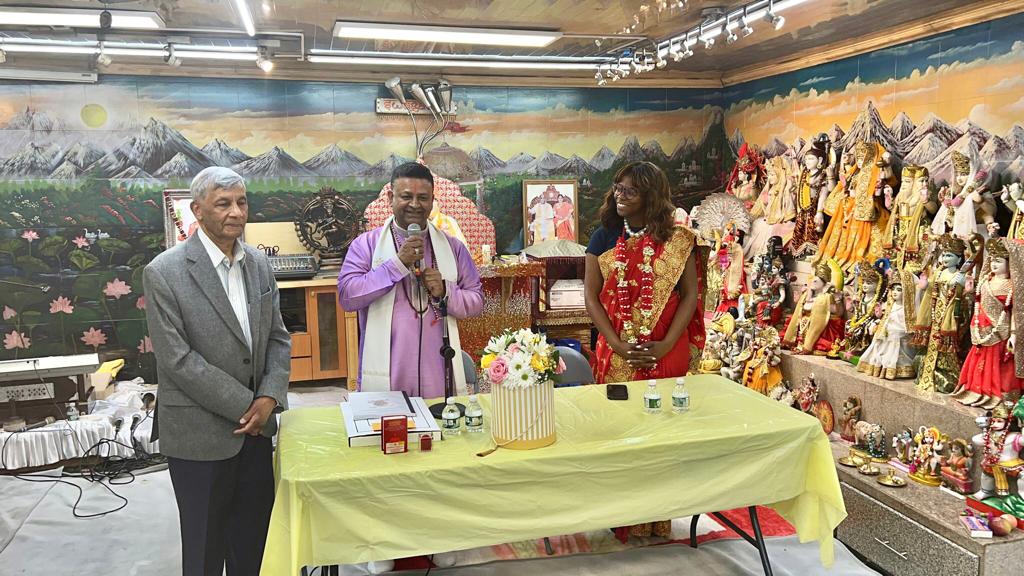 Ramsaran highlighted the outstanding achievements and exemplary community service of the late Laldharry Seerattan, noting that the information contained in the 98-page application dossier justifies the fitting and well-deserved tribute of the street being co-named in his honor. He thanked the team which worked hard on acquiring information and compiling them into an outstanding document (the application dossier).
He lauded the tremendous diversity of CD27 and Queens in general, stating that in other places they sing "We are the world"; in New York, we live it every day. He concluded by recognizing Black History Month. Together with Pt. Seerattan, they presented the petition (dossier) to her along with a copy of the flash drive.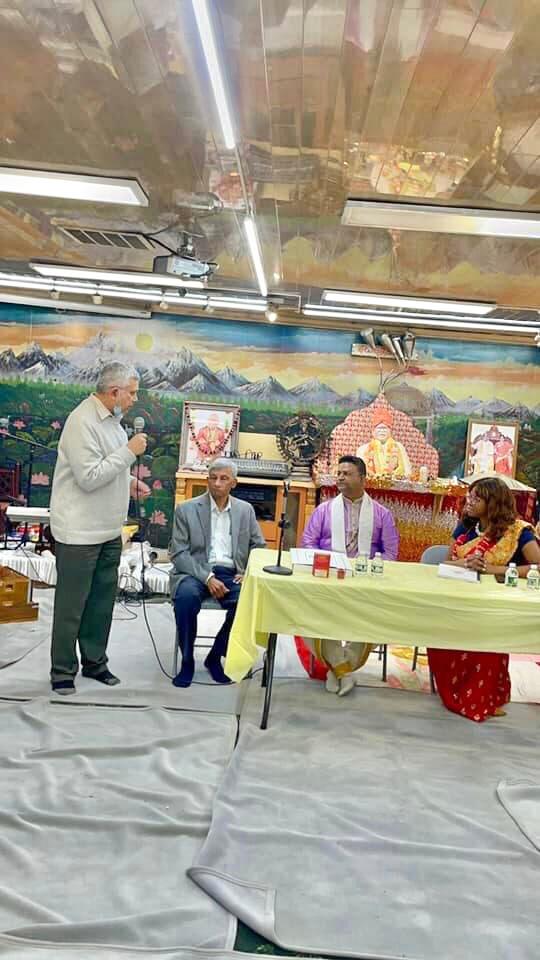 Also delivering remarks were Dr Dhanpaul Narine, Dr Vishnu Bisram, Lolita Singh, Colleen Chattergoon, NYC Police Inspector Ayub, and several other members of the mandir and community.
Silochni Seerattan, wife of Pt. Seerattan, garlanded the Council member. Ms. Williams was also presented with a model of "Ganesha" and a copy of the Bhagvat Gita & other gifts by Pt. Tillackdharry Seerattan & Raochan Ramlall Ms. Williams said she is very supportive of the application for co-naming 173rd Street in honor of the late Laldharry Seerattan.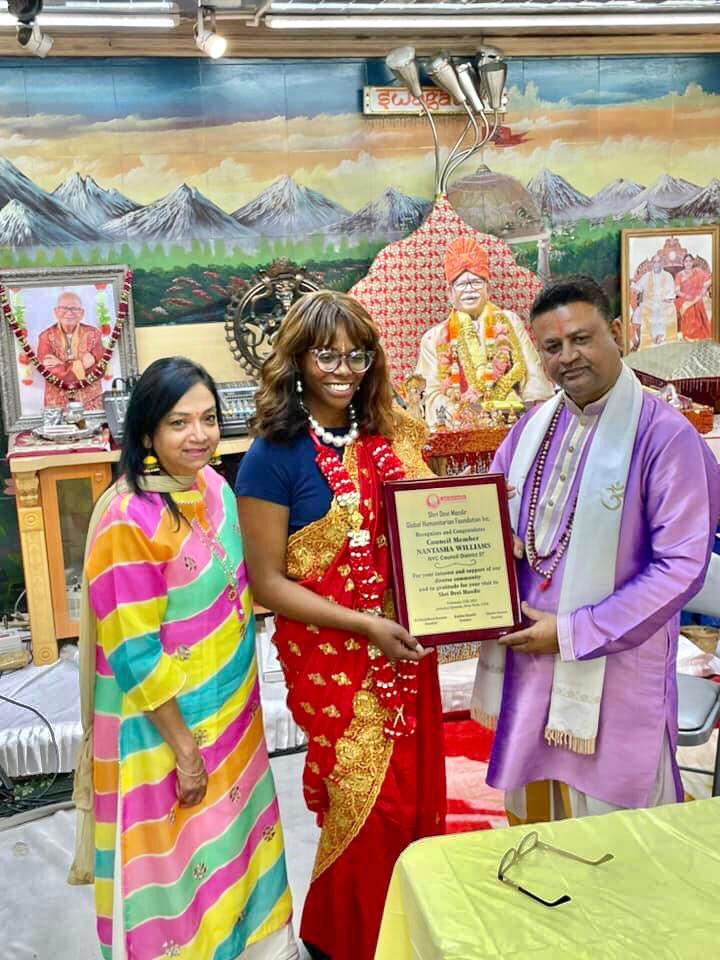 She was presented with a plaque of recognition and gratitude by Silochni Seerattan, Lolita Singh & Colleen Chattergoon. Council member Williams remarked that she is delighted to visit this mandir, her best visit to any mandir. She said she is overwhelmed by the welcome and plans on future visits.
She stated that she practices meditation and respects the Hindu teachings and way of life. She added that "Hinduism is one of the oldest religions of the word and teaches ways of daily life, respect for the earth and each other, tolerance, understanding and charity.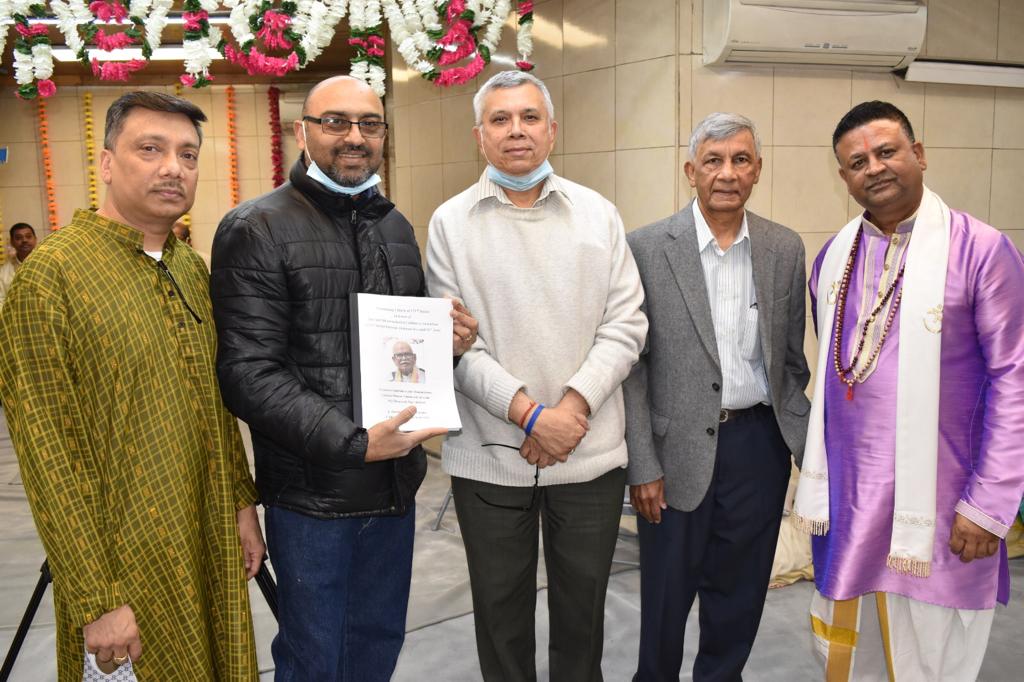 She also remarked that CD27, like Queens itself, is a proud district of diversity, the proud home of so many Hindus and other people of other faiths from Caribbean and India, and many Hindu temples, catering to the spiritual and community needs of residents.
She noted that so many other religious groups are represented in this district: Moslems from Bangladesh, Sikhs from India and others. She pointed out that over 200,000 Guyanese in NYC celebrate Hindu religious holidays: Diwali and Holi. She said she is supportive of Diwali being a school holiday.
She reminded the congregation of the Guyanese connection of the district. She noted that NY State Assembly Member Alicia Hyndman has roots in Guyana; Congressman Greg Meeks is married to Guyanese Simone-Marie; NYC Council Speaker Adrienne Adams is married to a Guyanese. Like other religious groups in CD 27, Hindus and Hindu temples have stepped forward to help the community and beyond during Condi-19. There are several Indo-Caribbean and South Asian Mandirs and masjids as well as Guyanese churches in the district. She stated that Indo-Caribbeans are very progressive New Yorkers, professionals, educators, businesses, civic and religious organizations.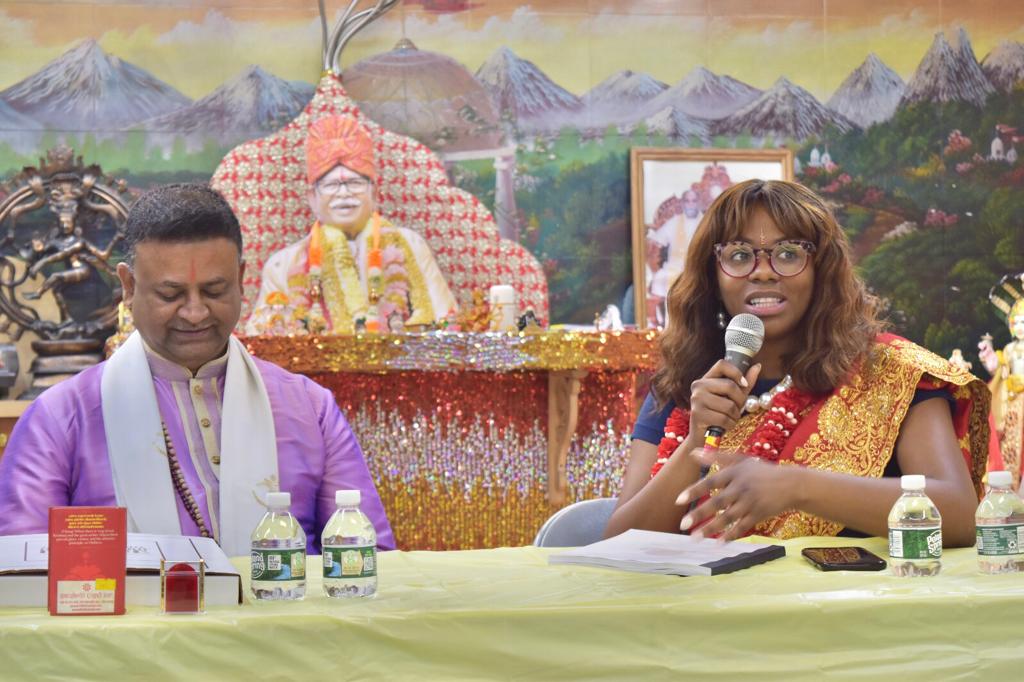 She emphatically stated: "The application for co-naming 173rd Street in honor of the late Laldharry Seerattan is justified with the supporting documentation. It has my full support for introduction to NYC City Council and passage". She told the worshippers she is anxiously looking forward to the unveiling event as a momentous occasion.
Pt. Seerattan and Mr. Ramsarran thanked her again for gracing the mandir. Bhojan was served at the conclusion of the proceedings.