The once very popular and still charismatic Basdeo Panday, former leader of UNC, erred in not accepting defeat in the UNC's internal elections in January 2010 and not recognizing Kamla's leadership. This has been a source of tension between the current party leader and its predecessor. Many felt Panday did not behave like an elder statesman. Had Panday worked closely with Kamla, the party's base would have consolidated improving its chance for government. The party leader must be given due recognition and respect – she won a leadership contest four times.
Panday has been behind the formation of a new political force launched by daughter Mickela Panday; The party is seeking unification with some other minor parties and announced it will contest all 41 seats.
Panday is reported to have complained that he was put out of the party he formed and built. That is regrettable if factual. There must be room for all in the party of the rising sun.However, Panday is partly to be blamed for perceived alienation from the party. Party insiders say Panday never showed recognition of Kamla as leader.There was a leadership election in January 2010 and Panday lost to Kamla Persad Bissessar who had called Panday her guru. Only one candidate can win an election leadership. Kamla won and should have been duly recognized. An internal poll I conducted showed her getting almost 80% of the membership votes.
As pointed out by others, in 2001, Panday exhibited similar behavior to that of 2010 on party leadership succession. There was an election for deputy leadership of the UNC in 2001. Ramesh Maharaj won a landslide victory against Carlos John and Kamla. Ramesh slate (Team Unity) won all the seats, except one (Roodal Moonilal), in the executive of the party. The membership said Panday did not like the members' verdict of Ramesh as his de facto successor and undermined the new executive. Conflict with Ramesh ensued. Ramesh, who was AG, was denied the right to act in Panday's absence from the country. Conflict widened with personalized attacks. Ramesh was sacked from the cabinet and the Team Unity party executive leadership was toppled. Panday asserted complete control over the party. To get rid of Ramesh and two other dissenting MPs who sided with him, Panday dissolved parliament prematurely and held elections in December 2001. It was a high-risk gamble proposed by party financiers. Team Unity contested all seats. UNC lost a seat (Tunapuna) through the involvement of Ramesh's party (Team Unity). The result was tied 18-18 and the President illegally decided not to reappoint Panday as Prime Minister; normally the incumbent stays in office in a tied election.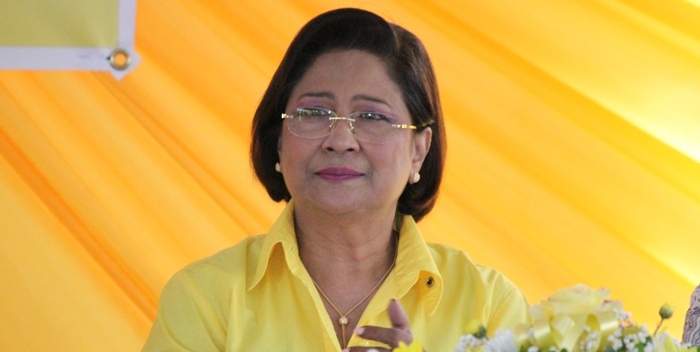 There was third party intervention for a reconciliation between Panday and Ramesh in mid-2002. Panday agreed to bring Ramesh back into the fold for the coming October 20002 elections. But he changed his mind and decided instead to bring in Winston Dookeran promising him succession. Dookeran was rewarded with the prestigious St. Augustine seat. UNC lost the election handing Manning a victory. Panday eventually made way for Dookeran as leader of UNC but not as Opposition Leader. Conflict ensued between them. Panday inched closer to Ramesh in the battle against Dookeran.
The UNC split in 2006 giving birth to the COP under the leadership of Winston Dookeran. The COP threatened Panday's base. Ramesh returned to the UNC in 2007 to contest a seat and help save the party. The COP did not win a single seat in new elections. Conflict erupted between Ramesh and Pandayin 2009. Ramesh and Jack Warner formed a caucus (RamJack) calling for reforms in UNC and leadership elections. After nearly two years of pressure, Panday yielded and scheduled elections in January 2010. Kamla, who had sided with Panday all along since 1995 when she was given the Siparia seat, threw her hat in the ring for leadership; Jack Warner abandoned Ramesh and joined Kamla in the Kam-Jack team that won a landslide in the executive leadership. Kamla became leader, a position she has held since then. Jack became Chair. Panday cried foul. Kamla won some 80% of the votes. Ramesh conceded gracefully having lost badly. He congratulated Kamla and urged her to find an accommodation with Bas as Panday was called. But the fallout was never mended as Panday did not yield the Opposition Leader position to Kamla as expected when a party has a new leader. A majority of party MPs abandoned Panday who lost the title. As the elder statesman in the party, Panday should have gracefully accepted Kamla as leader as Ramesh did and congratulate her. In a leadership election, one only person can be elected as leader. And the leader must be treated honorably.
In early elections called in May 2010, Kamla led an alliance to a landslide victory and became the PM. Ramesh and Panday were not given seats. Panday made many snide remarks. Panday and Kamla have not been in good terms over the leadership issue.
Many supporters of the party are calling for reconciliation between the former leader and the current leader who won re-election three times as leader. They feel reconciliation will bolster the party's chance at the coming elections likely in September. Bas and others in the party need to give Kamla due recognition as leader in much the same way that she recognized his leadership of UNC between 1995 (when she was chosen as the Siparia candidate) and 2010. The party needs to institutionalize a culture of recognizing leaders elected from the will of the members.