Jews are boasting that should Moses land in Tel Aviv, he would be able to communicate in Hebrew; should he wish to eat kosha food, he would have several restaurants to choose from and should he wish to pray in a synagogue, there would be many available to him.
The Jewish intellectual was saying that it is Hebrew, kosha food and the Talmud that make Israel distinctly Jewish unlike other parts of the ancient world that have been wiped cleaned of their ancient cultures. The Egypt of today is not the Egypt of the pharaohs or the Italy today is not the Italy of Caesar and the gladiators. All of these cultures have been erased and supplanted by the ethos of Islam or Christianity.
India is today in a war for its soul, yet many of its sons and daughters do not understand this reality. Much of the emphasis is placed on the budget, national GDP and poverty eradication with the exclusion of preservation of India's traditional cultures. The Congress and the secularists want to outfit India with jacket and tie and the English language; the communists feel that India would look better in Chinese clothing, speaking Mandarin and not believing in any god while the Islamists would like to see an India dressed like Arabs and speaking Arabic. The BJP government has said an emphatic NO to the disappointment of many. INDIA MUST REMAIN HINDU!
If Indians in the Caribbean have to be unique, we can do so by preserving our cultural identity while striving for the stars-high GDP, low unemployment and poverty levels etc. Fortunately, there are many Indians locally who have demonstrated that they can have the best western education and yet hold on to their culture. Shivanand and his brother Narendra Maharaj are both graduates of the University of the West Indies with degrees in English and Computer Science respectively. In addition to their music band Shivanand and Narendra also teach music at their home at Mohess Road, Penal. Shivanand also holds a MA in Music from Allahabad University, India and is currently   completing a doctorate in Music and Robotics at UTT.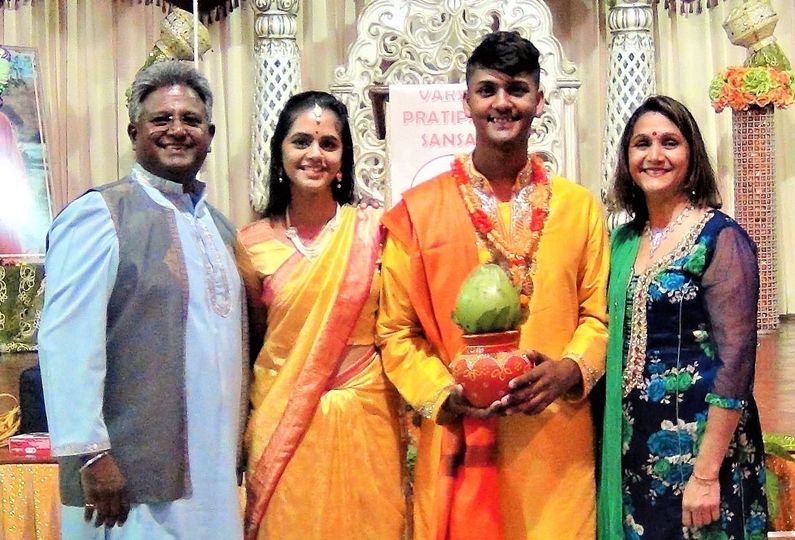 A family that excelled both in academics and the culture and the arts is the Singh family of Saddle Road, San Juan. Prashaanta and her brother Omprakash are active members of the Hindu Prachaar Kendra where they are actively engaged in the annual Bal Ramleela. A few years ago, they were part of a Ramleela cast that left Trinidad to perform our Caribbean Ramleela at the Kumbh Mela festival at Prayagraj, Uttar Pradesh, India.
Both Prashaanta and Omprakash are sport enthusiasts holding black belts in martial arts. They have been contestants in several international competitions. Omprakash also excelled in archery holding 1st place in 11 national championships including winning 1st Place at age 8. Both of them are also trained life guards.
Prashanta is also a qualified Oddisi dancer. She began her training at age 2 at the Kala Sangam School of Dance under the tutelage of Sandra Sookdeo. She has performed at several ballets at Naparima Bowl and other venues across the country.
Both Prashaanta and Omprakash are no less competent in their roles as academics. Prashaanta is a student of Dentistry at the Faculty of Medicine, St Augustine Campus of The UWI while Omprakash has been accepted to study medicine at the same institution.
When parents push their children to excel in academics to secure their material well-being, and ignore their thirst for culture and the arts, they are doing an injustice to them. Such children wake up to the shock that other colleagues have several skills and talents other than their academic qualifications. Not surprisingly binge drinking and other social misconducts rush in the fill those voids.
Studying in a class is not the best forum to develop social skills. Listening to lectures, spending hours in the library researching and preparing assignments provide limited opportunities for social interactions. These traits are better developed in social clubs where there is greater time for interpersonal interaction and bonding. The mandir, a dance or music class are more ideal places for bonding with people.
I fervently hope that parents understand that their kids would do good or even better when they are exposed to learning some aspect of their culture, the arts and other interests. Society does not need another doctor per se; it needs a cultured human being.