Profile of Deepa (OMELA SITARAM); she has done Indo-Caribbeans Proud; studied in India; won several honors and met leading officials; humanitarian who selflessly served in Guyana and NYC.
By Dr. Vishnu Bisram
(OMELA SITARAM), popularly known as Bahen Deepa, formerly of Guyana, has done Indo-Caribbean people proud with her varied achievements and accomplishments in Guyana, India, and in New York City where she now makes her home in the Bronx. Omela studied in Jaipur on an Indian government scholarship winning various accolades from her university for academic achievements. Some meet some leading political figures when she was studying in India as attested by pix published below. She returned to her native Guyana to serve the country. She migrated to the US, continuing her humanitarian service. She was honored and last October with the Gandhi Peace Bust prize for her humanitarian service and for promoting Gandhian values as well as promoting Dharma and propagating Indian culture.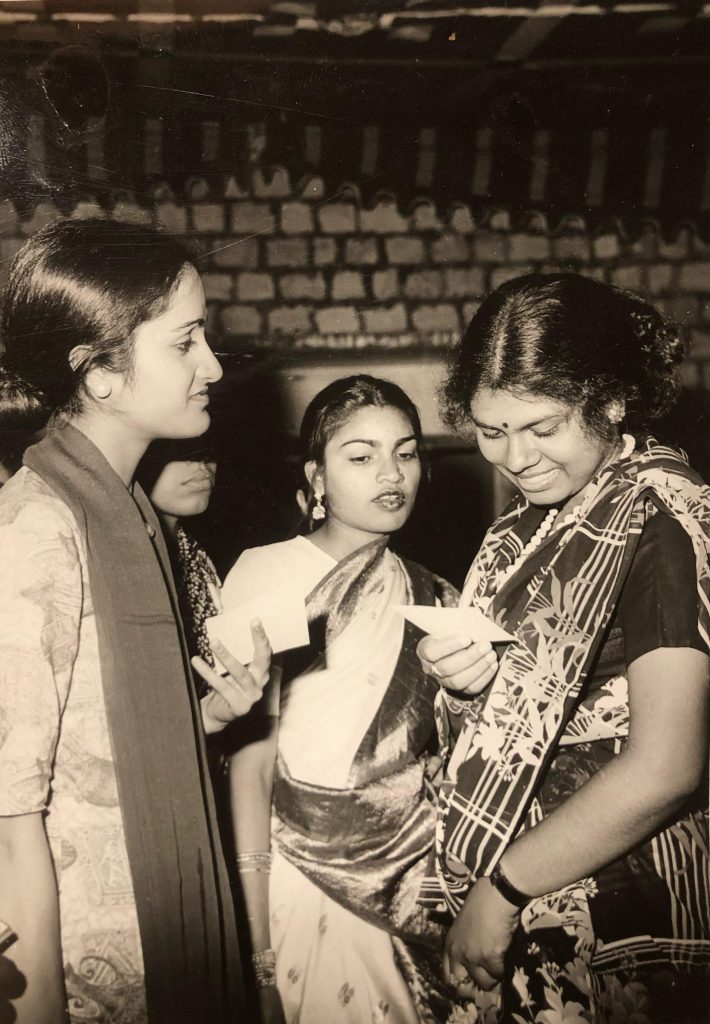 Profile of Bahen Omela:
Deepa (Omelawattee) Sitaram was born 65 years ago at No. 64 village, Corentyne, Berbice, Guyana, in the humble rice-farmer home of Kathleen (Indrani) and John (Bhumnarain). She is the second child of five siblings – late Camille, Jane, Renold, and late Rana. They grew up in No. 65 Village, attended New Market Anglican School, then Tagore Memorial High School. As a pupil teacher, Deepa taught at No. 48 Government School (1973-1974), then Tagore Memorial High School (1974-1977).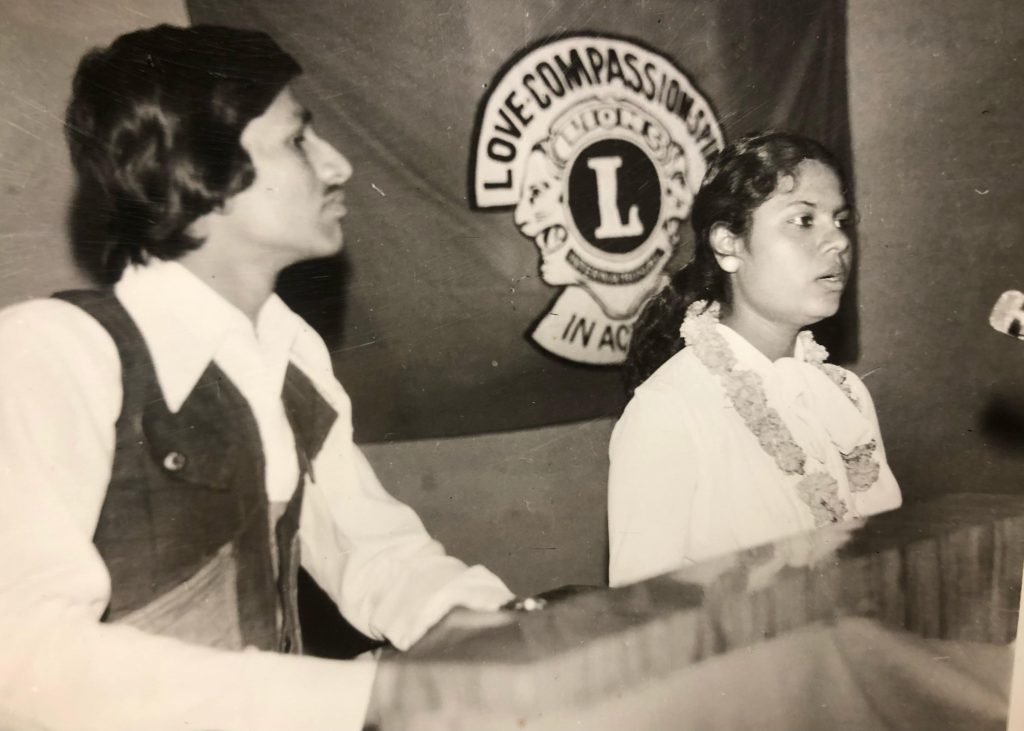 By this time, they were already engaged in religious activities, like walking to No. 63 Beach early on Sundays, then attending morning services at the No. 65 Hindu Mandir. Their days, especially weekends, generally ended by attending "Bottom House Hindi School", kept at different homes throughout the village. Teacher Munsie-ji was very strict, and she traveled on foot from village to village, staying wherever she felt comfortable. One such place was the home of John and Kathleen. Hindi was a subject taught at Tagore High School so students were able to learn and be tested on the language alongside other disciplines. By then, Deepa was already chanting Ramayan and helping to guide others in singing bhajans, organizing short religious plays and the like, at school, mandirs, and "bottom houses". Also, the Guyana Hindu Dharmic Sabha was formed by Pt. Reepu Daman Persaud in 1974, becoming a solid platform for everyone, like Deepa, wanting to sustain an interest in Hindi and culture. Deepa was given the opportunity to participate in religious programs at Radio Demerara in Georgetown. She left for Indian in 1977. Deepa and Ganesh (Dr. Sitaram) met in India and wed in Guyana in 1984.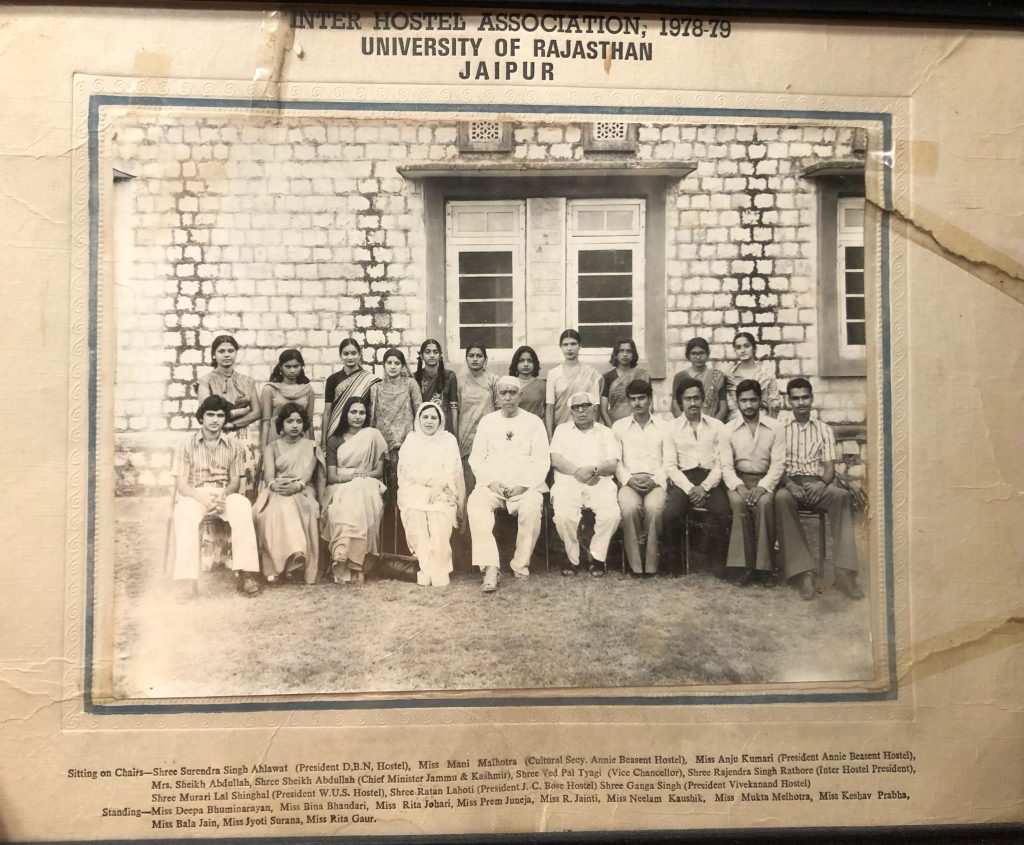 Deepa and Ganesh later settled in the Bronx in 1987 and had two children, Pratibha and Prashant. Ganesh passed away in December of 1992 when Pratibha was 4 years and Prashant was 2 years old. As graduates of CUNY colleges, Pratibha and Prashant have attained their Master's in Education. Pratibha is an elementary teacher and Prashant is a high school teacher both serving diverse communities of the Bronx. With a love for music, dance, and cultures, the children are constantly involved in community events. In collaboration with local talents, Prashant is a self-taught harmonium player and singer as well as a trained dancer. Prashant and Pratibha started dancing while at Lehman High School under dance educator Ms. Penelope Kalloo, and alongside Prashant's then fiancé Sharmita, formed the Rangeela Dance Troupe. Prashant went to Harbor Conservatory for the. Performing Arts and trained under Ms. Nina Clyvert-Lloyd, and shortly began performing at different theatres like the prestigious Alvin Ailey Theatre. Other venues include Columbia University, Lincoln Center, and Harlem Theater. He was presented with scholarships by Hunter College where he also completed his studies in performing arts on a full scholarship as the first inductee, the first male dancer, and the first student of Indian descent into a new dance program. Pratibha continued her studies in psychology, social work, and education at several universities. She is currently pursuing a post-graduate degree while building a strong profile of collaborative projects in humanitarian missions across the globe, and while working with city officials on curriculum building and implementation for urban students with a focus on the underprivileged. Pratibha and her husband Shalinder are parents to 1 year old Saanvi. Prashant and his wife Sharmita, also a dedicated teacher of the Bronx, are parents of 3-year-old Neeshant.
Below is a brief biography of Bahen Deepa:
1) She is from No. 65 village in the Corentyne, Guyana, and is currently living in the Bronx, New York. She is widowed and has two children and two grand.
2) She was a teacher at No 48 Government School and the Tagore Memorial high school at No 63 village in the Corentyne from 1973-77.
3) She studied at the Maharani College in Jaipur, India, from 1977-1980, and received a BA degree in English/Indian Literature.
5) She was awarded an Indian Government scholarship to continue her studies at the Central Hindi Institute in New Delhi from 1982-83.
7) In 1979, she represented Guyana at the world Hindu conference in Allahabad (Prayag), Uttar Pradesh, India, where there was an exceptionally large gathering in attendance.
8) On November 14, 1982 she chanted the Ramayana on Children's Day at Rashtrapati Bhavan in New Delhi, India, where a large gathering was in attendance.
9) She has been a member of the Guyana Hindu Dharmic Sabha in Guyana, and now with the New York Prant. The late Pandit Reepu Daman Persaud of Guyana formed this organization, and it is intended for the promotion of Hinduism and the training of young Hindu leaders.
10) In the USA, she is a member of the Guyana Hindu Dharmic Sabha NY Pran,t and the group has been holding annual cultural programs such as the Chowtaal Samelan, the Indian Immigration to the West Indies annual arrival day commemoration, Taan singing, and the Kala Utsav program.
11) She participated in a Saraswati Cultural Program and essay competition two years ago, which was for the promotion of youths in our community. She served as one of the Judges in the essay competition.
12) She was the writer and host of the Bhakt Anjali program for RBC radio in NYC from 1995-2000.
13) In 1995 at the United Nations, she was the moderator of a program for abused and underprivileged women.
14) She is with a group of individuals conducting Ramayana singing classes at the Durga Shiva Mandir in the Bronx since 2012 which has launched virtually since May of 2020.
15) In New York, she emceed many cultural programs
16) She has been a regular attendee at mandirs since childhood and continues her presence at several mandirs in NYC.
17) She has dedicated some forty-seven of her 65 years of her life to do selfless service for the promotion of Hinduism and in service to humanity.