I have been fortunate to experience preparation and fasting for Ramadan in Dubai, New York, Abu Dhabi, and India this year. I experienced Ramadan and Eid celebrations in India, Malaysia, Indonesia, and Singapore in earlier years. The Ramadan practices are almost exact duplicates of that in Guyana and diaspora Muslims who observe the pious festival and celebration. During this period, Muslims refrain from the consumption of food and liquid from sun-up to sun-down, and often give up other worldly habits.
Ramadan, the Muslim holy month of fasting, began on April 2nd culminating May 2 with Eid celebrations. Indo-Caribbeans in NY are observing the festival with dawn to dusk curfew. The fasting really ends on evening of May 1. But Muslims will gather at masjids or halls or in the case of New York in the public street or park for prayers on the morning of May 2 for Eid after which there will be a hearty meal.
According to the holy Koran, Muslims are urged to fast for spiritual and body renewal during this holy period of sacrifice. Prayers are also required. Some Muslims visit the masjid several (up to five) times during the day, as prescribed in the Koran; and where not possible, they pray at a convenient location to adhere to this pillar of Islam. Observing Ramadan is one of five pillars of Islam.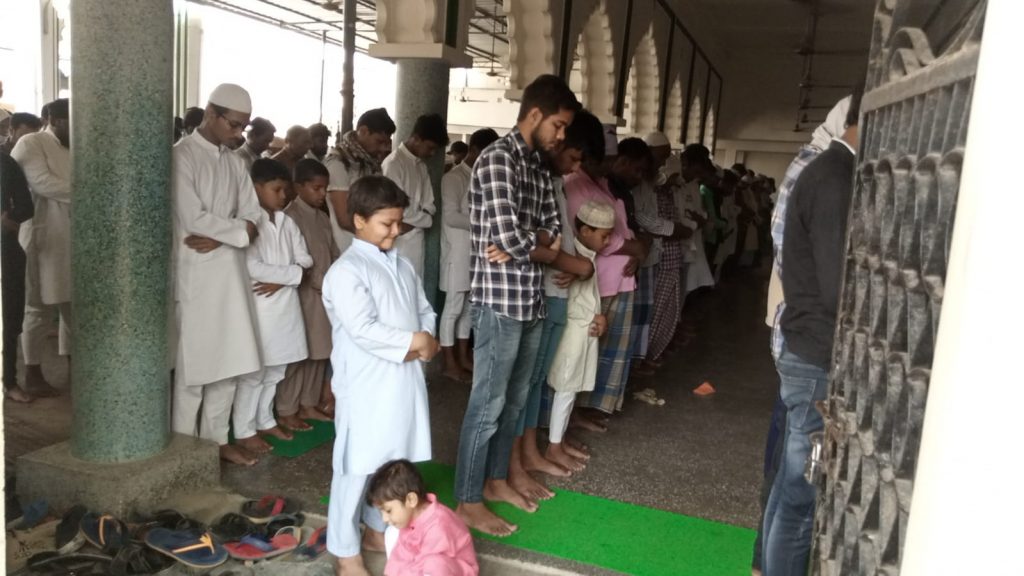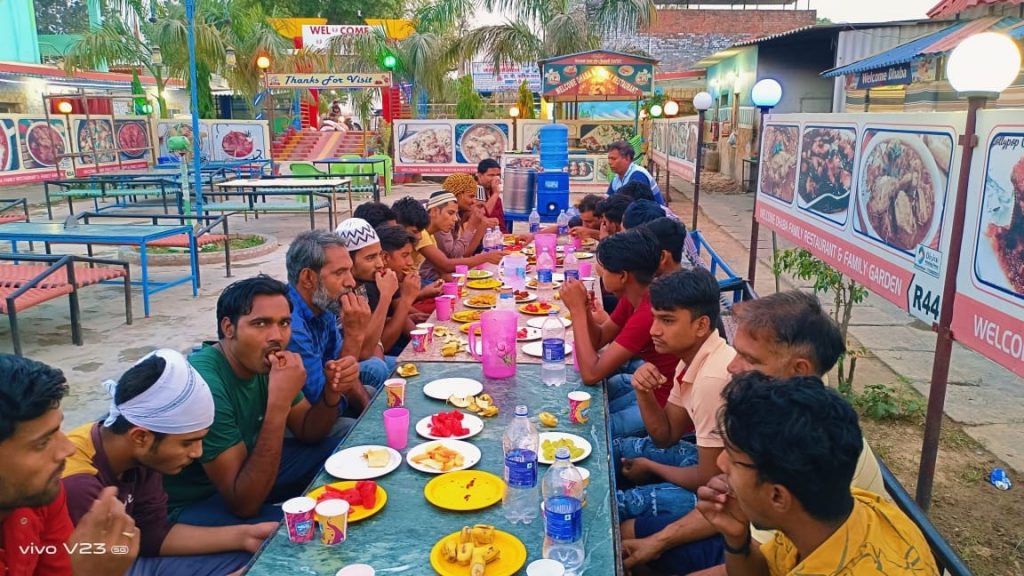 In NY, Guyanese Muslims and those of other nationalities began dawn to dusk fasting around April 2 with the sighting of the new moon. Not all Muslims have been fasting but most seemingly did so including many Islamic students in high school and colleges. The fasting period ends on May 2 depending on the sighting of the new moon. Monday is Eid, a school holiday in NY. Parking rules are also suspended.
Nightly, since the evening of April 2, Muslims in traditional garb were seen heading for masjid in the greater Richmond Hill area (Little Guyana) for prayers and breaking of the fast. The males were mostly dressed in traditional white and females in any color in shalwar or choli or Lahenga. In Dubai, male worshippers were dressed in white and females in mostly black colored garb (but other colors were also observed covered head to toe in the heat). In India, flocks of Muslims in Delhi, Varanasi, Azamgarh, Lucknow and other towns were seen in late at dusk briskly walking heading for the Masjid for nightly prayers. In every location, they broke the fast with the consumption of liquid followed by cajole or dates or some other snacks. In India, they headed for the street fast food outlets where almost every dish imaginable (halaal off course) was served. The streets in India in Muslim neighborhoods are brightly lit nightly during this Ramadan period. Food was bountiful.
In India, as in New York, Guyana, Dubai, Abu Dhabi, the fasting period is widely known as Rojah. Some called it 'Roza' (probably a matter of pronunciation). In UAE, the immigrants from South Asia, also call it Rojah or Roza. All Masjids in America, Dubai, Abu Dhabi, and India have held nightly prayer services since the start of Rojah. In Dubai and Abu Dhabi, I observed the presence of a mosque in every couple blocks. There are countless numbers of mosques subsidized by the Islamic state. The masjid are quite attractive, neat, and clean. The Grand Mosque in Abu Dhabi is probably the best in the world. One can also describe it as perhaps among the most beautiful structures in the world. It is worth a visit whenever one is in the UAE.
In America, each ethnic group or nationality or Islamic sect has its own Mosque. People generally do not patronize each other's Masjid, preferring their own masjid of their own ethnic group. But no one is excluded from services, and all are welcome to partake in prayers followed by the breaking of the fast. Each group has its own customs and practices and break the fast with their own cultural diet. The Indo-Guyanese and Indo-Caribbean Muslim diaspora in NY is a very tight-knit community, and they observe all Islamic traditions, especially during Ramadan or Ramzan (Rojah). Most Guyanese-oriented mosques are in Queens and there are Guyanese masjids in the Bronx and Brooklyn as well as in Florida. Some from other nationalities also come to the Guyanese Masjids for worship, and some Guyanese do worship at masjid of other nationalities, where Guyanese mosques are not available as in New Jersey. The Al Abidin Masjid, in the heart of Liberty Avenue, is the largest among Guyanese. The Jama Masjid is also quite large.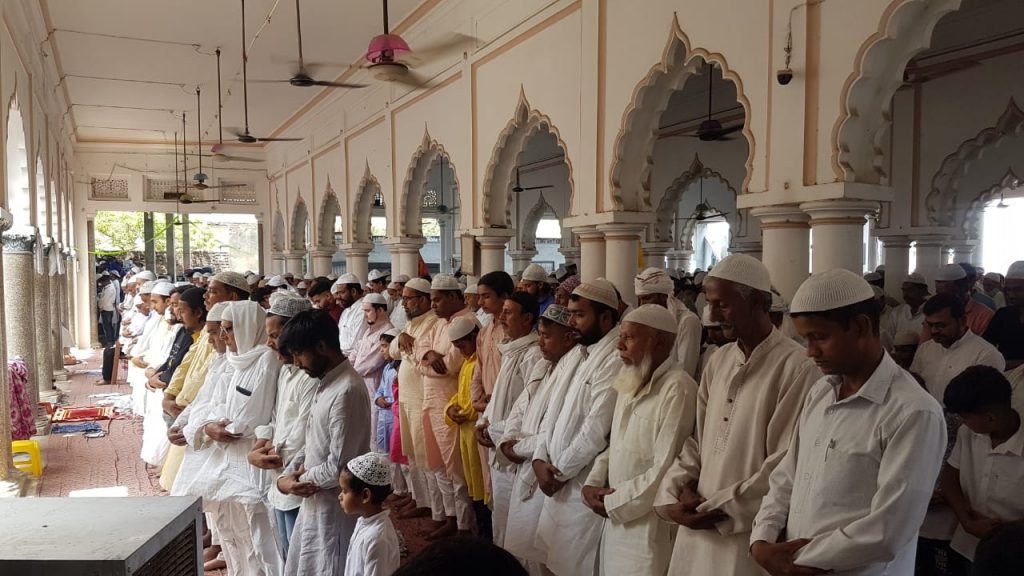 Everywhere I traveled in the Far East, Middle East, India, and America, the masjids were packed nightly during the Ramadan period. There were rituals and supplications to the Lord, all similar in practice to what is observed in NY – including lighting of agarbati and other incense and use of perfume. Since the start of Rojah, hundreds have been gathering nightly at the Guyanese or Trini masjids to break their fast by consuming dates, fruits and water, or tea. The worshippers feast on delicious meals prepared by a hard-working group of men and women.
At the end of prayers, worshippers wished each other greetings and consumed their liquid or food and moved on for a larger meal within the confines of the compound or a basement or another structure. In India, the masjids did not offer a full meal as in NY. At some of the Guyanese Masjids, volunteers arrived early afternoon to begin preparation of the masjid for prayers and meals. Some worshippers brought foods prepared from home or purchased from halaal caterers. The dishes varied nightly — with vegetarian and non-vegetarian meals, all donated by members of the respective Islamic fraternity. And the same practice exists in India, UAE, and elsewhere that I visited. In India, many people break the fast at approved halls or restaurants serving halaal food.
Overall, the observance of Ramadan or Rojah is the same everywhere.
By Dr. Vishnu Bisram