Indian Arrival was observed last Saturday in St. Lucia to commemorate the landing on shore of the first set of indentured laborers on the island. The program included a cultural variety show – singing, dancing, speeches, and comedy. A news report stated that the organizers considered the event a grand success. Hundreds graced the event held at the National Cultural Center.
Wikipedia notes that the Indian Diaspora of St. Lucia, an association promoting Indo-Saint Lucian heritage, organized the first Indian Arrival Day celebrations in Saint Lucia on 6 May 2013. The association is campaigning for the Saint Lucian government to officially declare 6 May as Indian Arrival Day. Many other Caribbean nations observe Indian Arrival Day annually to commemorate the date when the first Indians arrived in their respective countries. It is a holiday in several territories.
Wikipedia also sates that in total, 13 ships transported nearly 4,500 Indian indentured workers from India to Saint Lucia between 1859 and 1893. The numbers excluding those who died during the voyage; many Indians died on board and several died right after the journey. Wikipedia states that about 2,075 workers returned to India, while the rest remained in Saint Lucia or emigrated to other Caribbean nations such as Trinidad and Tobago and Guyana. The last indenture contracts expired in 1897, and by the end of the 19th century, Saint Lucia had a population of 2,560 free Indians. Many Indians who had completed their indenture periods were unable to return home as they did not have sufficient funds to do so. The Indians that remained in Saint Lucia are the origin of the Indo-Saint Lucian community.
As of 2013, people of Indian descent are a minority ethnic group in Saint Lucia, accounting for 2.4% of the country's population. An additional 11.9% of the country is multiracial, predominantly of Indian and African descent.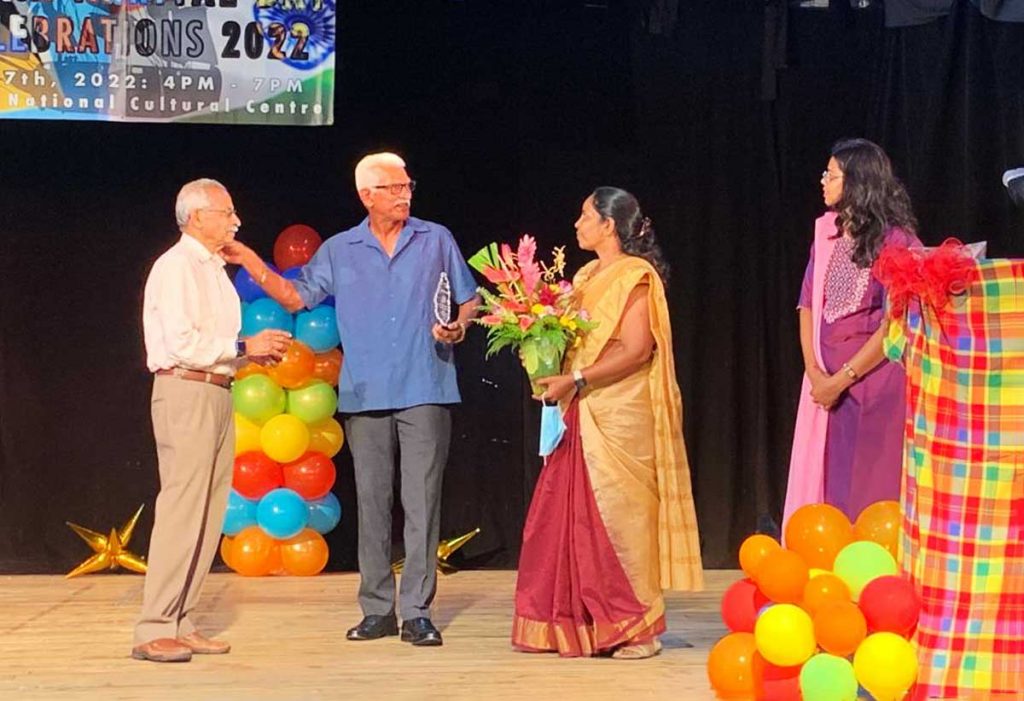 The event, celebrated annually, known as 'Palmyra 2022' was hosted by the Indian Cultural Foundation (ICF) Saint Lucia. This celebration was to mark the first ship 'PALMYRA' which arrived in Castries, Saint Lucia on 6th May, 1859 about 163 years ago, carrying a group of Indian indentured workers to work on Saint Lucia sugarcane estate and plantations.
The report stated that the commemorative part of the celebration was attended by many St. Lucians of Indian ancestry and other Saint Lucians. Many women and men wore traditional Indian attire. Thousands of Indo-Guyanese and others are settled in St. Lucia, having moved to the island since the 1980s when life was extremely difficult in Guyana whose economy had contracted to a fifth of what it was during the 1960s.
Attendees at the Palmyra Day observance enjoyed the tasty and delicious Indian and local cuisine, drinks and refreshments that were showcased.
The report stated that last Saturday's commemorative event started with the National anthems of St. Lucia and India, invocation prayers by a Dr Swamy, followed by a welcome introduction by Doodnauth Shivnauth. Greetings and Remarks were presented by Ms Solange Charles – Belizaire, St. Lucia's Deputy Permanent Secretary Ministry of Tourism, Investment, Creative Industries, Culture and Information.
According to the report, other speakers included: Lokesh Singh (Guyana Honorary consul to Saint Lucia); Dr Jolien Harmsen (Author, Historian, Journalist), and Dr Leonard Surage (President, Indian Cultural Foundation). Dr Fleming Salapuddi was honoured for 50 years of outstanding service and contribution to Saint Lucia.
Congrats are in order to the organizers for a an outstanding event to recognize and honor the contributions of Indian pioneers to St. Lucia.
By Vishnu Bisram