I write to pay tribute to businessman Yesu Persaud who passed away Monday morning January 17 in Guyana. He was a self-made millionaire (in US $). The road to success for Yesu wasn't easy. He was not born with a silver spoon like some youngsters of today. He did not come from any business legacy. He achieved business success through sheer commitment and dedication, grit, and acumen. His style of working was consultative and democratic, and he encouraged and embraced fresh, innovative ideas. He made it big by building a business brick by brick or dutty by dutty.
Yesu was a great visionary. He was a leader with determination to translate his vision into reality. After the end of socialism in Guyana, he became the most famous businessman. And he is often referred to as the doyen of Indian business community. His effective and passionate leadership transformed the DDL into a magnificent success and now a conglomerate involved in banking, juicing or agro-processing, electricity generation, in addition in spirit manufacturing. His perseverance and vision have helped him to set up a massive empire and claim success at international business platforms. He is a true inspiration for budding entrepreneurs as his optimistic approach has led to the outstanding growth of DDL
I did not know of Yesu, as he was popularly known, long after I departed Guyana in 1977 to pursue tertiary education. Like others in the diaspora, I read of and about Yesu when I was a teenager and didn't get to meet him until the late-1980s when I was chosen by a committee to liaise with him in organizing the New York commemoration of the 150th Anniversary of Indian Arrival in Guyana. I found him affable, warm, and friendly. Yesu and I met countless times thereafter in Guyana, Trinidad, NY, India, and elsewhere at international conferences on Indian Immigration, conversing on varied interesting pertinent topics of the times — such as Guyana and Caribbean economies, PNC dictatorship, Gorbachev reforms, Indian economic reforms, Indian culture, free and fair election in Guyana, etc. He interviewed me a couple of times on a TV program he hosted.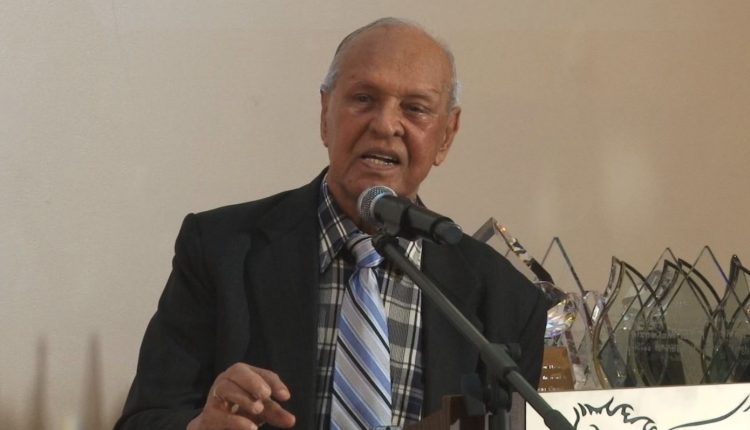 He was praiseworthy of then (early 1990s) Indian Prime Minister PV Narasimha Rao and Finance Minister Dr. Manmohan Singh (who went on to become PM from 2004 to 2014) for opening the Indian economy. Yesu encouraged economic liberalism and free enterprise for India and Guyana. Yesu also praised Desmond Hoyte for the 1988 economic reforms in Guyana that set in train the movement for political reforms and the restoration of democratic governance that came in late 1992. Hoyte and Yesu fell out when Yesu joined the struggle for the advocacy of restoration of democratic rule in Guyana and helped formed GUARD. Yesu was terminated from his government position. And his life was threatened and house fired upon with bullets, almost injuring him.
Yesu was a small built man, just about 5 feet but he had a giant reputation and character. He was soft spoken but had fierce body language and huge stature. He was tough and courageous for taking on Burnham, Jagan, and Hoyte to re-direct Guyana' economy towards free enterprise away from communist control. And he succeeded. Guyana is no longer a communist state (government directed and controlled economy). Guyana is also a democracy and Yesu played an important role in that outcome joining the struggle against the dictatorship and in Jagan becoming President in 1992. He supported Bharrat Jagdeo when he was chosen as President. In September 1999, Yesu was given the honor of introducing a young President Jagdeo at an Indian conference at the Crowne Plaza hotel ballroom in Elmhurst, Queens. He showered accolades on Jagdeo. He played a role in the undoing of the Ramotar administration in late 2014 and the rise of the coalition to office in 2015. He also was critical of the efforts to rig the 2020 general elections, urging David Granger to respect the will of the electorate.
In his young dys long before he pursued business, Yesu worked on the sugar estate of Guyana in field work. He saved Yhis earnings. When he got married, he traveled to the UK to study where he read Accounting. He got a job at a firm and worked his way up in management there. Although he was offered a lucrative position at a company in UK, he decided to re-migrate to Guyana. His wife did not like the cold climate. He returned to Guyana in 1966, Yesu landed a government job under the Burnham regime. Eventually, he would enter the private sector.
He was well respected in the government and in the and private sector to become an iconic business entrepreneur. It was not easy to be an Indian (in a racially divided Guyana characterized by ethnic animosity) and a businessperson in Guyana during the colonial era and moreso post-independence during the Burnham/Hoyte eras. Yesu overcame all those adversities associated with color, caste, class, ethnicity, and politics to become a successful entrepreneur. That he maneuvered Burnham's racist dictatorship and consolidated his businesses and keep them in forefront of Guyana industries was an outstanding achievement. For a businessman to thrive under the very difficult circumstance – authoritarian rule, racism, Burnham's ujamaa socialism, and government control of over 80% of the economy – was an extraordinary achievement.
As business folks told me, he was not a greedy, self-centered person as characterized some new business persons. In his time as a prosperous caption of industry, he wanted business to grow. He did not destroy other businesses so his company could succeed. He was in business for self-wealth as well as to help others. He was helpful to many businesses. As an illustration, his IPED loans allowed many small budding entrepreneurs to get into business. Giving loans is a lot more effective than giving cash grants which leads to a dependency syndrome rather than financial independence. He helped ordinary people who had ambition and an idea with financial resources. He gave them loans and supporting officers to streamline their business to make it work.
People came with a passion with an idea and he helped them make it happen. IPED made money through its interest rates and the small businesses also made money. IPED had to pay for expenses, maintaining staff, etc. And he encouraged farmers to grow fruit crops. He bought cherries and other fruits from them which his DDL company processed into fruit pulps for packaging juice sold domestically and regionally earning critical foreign exchange.
I got to know about and meet Yesu around the time of the 1988 celebrations to commemorate the 150th Anniversary of the Indian presence in Guyana. He was the Chair. He was a charming individual. He facilitated my research and my polling surveys though not with financial assistance.
When I visited Guyana, I would stop in his office going back to 1988/89 to say hello or phoned him when there to interact on current affairs. He would urge me to come by and warmly receive me with bear hugs praising my writings on varied issues and political activism against the dictatorship. I was at several of his meetings when GUARD was formed. Freddie may not remember, but I met him twice at the DDL office of Yesu on High Street just exchanging greetings. I also met him briefly at a few other locations. Freddie was always busy gathering research information with no time for social interaction.
As others would have found, Yesu was a most charming individual, very knowledgeable on world affairs. He exchanged views on world events. He took me to lunch a few times at Pegasus and I was also his 90th anniversary puja and some other birthday puja (80th or 85th) at Peter Hall Mandir conducted by Pandit Vishnu Panday. He also had his driver taking me around in his official car for several of my errands. Yesu was very helpful in my research on Indian indentureship in his office. Yesu led a group that 'digitized' the archive on Indian indentureship. I used the documents at his office – there was a hard copy as well as on the computer and floppies (the large black computer discs). Post 2000, Yesu told me he lent the discs to someone who had not returned them. Whoever is in possession of the discs, can you please make them available for public research! Yesu had confidence and trust in me. When one of his sons (who was settled in Canada) visited India, he asked me to check up on him. I visited the hotel (Yatri Niwas) in Delhi to check up on the son over twenty years ago taking him to breakfast. A terrific youngster at the time.
On politics, Yesu supported many politicians from both sides of the aisle including Bharrat Jagdeo when he became President in summer 1999 and Jagan in 1992 as well as Janet in 1997 and Granger in 2015. He also supported Irfaan Ali in 2020.
Yesu is widely admired for his personal conduct, simple lifestyle, and leadership, transformed the business arena in terms of innovation and entrepreneurship. He is a role model for others. Aspiring business people looking for inspiration would do well to study the achievements of Guyana's greatest businessmen.