Tribute to Indian Indentured Laborers at Highbury Pk; Remarks by Indian Ambassador to Guyana
Tribute was paid to the arrival of the first group of Indian indentured laborers at Highbury Park, formerly Plantation Highbury, on May 5, 1838. On the occasion of the 184th Indian Arrival Day, High Commission of India in Guyana joined hands with Berbice Indian Cultural Committee in celebrating the occasion at Plantation Highbury at 10 AM on 5th May 2022. This has been an ongoing annual program going back several decades attracting large crowds of people. It was suspended in 2020 and 2021 because of Covid and election fiasco (2020).
There was a cultural variety program and speeches by government Ministers and the High Commissioner. Among those present at the event were:
High Commissioner of India to Guyana H.E. Dr. K.J. Srinivasa along with dignitaries Hon'ble Priya D. Manickchand, Minister of Education; Hon'able Charles Ramson Jr, Minister of Sports, Culture & Youth; Hon'able Ms. Sonia Parag, Minister of Public Services; Hon'able Oniedge Walrond, Minister of Tourism, Industry & Commerce; David Armogan, Regional Chairman; Mr. Dhankumar Seeraj, M.P and Mr. Chandra Sohan, President of Berbice Indian Cultural Committee, among others.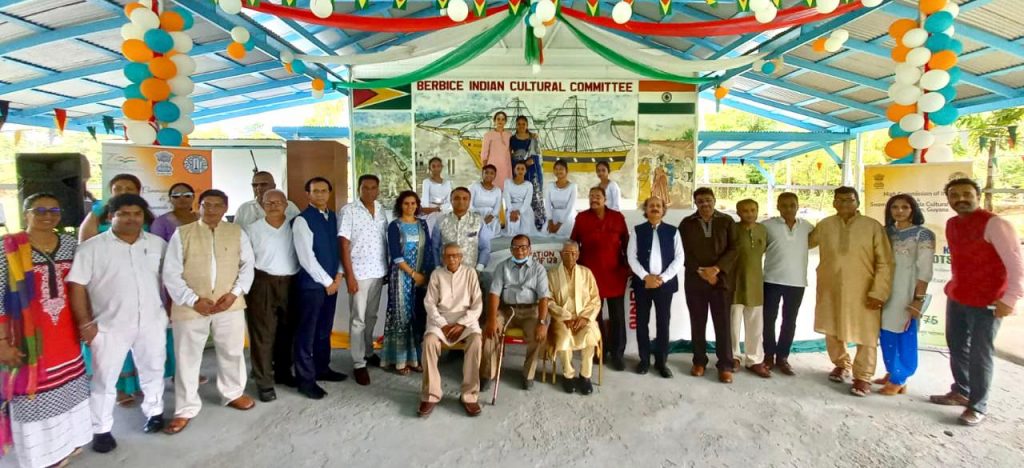 The cultural program included Indian classical and fusion dance performances by students of Swami Vivekananda Cultural Centre, Georgetown followed by remarks by the dignitaries.
A press report noted:
H.E. Dr. K.J. Srinivasa stressed on the importance of recognizing the contributions of Indian Origin Guyanese and the need to commemorate Indian Arrival Day with more such celebrations dedicated to them. It was in Plantation Highbury, that the first set of East Indian Indentured labourers landed on 5 May 1838. On that day, two ships, Whitby and Hesperus, landed in the then British colony (Guyana) with approximately 423 East Indians.
India is celebrating its 75th Anniversary of Independence Day on 15 August 2022. In the run up to the celebration of this historic occasion, Government of India is organizing a number of events across the world. As a part of these events, High Commission of India in Guyana in collaboration with prominent Indian Diaspora Organizations in Guyana thus commemorated the Indian Arrival Day".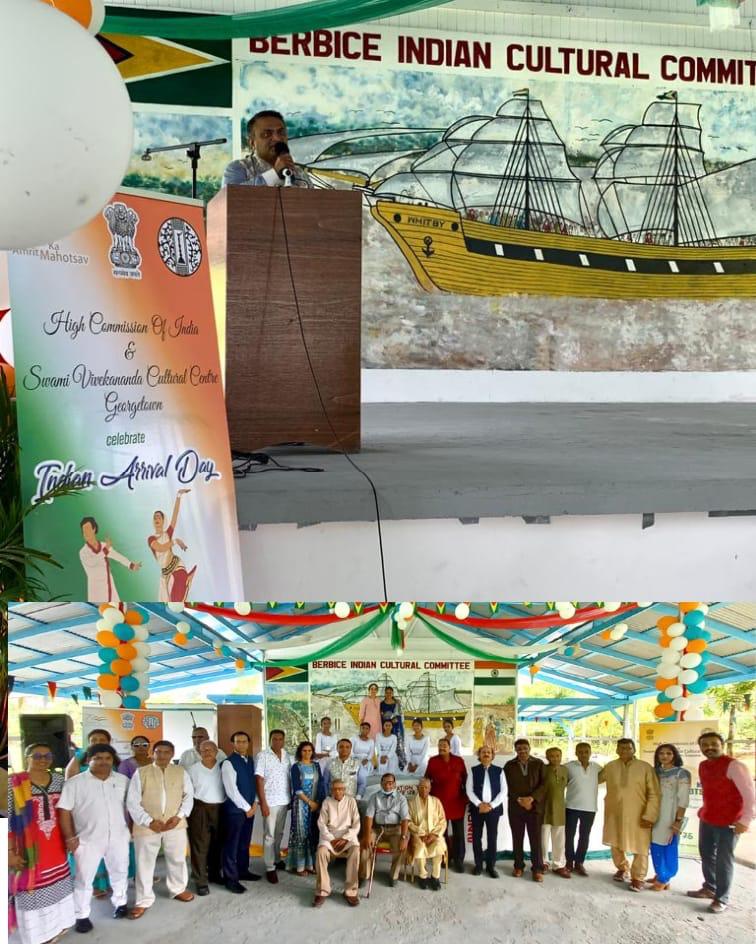 In observance of Arrival Day in Guyana on 5th May, 2022, on behalf of the Government and people of India, the High Commission of India in Guyana, extend its best wishes to all Guyanese brothers and sisters. Long live India-Guyana Friendship.
By Dr Vishnu Bisram