It is with profound sadness I learn of the passing of Prof. Ujjal Rabidas of New Delhi, India. He was a victim of Covid and died at a hospital in Delhi. He was an esteemed researcher on Indo-Caribbeans and a beloved friend. As a political scientist, Indo-Caribbeans owe a great deal to Ujjal, and his contributions to our society. He was au fait of the politics of Guyana and Trinidad and Tobago. And he either met or was familiar with Indo-Caribbean political leaders going back to Cheddi Jagan, Basdeo Panday, etc. And on a personal level, he was warm and welcoming, kind, caring, and supporting, ever ready to share and to listen no matter what the occasion or how busy he was.
It was an honor to know this budding scholar who had a strong interest in the Indo-Caribbean and Indo-Pacific diasporas and who wrote on both communities. I have very vivid memories of him, his characteristic smile on his youthful face, and his kindness and offers to take me around Delhi, an offer I didn't accept given that I know the city like the tip of my fingers having spent so much time there since 1985. He was a well-respected scholar, an inspiration to students. He leaves behind a legacy of intellectual and professional rigor.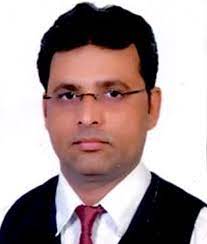 I first met Ujjal when he approached me for advice and ideas on his research on Lain America and the Caribbean when I first delivered a lecture at Jawaharlal Nehru University some fifteen years back. I recommended books for him on the Caribbean and told him to get in touch with Profs. Brinsley Samaroo, Winston Dookeran, Kusha Haracksingh, Ramesh Ramsaran, among others. I met him several times thereafter when I used to visit JNU a guest speaker at the university department of Latin American and Caribbean Studies, School of International Relations. Prof Abdul Nafey and Priti Singh, of the Latin American Studies Department, would rely on him to organize lectures for visiting scholars. And he would insist that I deliver lectures at JUN. He did visit Trinidad a few times and interacted with scholars including some of those I recommended. He was a budding scholar. He has made tremendous professional strides since he was a research assistant at JNU. He was also very committed to research and teaching. And he has so much to contribute to academia in India's relations with the Americas and the Caribbean and the pacific region. He came to Trinidad a few times on academic conferences. He spoke fondly of engaging Indo-Caribbeans and of his very warm treatment on the island. He continually reached out to me whenever he knew I was in India, pleading on me to come to JNU or to Amity Univ to give talk.
Since my first encounter with Ujjal, we became friends and communicated by post letters and subsequently emails and phone conversations. He was a wonderful human being, filled with enthusiasm in his work and conversations.
He knew well what it meant to listen to others, to be informed, and to be a fellow human being. He did whatever he could to make others feel comfortable. He was humble and kind. He brought a smile on faces of others. Comforting was his presence on the dais or in his introduction of me at lectures. Enviable was his composure. In him, was a man with a disciplined mind and decency. And he also possessed an admirable sense of responsibility.
Ujjal Rabidas, since his student days, was a formidable intellect. He was admired by those who know of his scholarship and of writing on a subject (on Caribbean politics, girmit diaspora, and Indo-Caribbeans) in which few Indian academics are interested. He was a visionary and extraordinary educator, dedicated to teaching and his students. He would send me papers to critique and review for him. I fully read and provided constructive feedback. And he was able to get a few pieces published in peer reviewed journals. He would encourage me to do joint pieces with him. But I never found time or developed the mental discipline like him for writings in academic journals. He published on the Pacific Islands as well as on the Caribbean and on migration.
His research activities were mainly political related to Latin American-Caribbean studies and the relationship between India and those regions. Because I also majored in Latin America and the Caribbean and South Asia, he would seek my opinion on varied topics pertaining to these regions. We had lunch several times at Jawaharlal University. He organized several lectures for me. And he accompanied me to several events including guiding me to the metro stations from the JNU campus. I appeared on several zoom lectures with him. He also hosted me on zoom to speak at his university in Gurgaon.
Sincere condolences to his wife, kid and rest of his family. I will miss his friendship, leadership, and companionship. I will always cherish pleasant memories of my association with him. He was there for his students when they needed his help, personally or professionally or for whatever reason. His legacy among them will long live on.