Tulsi Mandir on 11 Street in Richmond Hill hosted Holi discourse from last Sunday thru Thursday evening to coincide with the burning of Holika Dahan.
The burning of Holika signals the celebration of the festival. Holi or Phagwa is celebrated Friday in Guyana as well as in New York and most of the Indian diaspora. Like in Guyana, in Mauritius, India, and several other societies, Holi is a public holiday. But in New York, Holi is not a public holiday although celebrants have excused absence from school. Thus, Holi is not celebrated on Friday but on a day convenient to the diaspora.
The presence of large numbers of Guyanese and other Indo-Caribbean Hindus in selected locations in America and the organising skills of community leaders have made it possible for Phagwah to be celebrated with the same traditions as brought to the West by their ancestors from Mother India to the Caribbean (Guyana, etc) and from there to America. The spirit of Holi has truly traversed a great distance. Guyanese have intriducued and institutionalized the festival in New York and other parts of America. Phagwah or Holi is the most popular Hindu festival observed in New York City attracting the largest crowd of revelers in the tens of thousands with Guyanese in the thick of things – as organisers, sponsors, presenters, and celebrants.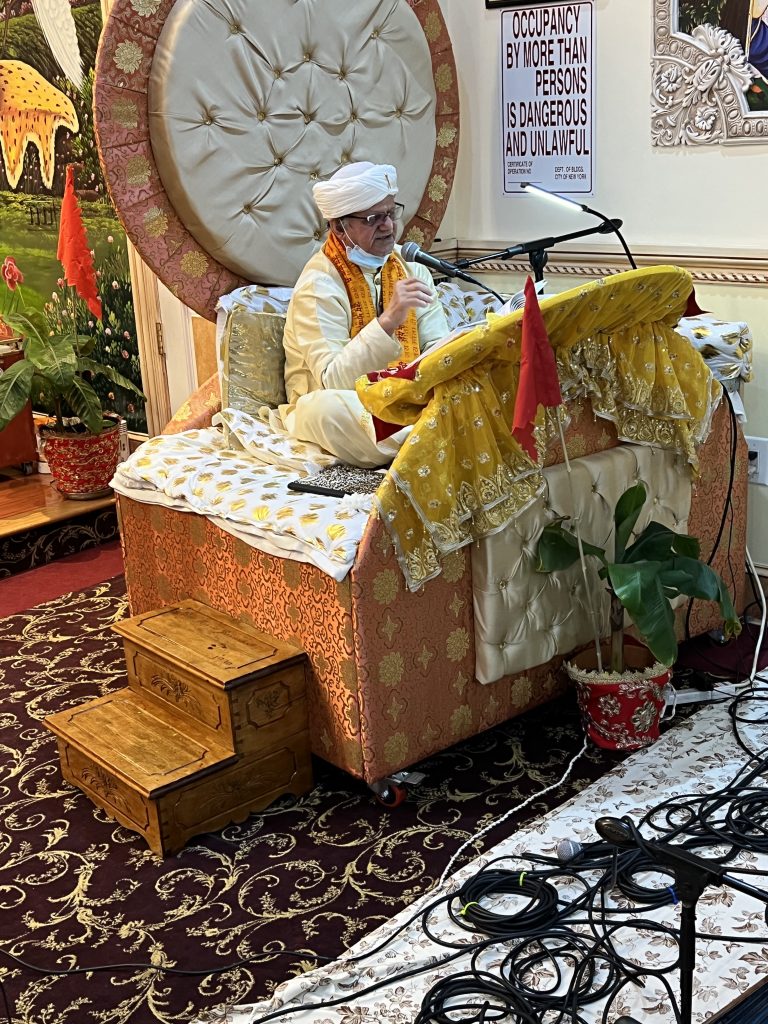 Holi is known as the festival of colour that is equated with the vibrancy of life because it brightens the atmosphere bringing forth a joyous feeling in people. It is a day of unbridled enthusiasm with a lot of music and food. It is a sea of colours –colored water rains everywhere for Holi. There are also colorful powders. Peoples' faces and hair get drenched in layers of colours. Americans of all backgrounds and ethnicities partake in the festival with smeared faces.
Guyanese diaspora in America usually observe Holi with parade (s) in Richmond Hill, Queens Village, Bronx, Jersey City, Orlando, Ft. Lauderdale, etc. and or a gathering in a public park on the Sunday after the holiday. The parade and public celebration was cancelled in 2020 and 2021 because of the Covid pandemic. This year, NYC police and parks department have granted permit to have a gathering (Liberty Ave and 120 Street) for a Phagwah related concert on March 27 starting around noon thru the afternoon. But abeer, talc powder, and colorful materials have been banned. Police will enforce the ban. There would be only music, singing, and dancing. Representatives of various mandirs will perform. Spiritually inclined NGOs were known to serve snacks and hot beverages to the public. The Richmond Hill parade and celebration at the park usually attracted tens of thousands of celebrants.
There are many messages behind Holi and all are relevant for the multi-ethnic Guyana and her diaspora — with a common theme of triumph of good over evil. Holi or Phagwah marks the beginning of the Indian spring. In India, the celebration was used to give thanks for the harvest season. Phagwah also celebrates the richness or a bounty of harvest and comes at a time when the season changes. The winter season is fading and Spring is bursting forth bringing with it new life. And people are in a celebratory mood. After two months of hard feelings, the public needs to get back to celebrating life, the celebration of Holi. The festival also celebrates the joyful spirit of Lord Krishna and his immortal love for his wife Goddess Radha. In Mathura and Vrindavan in India, the festival is celebrated not just with colours but also with folk songs and dances. In Guyana, Trinidad, Surinam, and elsewhere, there is folk singing.
Classical dances and music were known to be performed continuously for many hours showing uncontrollable friendship and love for others, neighbors, friends, loved ones (spouses and other siblings). People come together in a show of friendship to celebrate the festival. The same is true in New York where politicians also grace public celebrations or host Holi celebrations in their office or legislative chambers.
Holi falls on the full moon in the month of March. On the evening, of the full moon, known as Holika Dahan, bonfire pyre is lit. On Thursday evening, mandirs will lit their bonfire or pyre to mark the occasion. The significance is the burning of evil – one's mind is cleansed of evil thoughts and deeds and bad mind. The bonfire also symbolizes the destruction of the wicked Holika (who wanted to kill her nephew) at the instruction of her brother. After burning of Holika, everything evil and bad is cast aside.
Let us use the symbolism of Holika to burn the hatred in us towards others. Happy Holi!
By Dr. Vishnu Bisram