USA based Indo-Caribbean Federation Elects Executive; — Ralph Tamesh re-elected as President.
The Indo-Caribbean Federation (ICF) of America held its bi-annual executive election last Sunday at Villa Russo catering hall in Richmond Hill, Queens. The election is for a two years term. Several of the incumbent officers were re-elected, giving continuity and experience to the body.
The Federation was founded in 1984 by Bhanu Dwarika, Vishnu Bandhu, Baytoram Ramharack, Rudra Nath, Ramesh Kalicharran, Gora Singh, Isherdat Ramdehal, Ravi Dev, Mahadai Das, this writer, among others. The group of Ramharack, Vishnu Bisram and Bhanu initially met at Bhanu's residence in Elmhurst conceiving the idea of a federation modeled after the FIA )Federation of Indian Associaiotns). There was a follow up meeting at Bhanu's residence that included Gora Singh to flesh out the idea. This was followed by a meeting at Gora's apartment residence in Brooklyn for further discussion among the four of us. A further meeting took place at Bhanu's residence with the four plus Iserdath Ramdehol and one other person (name evades me). (I don't remember if Rudra Nauth was there). It was at that meeting that it was agreed to hold discussion with Ramesh Kalicharran who was well known in the community and who was generous in financially supporting community organizations. Bhanu and myself continued to discuss matters on the phone and met to finalize arrangements to meet Kali. We met with Kali; Bhanu, Rudra Nauth, Ramdehal, and a few others were there. It was agreed to hold a gathering of heads of organizations to discuss launching of the federation. Kali agreed to be the host. The leaders were invited to a meeting at Kali's second floor hall where real estate closings usually took place. Parray Ramgarib, Vishnu Bandhu, and a number of other heads of orgs were there. Kali provided refreshments as normally did at community events. It was agreed to launch the federation called Indo Caribbean Fed of North America. Bhanu became coordinator. Subsequent meetings were held. Nath was chosen as President at one of the meetings. It was agreed to hold Indian Arrival Day celebrations. A permit was obtained by me for the event at Rufus King Park (150th Street and Hillside); the first open air celebration occurred in 1984. Subsequent annual celebrations were held in Richmond Hill at Smokey Park. The ICF organizes the annual Indian Arrival Day celebrations since that time. The outdoor celebrations were suspended over the last two years because of Covid restrictions.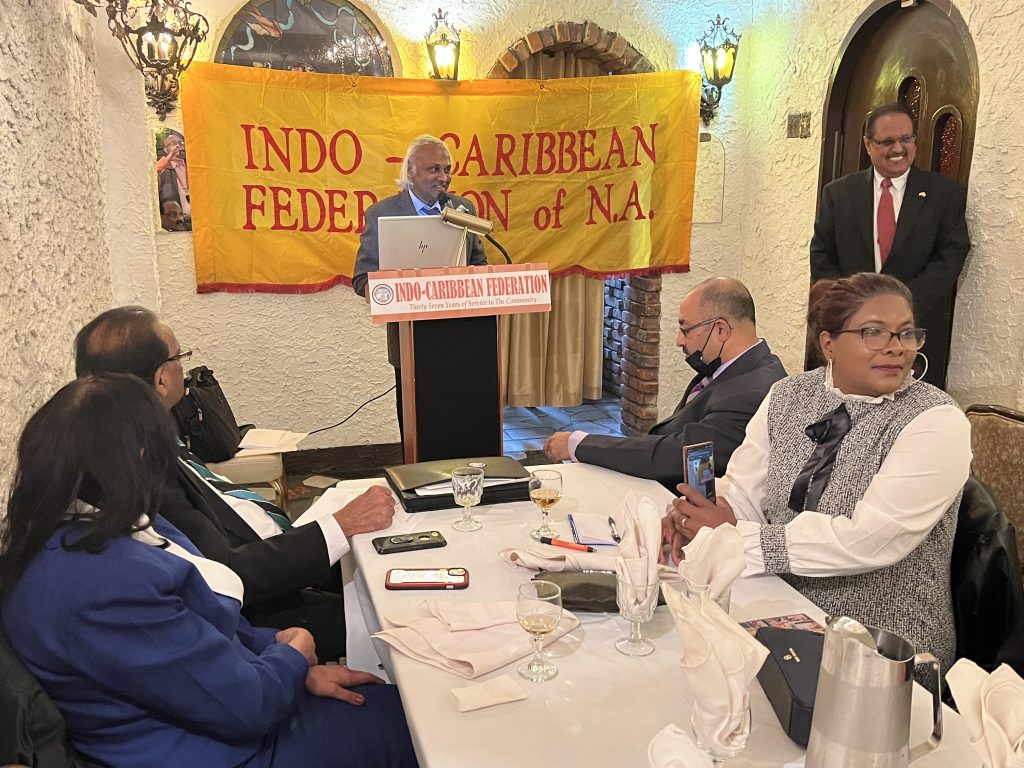 Sunday's election was supervised by Dr. Dhanpaul Narine. This writer, Dr Vishnu Bisram, served as an observer.
Before the election, outgoing President Ralph Tamesh gave a summary of activities, from sports to charities to entertainment and the financial state of the organization.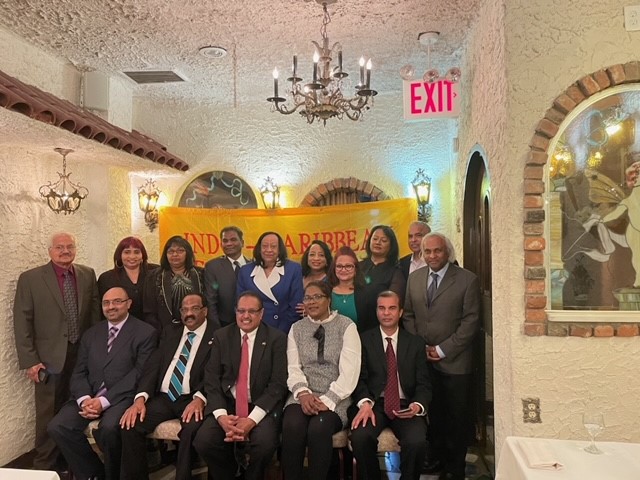 Incumbent Ralph Tamesh, formerly of Wakenaam Essequibo Island, was re-elected as President for an unprecedented sixth term. Tamesh has been with the Federation for over thirty-three years serving in various capacities. The organization has grown during his tenure and has been involved in various programs in Guyana and USA.
Guyanese dominated last Sunday's election. Former Treasurer Dr Vijai Lillah of Queens Advocate and Resource Center is now the new Vice-President; Dr Lillah has been with the ICF for over ten years. The new Treasurer is New York City Police Detective Khyume Khan. Vanessa Matura was re-elected as the Secretary; she has been with the Federation for over five years. The assistant secretary is now Latchman Dass who recently joined the organization.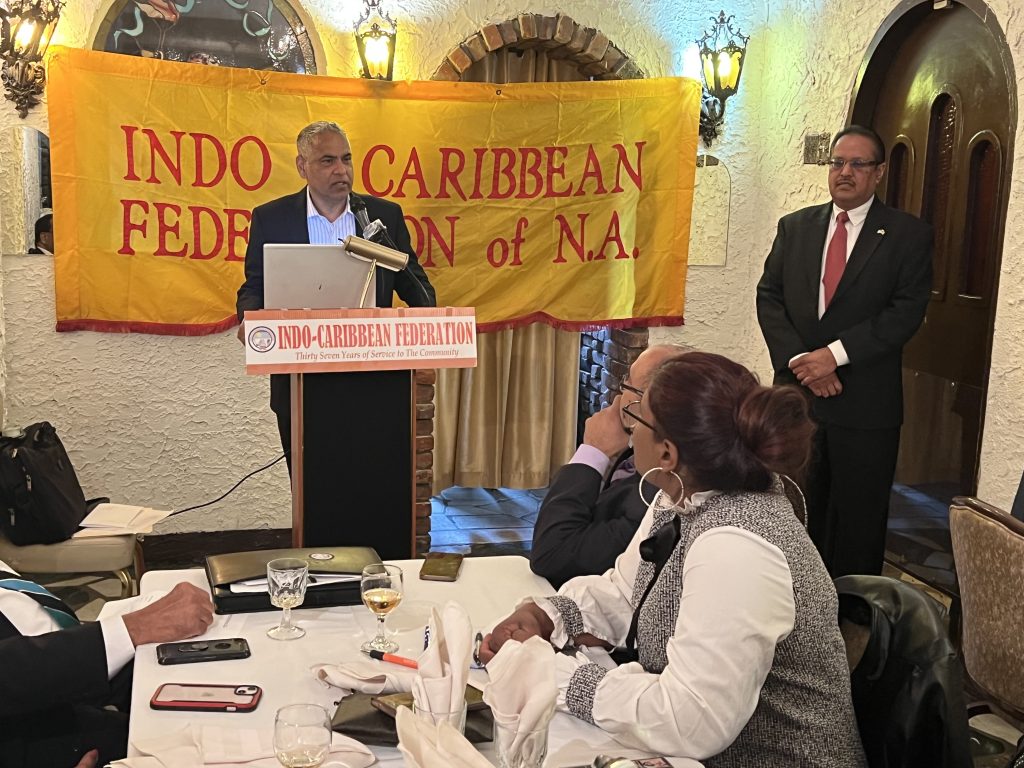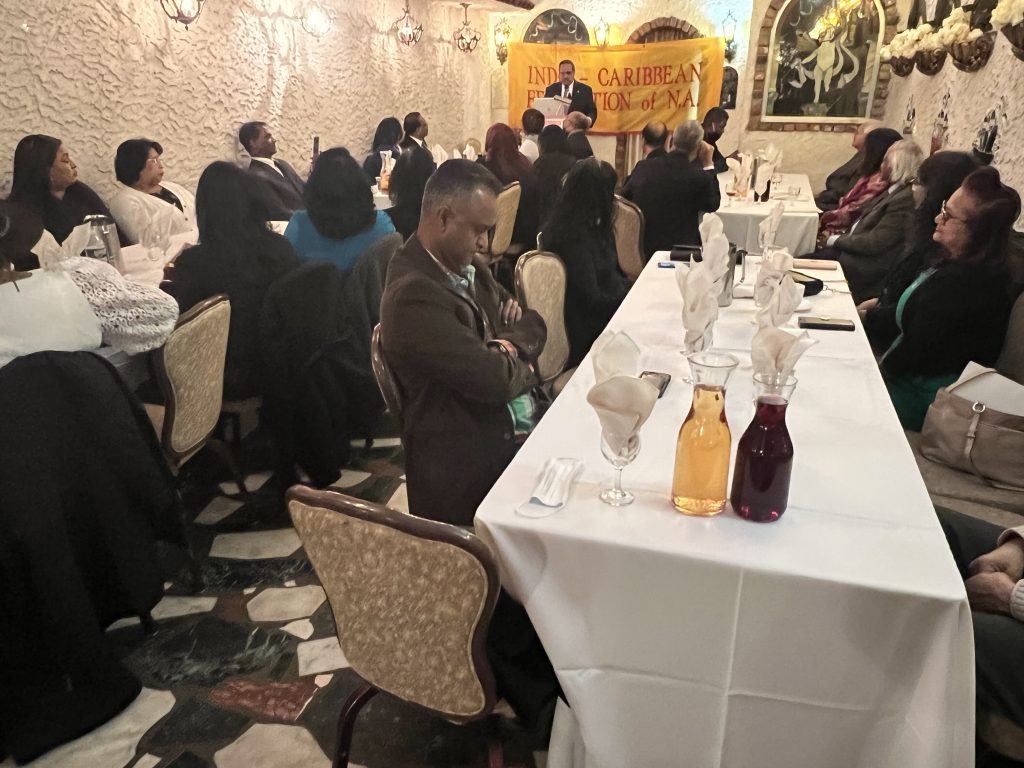 The Board of Directors chosen are: Frank Singh, former President of Marine Funding a member of the Federation since 1987; Lisa Edoo CEO of Memvar Realty, who previously served as Vice-President for ten years. Edoo has been with the ICF for the last fifteen years. Stanley Raj, CEO of Main Street Insurance who has been with the Federation for over thirty years, remains on the board. The committee members elected are Anoop Dhanpat, Son Son Sonipersaud, Lilly Lilliah, Radika Olarte, Jasodra Thakoordeen, Shanta Sookram, Shabier Yamin, Yvonne Singh, Sabrina Dyal, Imran Ahmad and Sunita Sookram.
In his re-election speech, President Tamesh thanked the members for displaying such strong confidence in his leadership electing him for another term. "I wish to thank everyone for the tremendous support given me. I also wish to salute you for your commitment, dedication, and the tireless service to the Federation". He appealed to the executives to go on a membership drive. He said he looks forward for their continued support. Tamesh also congratulated those who were elected in various positions in the executive leadership of the organizations and wished them well.
Elected officers pledged to work harder to organize programs for the community. Among other activities, the ICF plans and organizes the Annual Indian Arrival Day celebration going back to 1984, the Annual cricket match between Guyana and the Rest of the Caribbean featuring current former national players from the various Caribbean countries, Thanksgiving party for the Seniors in Richmond Hill, bus trips, a community publication, fundraising to rehabilitate health centers and schools in Guyana, receptions to honor prominent community stalwarts, holiday breakfast and luncheon.
By: Dr Vishnu Bisram