I thank Chris Persad (letters in SN and KN) for drawing attention to race as a factor in the selection of a Secretary General of Caricom. There are also racial inequalities in hiring and promotion at Caricom; such inequalities also exist in government employment around the region. Mr Persad specifically drew attention to fill the vacancy of a Secretary General of the regional organization. The deputy is a female Indian who was not offered the top position. Instead I she was by-passed. Was her race a factor?
Since Caricom's founding over 50 years ago, no Indian was ever chosen as Secretary General. There was an Assistant or Deputy SG in the form of Dr. Albert Ramdin of Surinam who was not promoted to SG. Ramdin also served as Dep. Secretary General of OAS in Washington. So he had experience and skill to be SG of Caricom.
The current Caricom Deputy SG, Dr. Manorma Soeknandan, is also an Indian Surinamese. Mr. Persad rightly queried why Dr Soeknandan was not promoted. This is the second time an Indian deputy SG has been by-passed or not selected for the top position.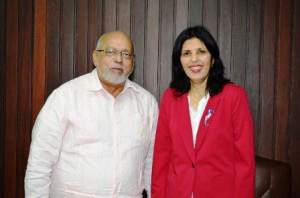 Dr. Carla Barnett's of Belize was selected last week for the position. No doubt it is great to have a woman at the helm and it is the first time that a female has been selected to head the body. Dr. Soeknandan has had the experience for the position and she has been engaging Caricom member states. She was the perfect choice.
It is critical that Indians are appointed at senior-level positions at Caricom and other global institutions. Racial and gender equity must be a priority at regional institutions and all state agencies. State and Caricom employment provide job security. We must ensure there is fair and balanced employment based on ethnicity and gender. Equity and diversity enhance problem-solving effectiveness. It is critical to have an inclusive workforce by recognizing and utilizing the talents of all; no group must be marginalized.
Caricom must ensure that its hiring is adaptable and innovative and reflect the racial composition of the region. Caricom must make genuine attempt to recruit and retain members of all ethnicities in the region. Also, the hiring of local staff at the secretariat must also reflect the composition of Guyana's diversity. There must be equal opportunity for all and elimination of racial discrimination in government. Indian women have been under-represented in state employment in Guyana and also at the Secretariat at Caricom for decades. In addition, there has not been Indian females in senior roles at Caricom.
The regional body must root out racial bias from their hiring and recruitment processes and the overall mindset of those who oversee the organization. Race must never be a barrier to hiring and advancement of career staff and to lead the organization.