"Black and brown Caribbean people were relegated as hewers of wood and drawers of water for the last 300 years," said Professor Brinsley Samaroo. He continued: "And so we were taught to dress, to eat, to ape western Christian culture all of which created what VS Naipaul called mimic men who have no loyalty to the janam bhoomi, the place of their birth." Professor Brinsley Samaroo continued: "… and so we were what you called Afro Saxon and Indo Saxon with very little rootedness in our cultures."
Professor Samaroo was speaking on Dil-ki-baat, a virtual talk show held every Wednesday from 8:00 p.m. to 9:30 p.m. sponsored by the Indo Caribbean Diaspora News (ICDN.today), an online paper on current issues in the Indian diaspora.
The November 04 edition of Dil-ki-Baat, dubbed Book Talk, was dedicated to the writings of Dr. Primnath Gooptar, who had released his 10th publication -The Mike Men of Trinidad and Tobago earlier this year.
"So what we do and whom we become arises largely as a result of the literature to which we are subjected. There is a close connection between literature and life and who we are is shaped by the literature we have been brought up on," said Professor Samaroo.
Professor Samaroo said that Sant Tulsidas was a greater writer that William Shakespeare. The professor contended that Sant Tulsidas was a contemporary of Williams Shakespeare and while he was writing in England Tulsidas was writing chowpais, dohas, philosophy and history in the region in India where our ancestors came from. "But we have never been taught in anyone of the Caribbean territories about Sant Tulsidas and how great he was. In my view he was superior to William Shakespeare. We were not taught about this great writer from where we came from-Bihar and UP but we have been told of William Shakespeare all the time and the promotion of Sant Tulsida had to be left to pundits and purohits inspired by deep devotion and whilst that is important I am of the view that that is not enough," said Professor Samaroo.
Professor Samaroo continued: "…we have to look at the way the Ramayan in the diaspora has become so important and as I said the only people who talk about that are the pandits. The comfort of the Ramayan-karlay karm, bhajalay Ram – at the end of the day's work I sing the glories of Ram; hath may karm dil may Ram- in my hand there is work, in my heart there is God. It is very important that we understand the greatness of Sant Tulsidas, a contemporary of Williams Shakespeare who is important not just for religious stories but in so many areas that relate to human existence. And that is the kind of influence one would like inculcated in the youths of our society."
Professor Samaroo expressed satisfaction that after 175 years of Indian arrival in Trinidad that there is a surge of writing on the Indian diaspora. While his focus was on the writings of Dr. Primnath Gooptar, Professor Samaroo took the liberty to identify three pieces of literature which he found of great significance and interest. These are Nutan Ragoobir's Bihar and Beyond, Dool Hanomansingh's Doon Pandit and Autobiography of Ralph Umraw.
Beyond Bihar tells about the life of Nutan's great grandfather who served as an indentured labourer in Arouca and then proceeded to Cumuto where he purchased acreages of land "and created a dynasty that stretches to North America and all over the world."
Professor said that Doon Pandit is an account of the life of Doon Pandit from the Las Lomas district and that his work among the lepers gave hope to them. He also mentioned that Doon Pandit healed the governor's wife after several doctors had failed and for his outstanding work as a social worker he was honored with an MBE award.
"Ralph Umraw's autbiography is an account of the life of a Presbindo, a marriage of Hinduism and Presbyterianism," said Professor Samaroo.
Professor Samaroo admires how Dr. Gooptar "reinvented himself by taking up higher research and writing into a whole new career." Dr. Primnath Gooptar worked as a school teacher, principal and supervisor and was also active as a cultural worker in the community. Professor Samaroo identified these "varied experiences on the ground aided him in his search for materials for his books."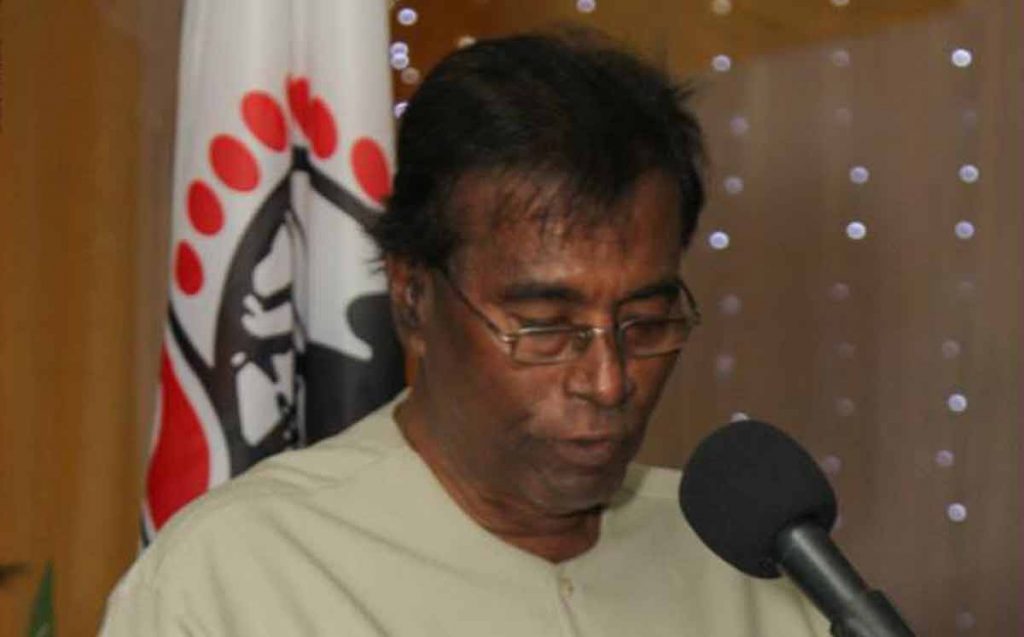 The most recent book by Dr. Primanth Gooptar is the Mike Men of Trinidad & Tobago which Professor Samaroo described as a "compendium of information that is generally obscure and an important aspect of rural information and rural entertainment. And that story would have been left untold after the people have gone but now he brings it out in his very rich writing so full of photographs and personal accounts."
A more recent book written by Dr. Gooptar was "Harry Charran-from the Cane Fields to the Book Shop." This biography tells of the struggles of Harry Charran who worked in the cane fields with his father and then pioneered business in Chaguanas and later in Tunapuna. Professor Samaroo said that Dr. Gooptar could have captured this story because of himself coming from humble beginnings.
"In Nandi Village, Dr. Gooptar has encapsulated slides of history so that posterity can appreciate the way we worked and lived and the functioning of the panchayat as a court where grievances are adjudicated and rulings are made," said Professor Samaroo.
Other books written are The Ramleela of Sangre Grande and Cultural Persistence 50 Years of the National Council of Indian Culture (1964-2014). Other books by Dr. Gooptar: "The Impact of Indian Movies on East Indian Identity (doctoral thesis), Bala Joban-the First Indian Movie in Trinidad and Ranjit Kumar -Bridging East and West (co-authored by B. Brereton).
"Now we have a good reason to celebrate in this 175 year of the Indian presence. From hewers of wood and drawers of water, the community is coming of age," said Professor Samaroo and concluded with a quote from Mahatma Gandhi: "You can shape the world."