The devotees of the Bamboo No 1 Mandir in Valsayn had a treat of bhajan, biraha and taan singing from two visiting Surinames, Priya Sital and Dewpersad Ghirao.
Youthful Priya has specialized in bhajan singing and had her training with Sewdath Bandoo, originally from Suriname but now residing in Amsterdam, Netherlands.
Accompanying Priya were her father Devanand Sital and her mother Rosita Sital. Though not musicians they have been encouraging Priya in her pursuit of knowledge and skills in the field of music since a child. However, Priya's grandparents on both sides were well accomplished musicians composing and singing songs.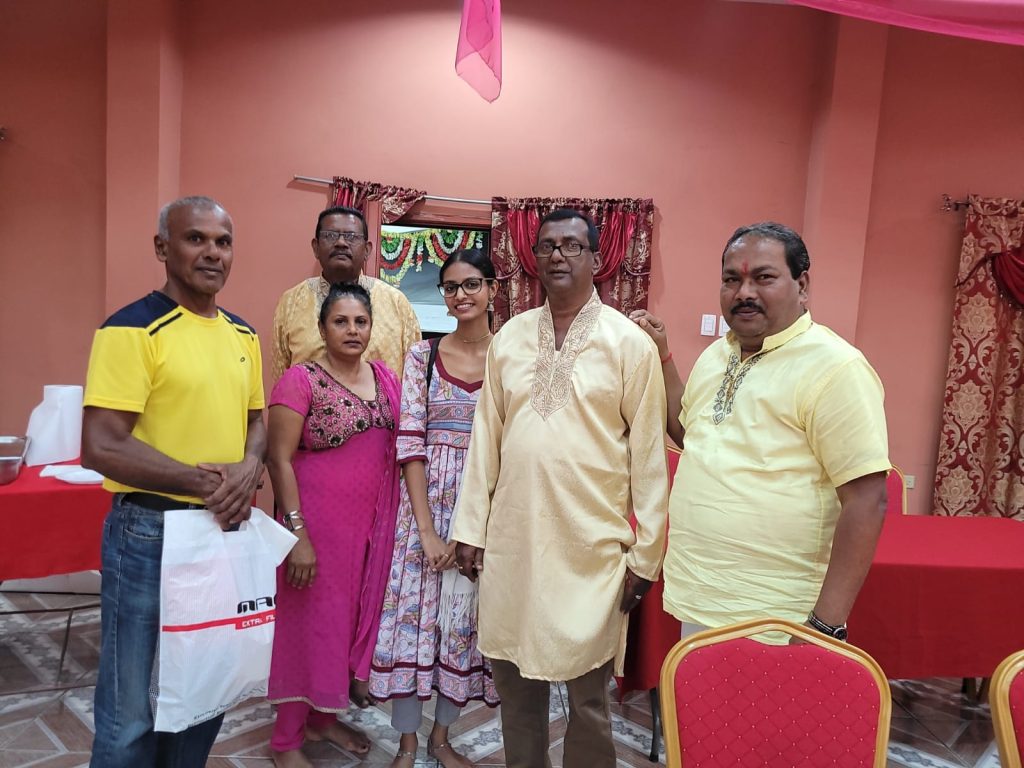 Today Priya sings in yagyas, funeral homes, pujas and in the mandirs using the medium of Hindi and Hindustani.
Dewpersad has been singing for the past 50 years. His guru is Pandit Sewbalak and this is his 5th trip to Trinidad. Dewpersad is versatile in singing taan gana, bhajan, film and other genres.
Joining the visitors on stage was Pandit Bhudarath Yankatesu of Bamboo No 3, a singer and musician in his own right. The dholak and dhantaal were played by Pandit Yakatesu's son and nephew respectively.
Wayne Lalchan, President of the Bamboo No 1 Mandir welcomed the musicians and the devotees. He also took the opportunity to inform that May is Indian Heritage Month and pointed to a painting of Sewdas Sadhu and outlined his heroic effort to build the temple in the sea at Waterloo after the one built on land was demolished and he was convicted of trespassing, fined, and sentenced to serve a prison term.
Wayne also reminded devotees of the upcoming bhajan Mala carded for May 13 to reach funds for the ongoing construction of fence wall and gates. He said that it has become necessary for Hindus to protect their mandirs given the recent spate of break-ins and vandalization of mandirs.
The guests and devotees were served a sumptuous meal prepared by the devotees of the mandir.