In its effort to recruit labor from India the British had a system with all its checks and balances, if only in paper. All emigrant passes carried four signatures: that of the Depot Surgeon, the Surgeon Superintendent, the Emigration Agent for Trinidad and the Protector of Emigrants. An Emigration Pass was issued only after all four signatures were attached to it.
The Depot Surgeon and the Surgeon Superintendent signed after 'we have examined and passed the above-named Man as fit to emigrate; that he is free from all bodily and mental disease; and that he has been vaccinated since engaging to emigrate.'
The official of the Government Emigration Agent for Trinidad signed the document after he was satisfied that 'the Man above described has appeared before me and has been engaged by me on behalf of the Government of Trinidad as willing to proceed to that country to work for hire; and that I have explained to him all matters concerning his engagement and duties. This has also been done at the time of registration by the Registering Officer appointed by the Indian Government.'
The Protector of Emigrants signed after he was satisfied that the immigrant is in 'a fit state of health to undertake the voyage to Trinidad.' (See attached Emigrant Pass of a Man)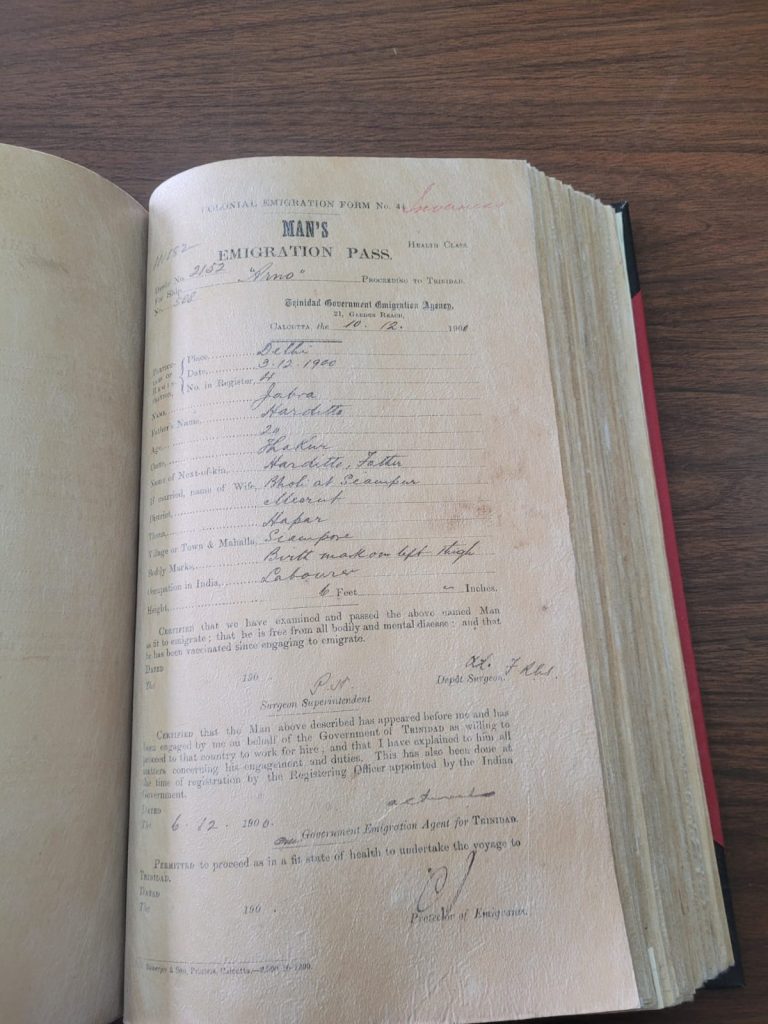 In every Emigration Pass the caste of the emigrant was recorded. Going through several passes I noted that there were few Brahmins, Thakurs, and Chatri. The castes prevalent were the chamar, gowala, kurmi, kohar, gond, kahar, kaachi, lohar etc.
The average height of the immigrants was 4' 8" to 4' 10" for women and 5' 5" to 5' 10" for men. The age of the immigrants ranges between 18 and 24 years.
Some of the districts the emigrants were recruited from were Rai Bareilly, Basti, Faizabad, Gorakpur, Shahabad, Fetepur and Barackpur of Uttar Pradesh.
Some of the names of the emigrants were Ramphal, Mahabir, Janki, Hakam Khan, Balkishun.
What I found most shocking was that the previous employment of the emigrants was either laborer or agriculture. It was clear that irrespective of the caste identity, the entire body of emigrants was reduced to laborers.