The testimonies at Commission of inquiry into the August 2020 elections reveal that a sinister scheme was afoot to derail the election results with the view to allow the Coalition to remain in power expending the usage of prolonged litigation combined with the prospect of another election. As gleaned through the Commission of inquiry, most of the narration surrounding the fiasco at Ashmin's building revolve around the returning officer of Region 4, Claimont Mingo with varying degrees of refusal and failure to use the tabulated Statement of Polls (in Region 4). With and accusations flying thick and fast the emerging picture becomes very lucid: the engine of conspiracy was in overdrive.
So far the testimonies of two persons, Rosalinda Rasul and Sasenarine Singh, stands out in both clarity and content, notwithstanding other erstwhile testimonies from an array of election officials. But by far, the most bizarre testimony has originated from the highest official that would ever attend the Commission of Inquiry: the GECOM chair!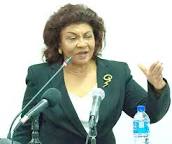 On Thursday, December 9th, Guyana and the world heard for the first time, since the events of March 5th, 2020, in some rather sketchy detail from Ms. Singh what had transpired on that day of infamy when she appeared on before the Commission of Inquiry established by President Irfaan Ali. March 05 was the turning point when Claudette Singh became a self-anointed endangered species. She declared "I called her (PNC Minister Amna Ally) because I was afraid for my life. I thought people were coming to harm me…I knew her, she was a Minister, and she would give me some support. She told me she would be calling someone." It does not appear that Ms. Singh, who has reached the pinnacle of Jurisprudence in being a High Court Judge, understood that reaching out to then Minister Ally in the midst of a general election controversy was eerily a clear conflict of interest! A neutral person calling on a senior member of the incumbent political party for protection- this particular individual was the most guarded and secure individual in the whole country!
Small wonder therefor Commissioner, Justice Godfrey Smith described it as "odd" for Singh abandoning her post at a critical juncture during the elections. Justice Smith went on to ask: "To say you couldn't be bothered seems odd because you are the Chair and you are in the middle of a very serious situation. I simply want to know, at that point did you call other Commissioners and say look, I am feeling stressed, let's meet together and weather the storm, I am not taking this on, on my own. Did that occur to you or you just preferred to shut yourself away?" Justice Smith asked Ms. Singh.
It is hard to believe Ms. Singh was unaware of what was happening. Whatever happened to her Oath of office to serve without Fear or Favor? Former Canadian High Commissioner to Guyana, Lilian Chatterjee, disclosed in an interview that on March 5th she had ventured to where Ms.Singh was to ensure that she was aware of what Mr. Mingo was doing. Others also made the effort but it appears that Ms. Singh was completely unmoved, preferring to remain hidden away in the company of perhaps a dozen persons whose business in proximity to the GECOM Chair remains unclear. The nation still awaits answers to this conduct and whether she would remain the GECOM chair for any future elections.
Leyland Chitlall Roopnaraine