AMERICAN AIRLINES WILL EXPAND SERVICE TO ANGUILLA, STARTING NOVEMBER  2022
The Valley, Anguilla, September 23, 2022:  The Anguilla Tourist Board (ATB) is pleased to announce that American Airlines will introduce an additional scheduled flight to its daily, scheduled service from Miami International Airport (MIA) to Anguilla's Clayton J. Lloyd International Airport (AXA), starting on Thursday, November 3, 2022.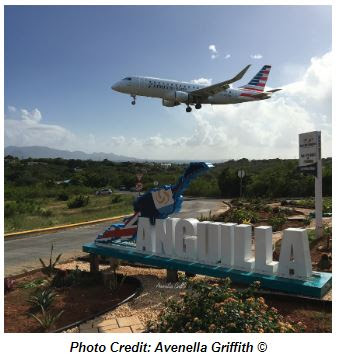 The airline has released its Anguilla flight schedule through the end of the year, with reduced frequency through the off-season months of September and October, and expanded frequency starting November 3, 2022.

Weekly service will operate throughout September, increasing to four flights a week effective October 7. From November 3 through December 17, American Airlines will operate 8 flights a week to Anguilla, and for the festive season, between December 18 and January 8, 2023 the island will see 11 flights a week operating between Miami and Anguilla.

"American Airlines is an invaluable partner for Anguilla," stated Mr. Haydn Hughes, the Hon. Minister of Tourism for Anguilla. "Expanding access is essential to a destination's growth, and the introduction of daily air service from the American mainland has been a key driver of our island's successful recovery as we reopened from the pandemic. We believe that this will be our best winter season ever, and American's decision to increase its service to Anguilla indicates that they share our optimism and confidence in our tourism product."
American Airlines' full schedule from September 1st, 2022 through January 8th, 2023 follows:
For flights and reservations to Anguilla visit www.aa.com or contact your preferred Travel Advisor.

For information on Anguilla please visit the official website of the Anguilla Tourist Board: www.IvisitAnguilla.com; follow us on Facebook: Facebook.com/AnguillaOfficial; Instagram: @Anguilla_Tourism; YouTube; Twitter: @Anguilla_Trsm, Hashtag: #MyAnguilla.

####

About Anguilla
Tucked away in the northern Caribbean, Anguilla is a shy beauty with a warm smile. A slender length of coral and limestone fringed with green, the island is ringed with 33 beaches, considered by savvy travelers and top travel magazines, to be the most beautiful in the world. A fantastic culinary scene, a wide variety of quality accommodations at varying price points, a host of attractions and exciting calendar of festivals make Anguilla an alluring and entrancing destination.

Anguilla lies just off the beaten path, so it has retained a charming character and appeal. Yet because it can be conveniently reached from three major gateways – Miami, FL (MIA), Puerto Rico (SJU), and St. Martin, (SXM), and by private air, it's a hop and a skip away.
Romance? Barefoot elegance? Unfussy chic? And untrammeled bliss? Lose The Crowd. Find Yourself. In Anguilla.
Contact:
Chantelle Richardson
Deputy Director of Tourism
Anguilla Tourist Board
The Valley, Anguilla
E: chantelle.richardson@atb.ai