By Vishnu Bisram & Pawan K Upadhyay
Suva, Fiji: The heads of the Methodist Church in Fiji as well as other Christian Churches and Prime Minister Sitiveni Rabuka (who heads a coalition government) apologized to the Indian (girmitya) community for the military coups of 1987, 2000, and 2006 and the violence unleashed on Indians at a moving emotional ceremony held on May 13 afternoon at the Vodafone Arena at Laucala Bay in Suva.
Spokespersons for the Christian churches and the PM tendered apologies to the Indian people on the eve of Girmitya Day holiday on May 15 and that commenced on Friday May 12 ending with a national public holiday to mark Indian Arrival. An international girmitya conference was held on May 12 and 13 at USP. May 14 was a girmitya prayer and concert at Albert Park. May 15 morning was a parade followed by a luncheon for visiting dignitaries from India.
At Sunday afternoon's church service, former PM Mahendra Pal Chaudhry spoke on behalf of the Indian community. Chaudhry, whose one-year old government was toppled in a military coup in 2000 and who was also a Minister of Government in the 1987 coup, accepted the apology from PM Rabuka. Mr. Rabuka was head of the army that staged a coup in May 1987 toppling a one-month old government dominated by Indians and that was led by Fijian native Timoci Bavadra. He died of a heart attack shortly thereafter. Rabuka governed till 1999 when under a new constitution he lost general elections.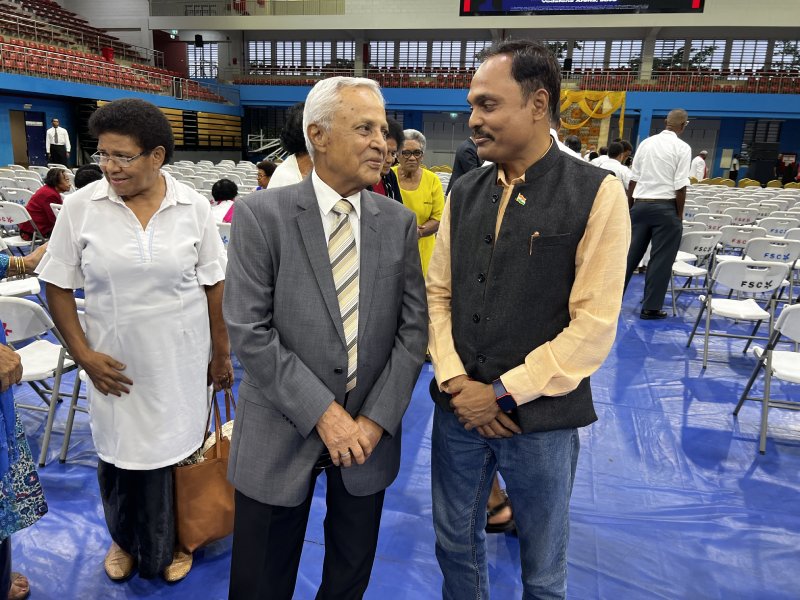 Mahendra Chaudhry won a landslide victory in 1999 but his government was removed by the military from office after only one year. Chandhry's labor Party lost the general elections in 2002 when democracy was restored after two years of military rule. Chaudhry lost to Laisenia Qarase, a banker, who won re-election in 2006. Qarase was overthrown by the military led by Frank Bainimarama in 2006. Bainimarama led a military dictatorship and returned the country to democratic rule in 2014 winning the elections and being re-elected in 2018. His Fiji First Party lost to a coalition led by Rabuka in December 2022. Bainimarama is facing criminal charges and his Fiji First Party has been suspended for a month for financial violations.
In addressing a packed stadium that also included diplomats and delegates from several countries in Fiji to attend the International Conference on Girmityas, Prime Minister Rabuka, fought back tears as he spoke. He asked for forgiveness for the hurt and pain inflicted on Fijians of Indian origin during the British colonial era and the political upheavals of 1987 and 2000. Many Indians were beaten and robbed and there were reports of Indian females raped.
He said: "I am not making this confession as Prime Minister of Fiji, as I do not hold the government accountable for my actions of 1987. I do not claim to be making this confession on behalf of the vanua of Navatu, I am not Tui Navatu and I am just a member of the Yavusa Navatu of Cakaudrove. But I make this confession on behalf of all those that took part with me in the military coup of May 14, 1987. We confess our wrongdoings. We confess that we have hurt so many of our people in Fiji, particularly those of our Indo-Fijian communities at that time and among them were sons and daughters of those that were indentured as labourers from India between 1879 and 1920."
He added: "the Indians had every right to be angry about what was done to them. I stand here to confess and ask for your forgiveness. I have made our confession to some who were affected by our deeds in 1987. To those I did not reach, I hope coming through for us here, please forgive us.
As you forgive, you release us and you are released. You are released from hatred and from your anger and we begin to feel the peace of God coming to our beings and our lives".
In an emotional response, former prime minister and Fiji Labour Party leader Mahendra Chaudhry said: "It was a great day for the nation and worth celebrating and that it would go down well in history and everyone must build on it. I am deeply honoured by this gesture of Prime Minister Rabuka, I also accept your apology. In your personal capacity you apologised, I accept the apologies of the Turaga na Vunivalu na Tui Kaba, Marama Roko Tui Dreketi and the Tui Cakau. Thank you very much for your magnanimity. "I think the spirt is there now, that we can all work together, may God bless Fiji".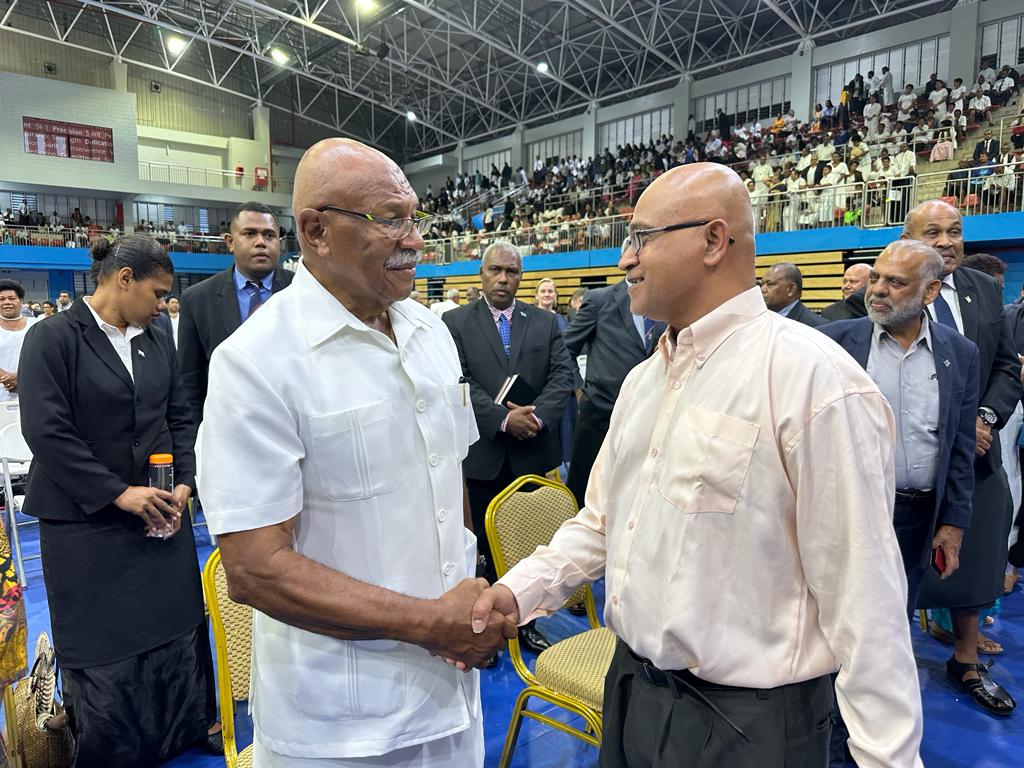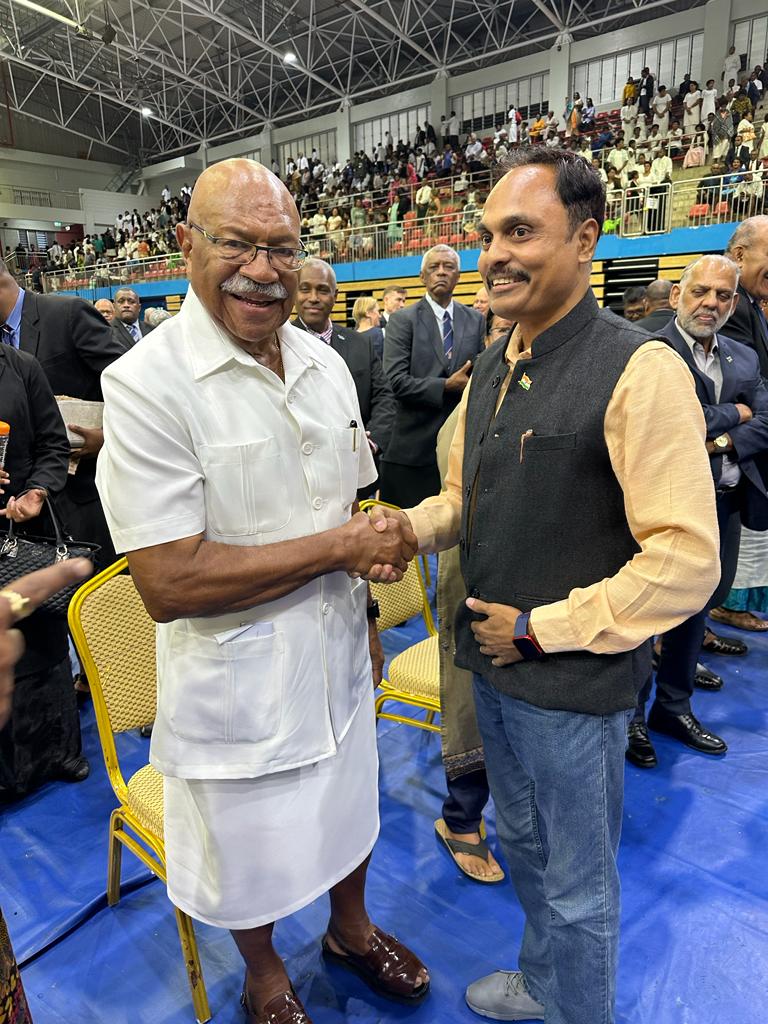 Rabuka and Chaudhry hugged as the latter came down from the dais and approached his seat. Rabuka got up from his seat on the left side of the hall and walked over to Chaudhry hugging him for acceptance of the apology.
Several other deposed Indians Ministers of government and spokespersons of the Indian community, including Hindu pandits and Islamic mulvis also gave testimony and accepted the apologies from the PM and from the Christian churches that were at the center of the coup and the violence against Indians. An Indian Assistant Minister of government in charge of women affairs and culture) tendered an apology to the natives on behalf of the Indian community for any denigrating treatment of the indigenous population.
The Thanksgiving and National Reconciliation Church Service concluded with signing of a peace document that commits to no more coups and an end to ethnic hatred, among other commitments.