A Book Review

Gems of Debe, a collection of forty-nine short biographies of sons and daughters of Debe by Jang Bahadur Bhagirathee was launched at the Debe High School on Sunday February 27, 2022 to a packed audience. 
Describing his books as a collection of "individuals whose achievements and contributions have made a positive difference in our community," it took Bhagirathee three years to complete the project. Among the forty-nine personalities profiled are former Prime Minister and Opposition Leader Kamla Persad-Bissessar, former Member of Parliament and Minister of Government, Trevor Sudama, well known magician and ventriloquist Deojai 'Abracadabra' Seunarine, vocalist Sookdeo Jagdeo, Pandit Baldeo Prashad Shastri, Seurajee Ramlakhansingh and the renowned Sundar Popo to name a few. Drawn from all walks of life the author wrote this collection to acknowledge their contribution to the development.
In his introduction to the book Bhagirathee recalled a history professor saying to his class "if you wish to kill history don't write." With this simple but profound slogan, Bhagirathee resolved to play his part in writing the history of his community of Debe. He wrote in the introduction: "As a student of history, when I began to pay attention to the many great personalities who have lived amongst us and are no more (while some are still around), I pondered whether I should sit idle and let time pass by, or I should attempt to record the virtues of those who have played prominent roles in our history."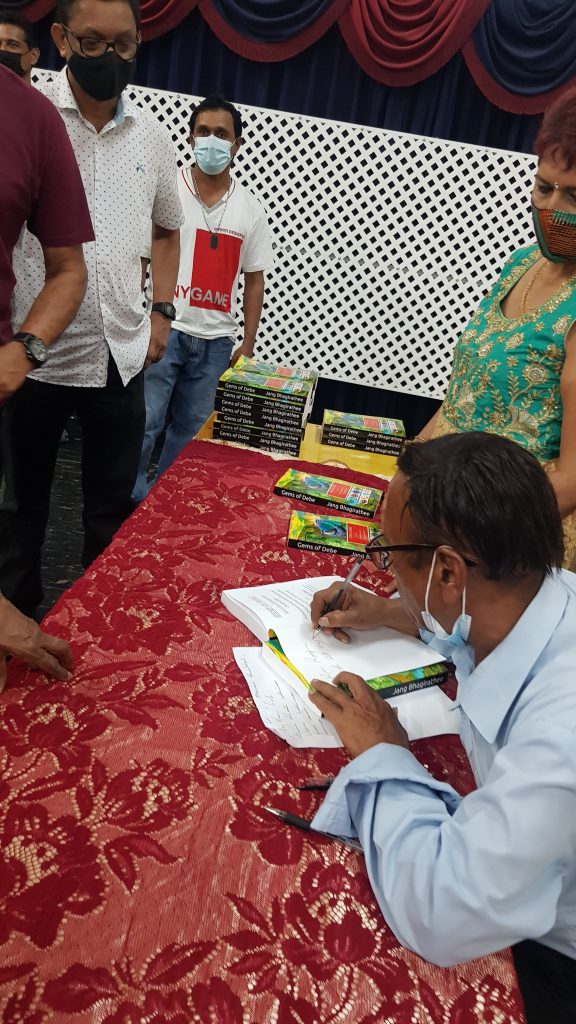 Jang Bahadur Bhagirathee, the holder of a BA Degree from Canada, is the author of the best-selling novel Chalo Trinidad (1993), a historical fiction which was well-received in the diaspora.
After returning from Canada in 1980, Bhagirathee was employed as a teacher with the Ministry of Education. Not happy sitting in the comfort of his home outside work hours, Bhagirathee brought together a few friends and initiated the revival of Krishna Leela in Debe in the early 1980s. "The villagers were happy that I had accepted this challenge to revive Krishna Leela and gave me their fullest support," said Bhagirathee. Villagers contributed generously their cash, time, labor and talent to make this project a reality. Bhagirathee recruited the youths and trained them for several days to perform the roles of the many characters in the religious drama on the exploits of Sri Krishna.
Bhagirathee also served as Vice President of the Hindu Seva Sangh launched in 1983 and was responsible for securing the use of the Moruga Composite School for the hosting the first Youth Development Camp the Hindu Seva Sangh.
Songs, music and dances were part of the afternoon. The audience was treated to the rendition of classical folk songs by local nightingale Lilly Ramcharan while eager readers queued for Bagirathee to autograph their copies of Gems of Debe.
All present were treated with light refreshment before the curtains went down.
By Dool Hanomansingh