The festival of Deepawali in the city of Lord Rama, Ayodhya, takes Hindus to Treta Yuga. The entire Ayodhya was happy on the return of Ram, Sita, and Laxman after fourteen years of exile or 'banwas'.
Ayodhya welcomes Ram Sita and Lakshmana by getting ready to welcome them on the arrival of their lord Maryada Purushottam Shri Ram. It does not seem that we are living in Kali Yuga, as if it seems that we have all come to the kingdom of Rama.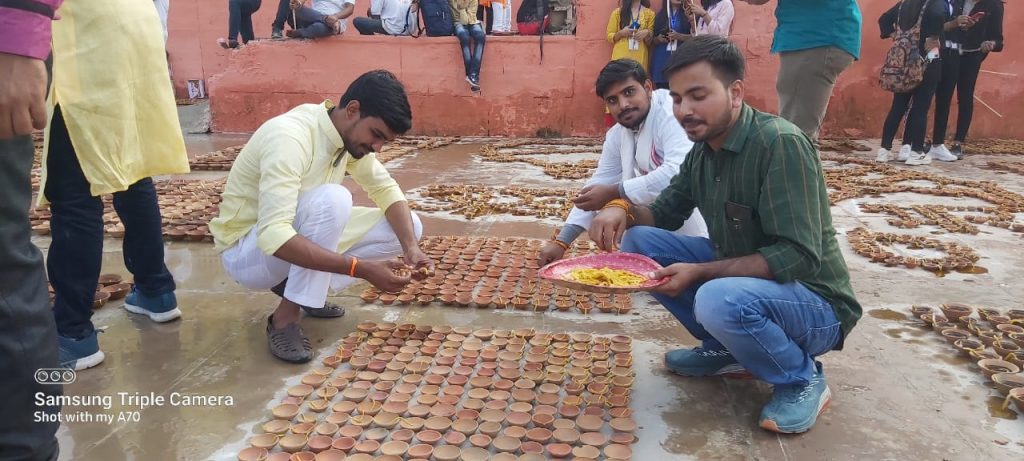 Ayodhya adorned with lamps has made a new world record. The record of burning lamp has remained near Ayodhya in the Guinness World Records before and this time Ayodhya has moved towards a new record by breaking its old record due to the increase in the number of lamps. This time with a total of 12 lakh lamps, Ayodhya is fully lit on the black night of Amavas. A total of 12 thousand volunteers have been engaged to light the lamps. In total 32 ghats have been lit by lamps, in which 9 lakh lamps alone are lit on the feet of Ram. All these lamps were lit from 6.45 pm to 9.30 pm.
The work of laying diyas on the ghats of Ram ki Paidi was started from 2 days before the Deepotsav program. Dr. Ram Manohar Lohia Avadh University and a total of 12000 volunteers of various educational social organizations made an unprecedented contribution on Ram's foot.

On this occasion, the Chief Minister of the state, Yogi Aditya Nath himself welcomed Ram Sita and Lakshmana who got down from the Pushpak aircraft. The whole sky reverberated with the cry of Jai Shri Ram. The people of Ayodhya were overwhelmed to welcome their beloved King Ram. This was a great moment and in Ayodhya lot of people came to see this big record.