Dear Editor,
I am a little au fait with Hindi films/music, Bollywood and Hindi Television. When I saw a recent piece by the New Yorker Magazine on Bollywood and attack on Hindus, my first thought was … how come they are so keen on what is happening in Bollywood NOW? Have The New Yorker ever written something on/been following the Hindi movie industry before? Did he/she just wake up when the "Hindu Right" came, and was in a coma when the Muslim underworld ran things in Bollywood for decades? That the writer has so much sympathy at poor Aryan being targeted by the said Hindu Right and was dumb and deaf when the Muslim kingpin assassinated several in Bollywood including a Music/Singer/Producer who created one of the biggest labels/names in Bollywood and was most famous for Bhajans and his Bhajan label?
Then the final thought was….Oh KARMA is such a beaut!!! The chickens have come home to roost and all that. See, the New Yorker and those that love to read it because it is supposed to be sophisticated….will not bother to find out or acknowledge that for years now, it was the MUSLIM UNDERWORLD that was controlling Bollywood. That the kingpin of this was based in Pakistan/Islamic countries and that he and his lackeys went about chipping away at Hindus, Hindu cultures and traditions little by little, insidiously. Remember the time when the Khans took over and they were in ALL the big hits? These fellows were average looking, short and not even that great actors yet they were in movie after movie? And the Hindu ones, even though secular, made flop after flop? When even the son of Amitabh Bachchan could not make it…so much for the talks about nepotism. Same fate to the sons of Dharmendra, Vinod Khanna, Jeetendra , to just name a few off the top of my head. Two survived…Ajay Devgan as his father had his company and they made their own movies, he was also married to Kajol. And Asksay Kumar…he barely managed to hold on an he got married to the daughter of Rajesh Khanna and Dimple. Many an actor/actresses launched their kid during this period of the Khans and so many of the male ones flopped. The financing was behind the Khans and thus we had hit after hit being churned out by the 4 of them…Saif, Amir, Salman and Shah Rukh. Were they spectacularly handsome like a Dharmendra or Manoj Kumar or Rishi Kapoor…not really? I was reluctantly dragged by my brother Junior who insisted that I meet Shah Rukh ( Junior was asked by Pradeep Samtani to be with his team when Shah Rukh was in Guyana). I almost cracked up at this short fellow, with reddish brown complexion and not "handsome" in my eyes at all. He was just so ordinary. I also remember standing with Anu Malik who went with the team and whose music made most of these star boys' movies hits….he was muttering at how everyone is rushing after SRK and they ignore the ppl( like himself) whose music made him. He was put off at being ignored while everyone was rushing after SRK.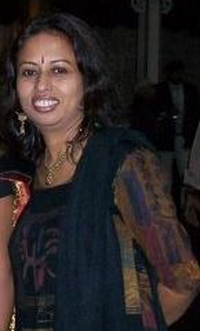 The nexus between the film industry, cricket and the Muslim underworld is also well known. The kingpin's son is married to the daughter of a famous Pakistani batsman/cricketer and one of sons got married to Bin laden's children!! My sister and I had a discussion with Mananiya Sri Sri Ashok Singhal Ji when he visited Guyana many years ago on this topic. His team noted our complaints about the disrespect being shown to Hindus/Hindu Culture in Bollywood. We do not know what was done but reading the garbage/one sided drivel in the New Yorker, one can gather that steps were taken, or were they? Was it just Karma?
Last of all, I know of the Kashmiri pandits plight many many years now. Sanjay Suri, a Bollywood actor used to highlight this as he is one of those Kashmiri Pandits who had to flee. There was this Muslim Kathak teacher at ICC. He had a Fatwa on his head because he was doing "Hindu" dances. He absconded to the US and took to driving taxi because he feared for his life if he went back to his homeland. There is the family in New York, that I know…they fled too. The Mother cried when she heard my brother and I singing. She said we were 3rd generations Indians and we held onto our Culture, that her family had to flee from Kashmir and today, her kids know nothing about their Kashmiri culture. Anupam Kher was the star in the Kashmiri Files. He is also a Kashmiri refugee and he related that when he told his Mata Ji, Dularie , about the success of the movie…she did not listen to him…all she was doing was muttering about what happened to her and the various relatives who had to flee.
It is easy to write and denounce victims from afar, but ask the many who makes these highfalutin claims; about how many of the victims of heinous crimes, do you know and do you REALLY KNOW about what you are writing about? Is it like the writer said…that the "Hindu Right "came for Bollywood or is it that Indians took back Bollywood from the Muslim Underworld or that Indians in the film industry woke up? That they are now exposing the 'covered down" atrocities done on the people of India? Or more importantly…that they are returning India back to its aboriginal roots…its ancient Culture?
A contemplative Hindu woman pondering on the justice of Karma while marvelling at the myopia of some and wondering if I am also allowed to speak my mind!
Best regards from
Nanda Sahadeo