By Ajeet Singh

Man of Action: A Biography of Pandit Baya tells of the struggle of Narayana Latchana to overcome social challenges to emerge as one of the leading pandits in Queens, New York. From a teenager, Baya demonstrated a love for his beloved dharma. Following in the footsteps of his father, siblings, cousins and elders, Baya made it his duty not only to attend the mandir but more so to acquire knowledge and skills that later propelled him into a leadership role.
Active in his community of Yakusari in Black Bush, Corentyne, Guyana, Baya combined family life and farming with community service. This eagerness to get the task done inspired him to reconstruct the Yakusari Mandir which was in a state of disrepair. Acknowledging the challenges to raise funds in Guyana, he undertook trips to the USA where he solicited donations from fellow Guyanese, returned home, and had the mandir constructed within three years.
Migrating to the USA with his family, Baya served at the Prem Bhakti Mandir and undertook major reconstruction works. Funds were raised and professionals volunteered their skills. This drive by Baya was an instrument of change and innovation.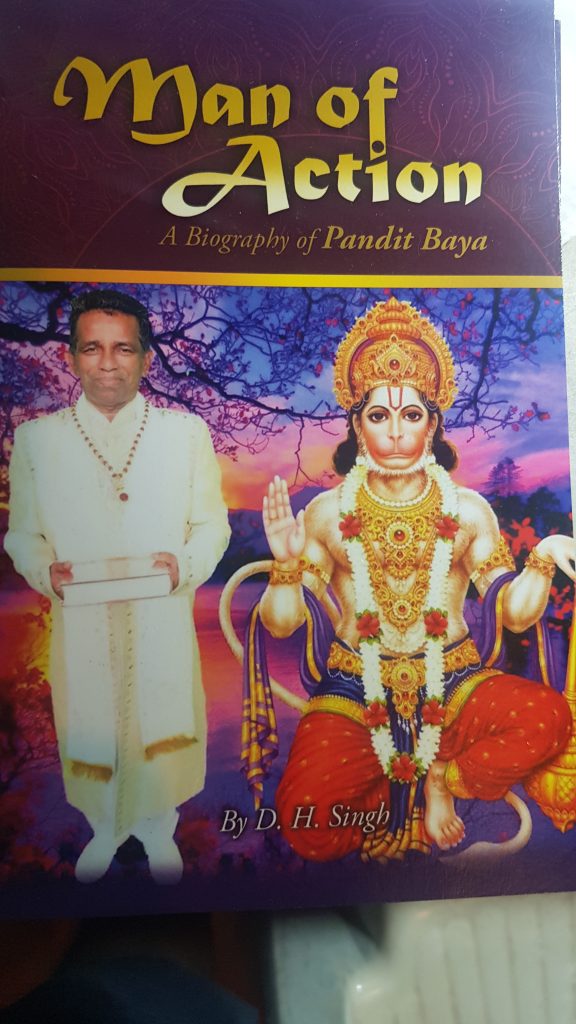 Despite his sacrifices, a few were bent on removing him from the Executive of the Prem Bhakti Mandir. With a long-drawn-out battle in the courts for a settlement, Baya finally exited. He remarked: "I am happy that I did my part at the Prem Bhakti Mandir. I have no regrets. The time was opportune for me to move on."
Trinidad-born D.H. Singh has initiated a career on writing biographies of Hindus and Hindu Organizations- Doon Pandit: His Life and Times, Pandit & Politics – a Study of the Divine Life Society, Profiles of Nations Builders, Abracadabra- Magician Extraordinaire and now Man of Action-A Biography of Pandit Baya.
The book presented Pandit Baya's life as one of grit, determination, and focus. Despite the many social and political challenges plaguing the Guyanese society, Baya, born in 1961, remained focused on acquiring knowledge and serving his dharma through numerous social and cultural events.
Dr. Vindhya Vasini Persaud, President of the Guyana Dharmic Sabha, in the Foreword, wrote: "What I have always found admirable is that, despite his numerous struggles in life, Pandit Baya was relentless in his efforts to contribute to Black Bush Polder. He never forgot home, his community, and his burning desire to give back to the people of that community never stopped."
Baya's dedication to dharma is recognized not only by his family, siblings, and friends but also by pandits, devotees, and other Hindu leaders who have paid tribute to him by penning their thoughts and impressions of this Hindu worker. Pandit Beesram Sewdat, a fellow Guyanese residing in Trinidad and one of 22 persons paying tribute to Baya, wrote: "What a colossal personality one discovers in the small physique of Pandit Narayan Latchana, affectionately called Pandit Baya. He truly embodies the teachings of Lord Krishna in the above verse of the Gita."
Lakram Madray, the eldest brother of Baya, wrote: "Baya always put service, children, and God first, and is always prepared to make the sacrifices to achieve his goal."
Dr. Vishnu Bisram, in an introduction to the publication, wrote: "A biography is a repository of knowledge and history of a community to be used for the greater good of society… and helps to understand a person's life- to critique or celebrate him- and his or her community." He added: "Unsung heroes work quietly touching the lives of many. They help uplift community life or help to improve the lives of others without much attention."
Man of Action is a publication that attempts to capture the life of an unsung hero. D. H. Singh has once again demonstrated that he has the ability to put together the various facets of the life of an individual in an interesting and readable manner.
Pandit Baya's life is an inspiration for all who are concerned about the welfare and future of Sanatan Dharma in the Indo-Caribbean Diaspora. I certainly have no reservation in recommending this new publication to all Hindu families and activists to help them get a better understanding of the modus operandi of Hindu workers in the diaspora.
( Man of Action- A Biography of Pandit Baya by D.H.Singh is now available at Amazon.)