The 100 birth anniversary (20 February 1923 – 6 August 1985) of Guyana's late President Forbes
Burnham is around the corner. A vast array of articles, many written by persons who regulary rubbed
shoulders with the late President, seek to portray former president Forbes Burnham as a leader of great
vision and concern for Guyana. This is a ludicrous, deceptive and shameless mindset. After taking office
the emerging tyrant shifted into overdrive to consolidate his new found power; the ink had scarcely dried
on the ballot when he kicked out the coalition UF Party some two years after he wrestled the reins of
power. Prime Minister Burnham had revealed his true colors. The Tyrant was caught up in a struggle
between personal power and progress. He choose the former and we are all paying for it today.
The mass Exodus which began in the early 80's witnessed a huge preponderance of one ethnic group
(which continues today) rushing to the airport and borders, reminiscent of the Jews under Hitler in 1930s
Germany. The terminals of the (then) Timehri Airport resembled those at the New Delhi Airport. Parallel to
this the dictator militarized an impoverished Guyana with National Service, National Guard Service, Young
Socialist Movement, People's Militia, Tactical Services Unit and, of course, some we do not even know of.
One can ask: which one of Burnham's grandiose plans succeeded? The Mazaruni Hydro project,
(just like the Amalia Falls) and Kimbia cotton ventures were colossal failures. The Sanata Textile Mill and
Yarowkabra Glass Factory were nothing short of being technological white elephants. Feed Clothe and
House, National Service, scrapping of the railway etc. were all tragic visions.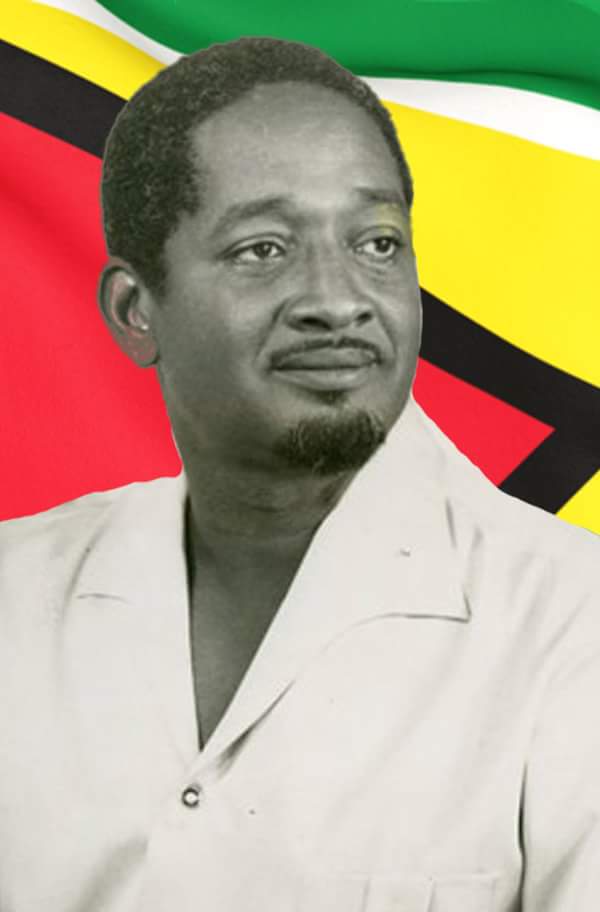 Burnham's ill-fated quest for self-sufficiency in the late 1970's precipitated gruesome conditions: children
went to school hungry, an underground (smuggling) economy flourished and a mass exodus of skilled and
wealthy people, coupled with the flight of money to off shore banks.
Under the dictators' rule the Public Service disintegrated; corruption replaced competence –a legacy that
lives on to this day. Nationalization of sugar and bauxite in the late 70's, supported by Jagan's ill-fated
Marxist ideology, was the stepping stone for destruction.
Excessive dipping into the country's coffers became Burnham's self-therapy for a failed state. His five
vice-presidents silently acquiesced –the highest academic achievement of one of them being 1 subject
GCE! The most bizarre incident was at the Melbourne, Australia, and Commonwealth Heads of
Government Conference in 1976. Some 52 PNC honchos attended as Burnham 'hired' the National Airline
for two weeks!! Obviously Hinds can pinpoint and condemn the sins—yet refuses to condemn the sinner!
Qualifications for University of Guyana entry were lowered and National Service incorporated into the
curriculum. As a result I never graduated from that institution; as is the case with thousands of others.
What was complex about Burnham? Many persons were dispossessed of their properties during the early
Burnham era. Among the properties lost by the Kissoon family was Takuba Lodge, a building that is today
worth perhaps close to US$5M. Burnham paid one million Guyana dollars for it. Hope estate was also
usurped from the same family.
How can anyone evaluate Burnham as a visionary and an anti-colonial fighter when his dominant
psyche was that of the black equivalent of white Massa? There is scarcely any project that placed
Guyana as a unique third world country that is now still standing, except the statue of Cuffy. How can a
visionary tell people to use Coal Pots for cooking as it represents 'appropriate technology' .The stupid
concoction is nothing but a fire hazard! But Burnham's undeniable pursuit was power as he skillfully
deployed the 'Divide and Rule' strategy of the very Colonial masters he 'fought'. His horse riding
escapades were psychological ploys shoved into the psyche of Guyanese that 'The man on the horse run
things'. Massa days had not changed…only the color of Massa had changed!
The Kabaka skillfully played a grand political game of selling Jagan's Communism to the West and
Jagan's coolness to his fellow CARICOM black leaders. He condemned Apartheid in South Africa yet
practiced the same in his own backyard. At home lines formed at Knowledge Sharing Institute (KSI)
outlets. What a name for a place to buy cooking oil and soap!
Today, Guyana is better off without the reflections on the ashes of Jagan and the half-rotten corpse (which
presently lies in a mausoleum in the Botanic Gardens in Georgetown).
In the 40 countries I have traveled to scarcely anyone ever heard of — much less knows — this tiny
South American rice republic. Once, at the Piarco Airport (during a flight delay) I struck up a conversation
with a university professor from South Africa; and after I indicated mu country of birth as Guyana she
pondered for a while and asked me where such country located is. She was totally lost but when I
mentioned 914 suicides in Jonestown in 1977 then she clicked. What a way for your country to be
recognized!
It is precisely the policies of Burnham that drove people like myself, and Hinds, out of Guyana. As for
his legacy, 2 salient unchangeable facts stands out: Guyana has the same population today, 55 years
later, as it had in the era of Burnham. The other unchangeable fact is both myself and Hinds have grave
concern for Guyana….the land of our birth. Next time I visit Guyana I will place a bag of Tennis Roll,
instead of a roti, around the neck of Forbes Burnham.
Leyland Chitlall Roopnaraine
New York