SCARBOROUGH Tobago, February 07, 2023: With more and more couples looking for romantic, off-the-beaten track destinations to celebrate their special occasion, the Tobago Tourism Agency Limited (TTAL) sought to capitalize on the increasing global demand for destination weddings by partnering with Canada's Bridal Show to showcase the warmth and romance of destination Tobago.

Hosted in downtown Toronto from January 13 to 15, this event was an optimal setting to showcase Tobago to Canadian couples currently considering their options. Over its 37 years, Canada's Bridal Show has grown to become "the largest and most prestigious Show for Wedding Industry Exhibitors", with the 2023 showcase welcoming more than 10,000 visitors.

Tobago's presence – marked by the destination's signature pink booth – garnered much attention at the show, with a constant flow of visitors over the three-day period. TTAL's representatives at the event, PR agency Siren Communications, engaged with brides, their families, and their planners, helping to educate them on the island and what a destination wedding or honeymoon would be like in Tobago's paradise. The representatives also shared information on seasonal events on the island, as well as airlift and accommodation options, distributing Tobago's official Weddings & Honeymoon Guides and destination fact sheets to help persuade decision making.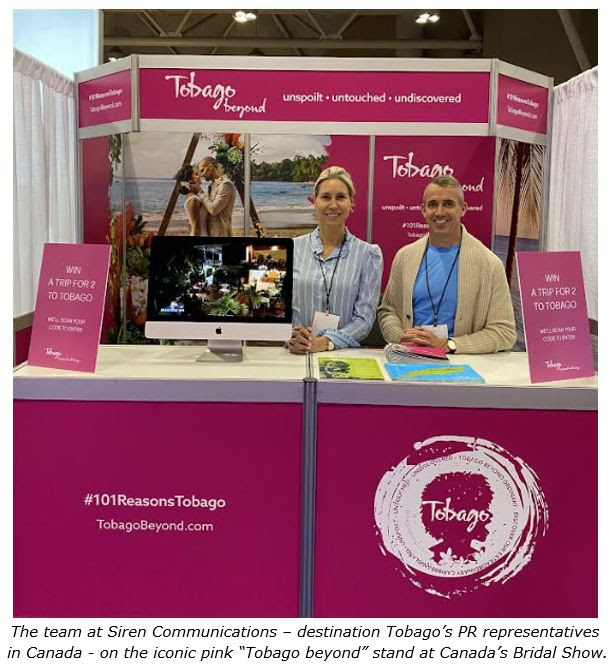 "For Canadian couples the trend of destination weddings continues to soar," said Ann Layton, founder of Siren Communications. "That's why we partnered with Canada's Bridal Show, the biggest and best attended wedding tradeshow in the country. On a cold January weekend in Toronto, we introduced the remarkable warmth and hospitality of Tobago to thousands of attendees. We welcomed brides from all across the Greater Toronto Area to introduce them to the beauty of Tobago. So many brides-to-be were thrilled to discover how Tobago could play host to the most romantic time of their life."
Tobago and Canada's love affair 
The romance, weddings, and honeymoon market has been identified by TTAL as one of the four main core attractors to the island, and capitalizing on this lucrative niche market continues to be a key factor in increasing Tobago's market share in Canada. The island's warm weather, unspoilt landscapes, and undiscovered romantic hideaways makes it a great option for Canadian couples looking for an experience beyond the ordinary.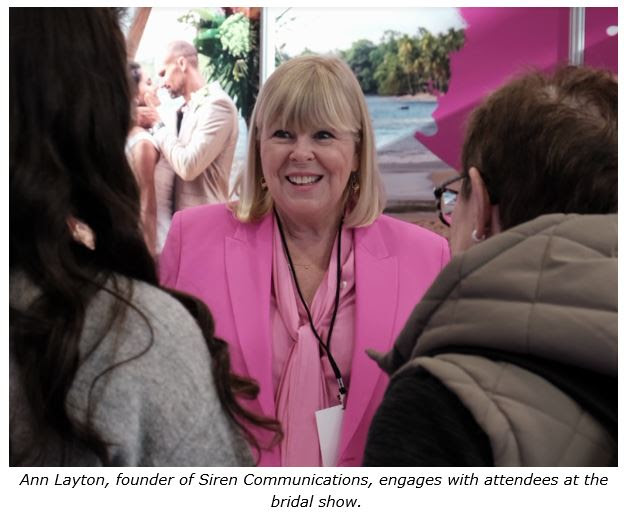 In 2020, the Tobago Tourism Agency partnered with Canada's most-read wedding magazine Weddingbells to showcase the island as the ideal destination for Caribbean weddings and honeymoons through an integrated campaign. The campaign's stunning visuals created exclusively for TTAL by Weddingbells once again made waves among romance-minded Canadians, as it was integrated into Tobago's booth at the 2023 Bridal Show, serving as a helpful tool to bring the diversity of Tobago to life.

As one of the first major overseas activations in Canada post-COVID, Canada's Bridal Show presented a great opportunity to have rich discussions with couples, wedding planners, fellow exhibitors and travel-trade partners, and showcase that the island is open for business and ready to welcome Canadians and their bridal parties. Overall, the activation was a success with a new database for leads developed, promotional video clips viewed, and interest ignited by future visitors to Tobago.
Media Enquiries 

Tobago Tourism Agency Limited 
Telephone: 1 (868) 612-8825 ext. 2010 
Email: communications@tobagotourism.org