A report written by economist Dr. Scott B McDonald analyzing a 2019 survey conducted by Transparency International found that corruption is a major problem in Guyana and Trinidad and Tobago, among other states. The author interpreted the data and quoted from the report. The coalition APNU+AFC was in office at the time.
The author says that "the issue of corruption is an ongoing point of discussion in several countries and a topic that tends to arise during elections" he adds: "This was amply evident during 2020 voting in the Dominican Republic, Guyana, Suriname, and Trinidad and Tobago".
He stated that citizens were concerned "over governance, which impact their day-to-day lives in the form of quality of public services, accountability of government finances, and law and order".
McDonald concluded after examining the 2019 survey of corruption in Latin America and the Caribbean, the followings main findings: (i) corruption is on the rise; (ii) governments are not doing enough; (iii) presidents, prime ministers and parliamentarians are seen as the most corrupt; (iv) bribery is a regular occurrence for many; (v) sexual extortion is a major issue; (vi) political integrity is lacking, especially around elections.
He found that sizable percentage of people view corruption as a big problem.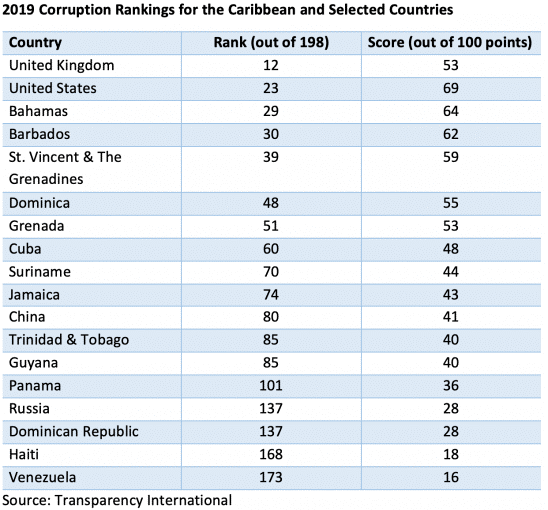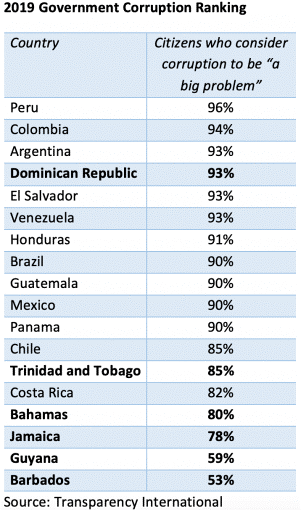 The population of the region "feel being held back by an ineffective and corrupt state" that governs for a long period as in Cuba and Guyana. McDonald writes: "Many Cubans have not used their ambition, talent, and entrepreneurial drive at home, but have left and contributed to the economies of the United States, Spain, or other parts of Latin America and the Caribbean. The same could be said about Guyana during the long years of Forbes Burnham (1964-1985), which incentivized many Guyanese to leave for North America, the United Kingdom, and other parts of the Caribbean".
Looking ahead, good governance and tackling corruption are important to the Caribbean. This comes in many shapes and forms, but for governments in the region to deliver the package of goods their citizens expect—law and order, functioning public utilities, and working healthcare and educational systems—there has to be a commitment to maintaining systems that promote the public good. This means not just having laws on the books, but enforcing them. At the same time, Caribbean governments have to be aware that as citizens hold them to a higher standard, they are also being held to international standards. Accountability to both domestic and international constituencies may add to an already long list of pressures, but the results are more inclusive and equitable societies—a goal to which all citizens can aspire. American sociologist E. Digby Baltzell stated the importance of accountability best when he said, "The downfall of every civilization comes, not from the moral corruption of the common man, but rather from the moral complacency of common man in high places."
Scott B. MacDonald is the chief economist at Smith's Research & Gradings. Prior to that, he was the head of research at MC Asset Management LLC, a wholly owned subsidiary of Mitsubishi Corporation (2012–2015); head of credit and economic research at Aladdin Capital Management in Stamford, Connecticut (2000–2011); chief economist for KWR International (1999–2000); director of sovereign research at Donaldson, Lufkin & Jenrette (1994–1998); sovereign risk analyst and director at Credit Suisse (1992–1994); and an international economic adviser in the Office of the Comptroller of the Currency in Washington, D.C. (1988–1992).