Brahma Vidya Peetham International celebrated "Dev Diwali" on Sunday 29th November 2020 in a grand fashion at its ashram in Caratal Village, Gasparillo, Trinidad and Tobago, West Indies.
Dev Diwali is a Hindu festival observed in the Hindu month of Kartik of the Hindu calendar. It is celebrated by the Gods in honor of Maha Lakshmi with worship also to Lord Shiva and Mother Ganga. It falls on Kartik Purnima (full moon day), 15 days after the celebration of Diwali in November or December in the Gregorian calendar every year. It is known as the Diwali of the Gods.
Devotees celebrate this Dev Diwali by chanting the Holy Vedic mantra, lighting deyas, and honoring Ganga Mata.
The festivity of "Dev Diwali" is popular in places such as Uttar Pradesh, Bihar, Gujarat, Maharashtra, and Nepal. Out of India, places such as Java Island of Indonesia, the Republic of Trinidad and Tobago, Suriname, Guyana, Fiji, Mauritius, Holland, Barbados, America, and the UK also celebrate this festival in every Indian community. In Trinidad, many Hindu organizations celebrate Dev Diwali by having a program and performing puja.
Devotees join Brahma Vidya Peetham International each year in celebrating this magnanimous occasion at its ashram. This was the third year the organization celebrated Dev Diwali. Sadhvi Anandamaiyee Giri, General Secretary of Brahma Vidya Peetham, held a small program on Sunday in celebration of this festival. Fifteen devotees attended the festivity. Pundit Vigyan Dharamdass performed puja of Lord Shiva, Lord Vishnu, and Maha Lakshmi.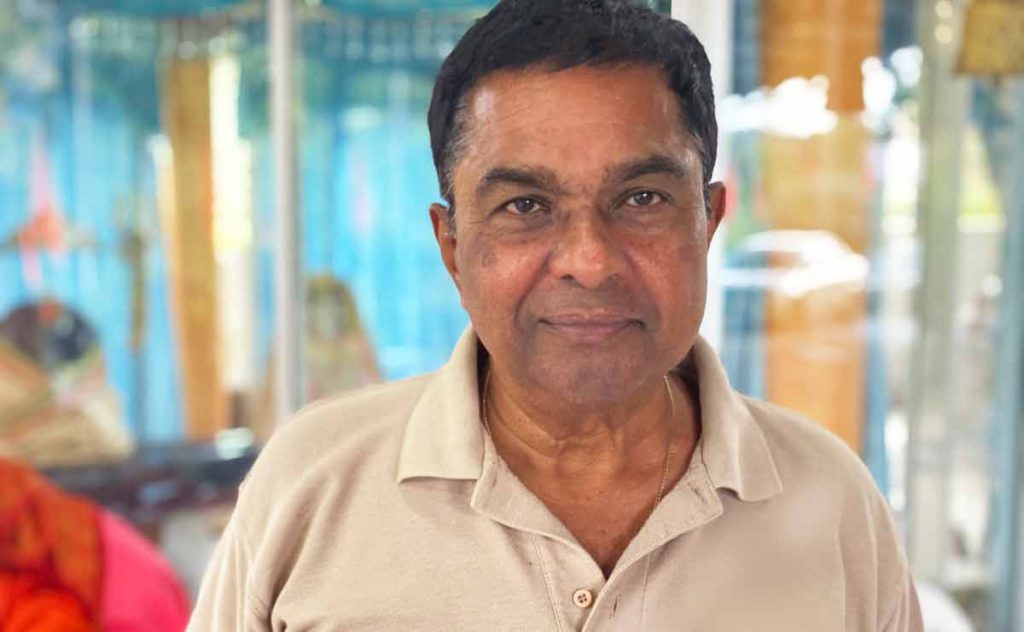 Dev Diwali is also a celebration related to God and Ganga Mata. Swami Brahma Swarupananda (Swami Brahmadeo) briefly spoke about the Ganga Dhaara in Trinidad. Swamiji joined this festivity with Shri Raviji Maharaj at Blanchisseuse and attended the Ganga celebration at Aripo with Swami Ganapathi Sachchidananda, whose main ashram in Chaguanas has the largest Hanuman statue outside of India standing at 85-feet in height.
Swamiji said that in 1996, Ashok Singhal joined the Ganga festival in Trinidad and Tobago with many Ganga devotees of this country.
Shri Ashok Singhal Ji, a great leader of the Ayodhya Ram Mandir Movement visited Trinidad along with great educationist of Guyana, Swami Akashrananda, and Ravi Maharaj.
On June 17th, 1996 the group visited Ganga Dhaara. Ashok Singhal Ji performed puja and placed a time capsule, within a copper kalash the history of Ganga Dhaara in Trinidad. During that time, at that Holy place, Swami Brahma Swarupananda and Sadhvi Anandamiyee Ji along with some devotees took water from the river and offered a lighted deya to Ganga Mata. At night, 1,000 deyas we offered to Maha Lakshmi. Bhajans, kirtan, and Maha Lakshmi aarti, were performed and celebrated with love and devotion.
During the festivity on Sunday, Swamiji spoke on the entire history of the "Ganga River" in India and "Ganga Dhaara", and "Aripo Ganga" in Trinidad. He said there are many places where Ganga Mata is worshipped in many different countries. There is "Ganga Rani" in South Africa, "Ganga Teeratha" in Suriname, "Ganga Talab" in Mauritius, "Ganga Ghat" in Fiji, "Ganga Dhaara" in Trinidad, and "Deo Ganga" in Himalayas (Uttarkhand), are all places of pilgrimage that represents the glory of Ganga.
At the "Ganga Mahotsv" Dev Diwali celebrations in Kashi Uttar Pradesh, India, Prime Minister Shri Narendra Modi celebrated with Ganga devotees where one hundred thousand deyas were lighted. This spectacular celebration was broadcasted worldwide where cultural programs were held at night in every state in India with many dance performances, singing, live theatre drama and chanting of Holy mantras.
The message of the Ganga festival is about the protection of the environment as the abuse of it is a contributing factor to Global Warming. Swamiji said that people must become aware of nature from Earth to Ozone in space, and to keep the rivers and oceans clean by removing pollution from the water.
In mytho-history, Dev Diwali is known as tripurotsav, as it commemorates the killing of the fierce demon Tripurasur by Bhagwan Shankar. This festival coincides with Guru Nanak birthday (the first guru of the Sikh faith) and Jainism also celebrates this festival in the entire world.
Brahma Vidya Peetham was happy to organize this great historical, spiritual, and social festival in Trinidad and Tobago, West Indies. This year's Dev Diwali was celebrated in the Republic of Dominica, St Lucia, and Barbados of the Caribbean region.
Brahma Vidya Peetham International
Sadhvi Anandamaiyee Giri
General Secretary
1-868-687-5774
Caratal, Tortuga Road, Gasparillo,
Trinidad and Tobago, West Indies