Diwali is very important in the lives of Indo-Caribbean Hindus in the Caribbean and North America and the diaspora (UK, France, Holland, etc.) in general. In communities across the diaspora, Indo-Caribbean Hindus eagerly anticipate the festival. They are very busy making preparation to welcome their Goddess Lakshmi into their home along with invited guests or others who may drop in as is the custom in the Caribbean. Going back for decades since the late 1960s, Diwali has been celebrated in the diaspora among Caribbean Hindus. Initially from the 1960s thru the 1980s, the celebration was small. But since the 1990s, it has been magnificently celebrated in New York among Indo-Caribbean Hindus and in areas where they predominate. Diwali has been transplanted from NY to other cities especially in Florida, Minnesota, New Jersey, Illinois, and elsewhere. In NY, deyas were lit around the homes and yard and on steps to the houses supplemented with modern multi-shaped electronic lighting.
The festival was celebrated with gusto last Saturday in Little Guyana and Little Trinidad in the heart of Liberty Avenue. Hindu festivals or celebrations are attracting special importance. The Diwali festival is comparable to Thanksgiving which is celebrated by all Americans in two weeks or the Christmas or Jewish Hanukkah season which are a month behind. But Hindus do not feel out of place about lighting flickering lights (associated with Christmas) outside of their homes.
Diwali will be at fever pitch this weekend in the diaspora as the large overseas Caribbean Hindu community gears up for the magnificent festival of colorful lights. Hindus are settled in multiple locales where they have established ethnic enclaves or neighborhoods. Diwali observances among Guyanese and other Indo-Caribbean Hindus were or are being held in various communities in New York, Schenectady, Jersey City, Orlando, Ft. Lauderdale, Chicago, Boston, Toronto and other cities in Ontario, and across North America. Diwali is also celebrated in the UK and in Holland and France where tens of thousands of Indo Surinamese and French Guianese, Guadeloupians, and Martiniquians are settled. More and more Americans and Canadians as well as people in UK, Holland and France are learning about and looking forward for Diwali celebrations; they get invitations for receptions and dinners and to take in the beautiful lights and decorations associated with Diwali. They also learn about its meaning and significance and express appreciation for cultures other than their own. Indo-Caribbeans host dinners and invite their American neighbors. Distributing mithai (sweets) as they do in Guyana, Surinam, and Trinidad to others remains a tradition.
The Hindu festival is taught in public schools in New York City and in several other school districts where Indians are settled; several educators including supervisors dress in traditional Indian outfits for Diwali and Holi as well as for Indian Arrival celebrations. This is quite unlike in Guyana where students are chastised or victimized for celebrating their religious (Hindu) holidays. American students have almost absolute freedom to partake in activities in schools as long as there is no state sponsorship or promotion. Schools welcome religious and cultural celebrations that don't disrupt learning, and students are free to dress in religious and cultural clothing (including having mehndi, tikka, and coloring of the body) unlike in many schools in Guyana that penalize students. Indian students also organize cultural and other festivities in schools.
Aside from educational activities that promote Indian (Guyanese) culture, commercially, mainstream American (and ethnic Indian) stores offer a multitude of Diwali related items. And as another sign of the growing influence of the Hindu presence (and influence) in USA and Canada, politicians host Diwali celebrations prior to and after Diwali. Politicians are wooing Hindu voters. Presidential elections are held next year and Canada could hold early elections next year. Both Donald Trump and Joe Biden are wooing Hindu voters and money as are Conservatives, Liberals and progressive Democrats in Canada. Hindus contributed tens of millions of dollars for each Presidential election going back to 2000. Their endorsement and funding helped Trump to win in 2016; they also supported Hillary Clinton campaign and her husband in 1992 and 1996. And they have been in the midst of election campaigning in other electoral campaigns (Congress, statewide and local elections).
Public celebrations of Diwali were held all over the USA in areas where Hindus have a large presence. Politicians sponsored several celebrations. The Indo-Caribbean Hindu community also held its annual celebration on Liberty Avenue in Little Guyana, Richmond Hill, last Saturday (Nov 4) from 11:00 AM till 8 PM; gifts and mementos in additional to snacks were distributed to the thousands in attendance. Thousands tend to patronize the annual Liberty Avenue celebration. A motorcade usually organized by Ms. Lakshmee Singh over the last couple decades has been replaced with a still stage concert with performances. At the celebration, there was singing, classical dancing, a live orchestra, lighting of deyas, etc.) from many local artistes. The annual Diwali motorcade, similar to the ones in Guyana, has not been held since Covid impacted the celebrations in 2020. The use of electric lights add to the beauty of the Diwali festival. There was hardly any space for free movement amidst the teeming crowd last Saturday on Liberty Ave at the corner of Lefferts near the Little Guyana sign.
Diwali was also observed at Queens Borough Hall last Monday by the President with the Hindu community invited for the cultural entertainment and reception. Several politicians also hosted Diwali celebrations. City Hall held its celebrations last week. The Mayor, Eric Adams, hosts Diwali festivities coming Monday at his official residence. The Mayor attended several Indo-Caribbean cultural celebrations (Hindu and Muslim) in Richmond Hill.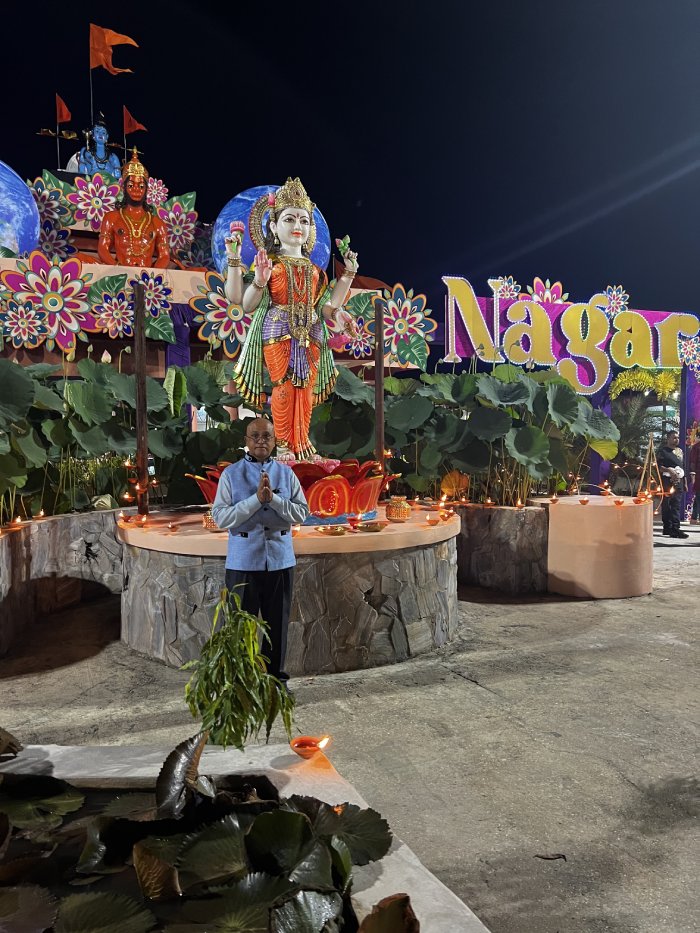 The media is also promoting the festival. Many of the ethnic radio and television programs have been airing Diwali related songs and mainstream as well as community media have carried articles about Diwali. The ethnic weekly and monthly newspapers also carried Diwali greetings from many businesses.
Hindus are gearing up for this weekend's Diwali festivities where it will be celebrated with gusto as was usually the case in Hindu neighborhoods across New York going back for decades – homes are beautifully decorated and brilliantly lit up in the evenings. Stores are stocked with Diwali related supplies – coconut oil, ghee, wick, deyas, electronic lights, and other paraphernalia. Sidewalks in front of stores on Liberty Avenue are also selling products. Stores on Liberty Ave and Hindu homes were decorated very colorfully with party favours and Hindu emblems. Appropriate Diwali songs (bhajans) blared over loud speakers from several stores. Sweet smelling incense wafts in the air. Some stores also doled out gifts for Diwali. Thousands of patrons thronged stores (South Asian Indian and Indo-Caribbean) from all over the Northeast USA for shopping for materials required to welcome Mother Lakshmi, the Goddess of Light, in their homes this Saturday and Sunday. Hindu use Diwali to give thanks and pray for peace and prosperity for themselves, family, community, friends, relatives and the nation where they are settled.
The celebration is for five days starting on Friday and ending on Tuesday. Sunday or the middle day is the peak. Mandirs plan cultural variety concerts as part of the celebrations this Sunday evening – lighting of deyas and feasts culminating the peak of the celebration.
Although the festival does not have official recognition of the status of a public holiday as in Guyana, it is recognized by the Department of Education and students were excused from attendance in school in previous years. There was also the suspension of parking rules that is accorded to the festival. From 2023, Diwali has been approved as a city school holiday by NYS and NYC legislatures. This year, the festival falls on a Sunday when schools are closed. Next year, schools will be closed if it is on a weekday and parking will also be suspended. Several Indo-Caribbeans, including those associated with the struggle for free and fair elections in Guyana, such as this writer, campaigned and lobbied for equal recognition for Diwali as granted to other ethnic groups for their ethnic festivals.