Assembly woman Jenifer Rajkumar, the first South Asian-American woman elected to a state office, introduced legislation in the lower chamber of New York State legislature to make Diwali a public schools holiday in New York State in selected districts. Rajkumar sponsored the bill with support from New York City Mayor Eric Adams. In a release, Rajkumar said she has support from more than 30 state lawmakers.
Diwali, the Hindu Festival of Lights, is celebrated by Hindus, Sikhs, Punjabis, Jains, Buddhists, and other faiths.  There are hundreds of thousands of followers of those faiths in New York State; their children attend public schools. School attendance deprive them of observing their holidays unless they absent themselves from school. Assemblymembers from both the Senate and Assembly say when such holidays fall on school days, many teachers and parents are required to choose a school absence or not celebrate a cultural or religious holiday so important to them. A school holiday would accommodate parents, students, and teachers.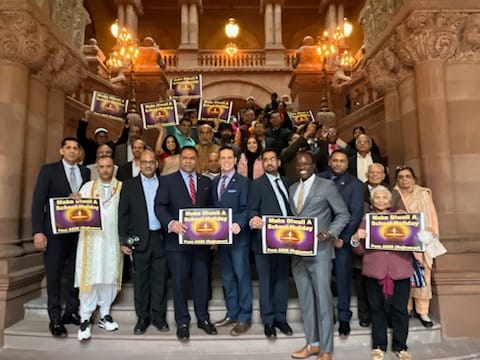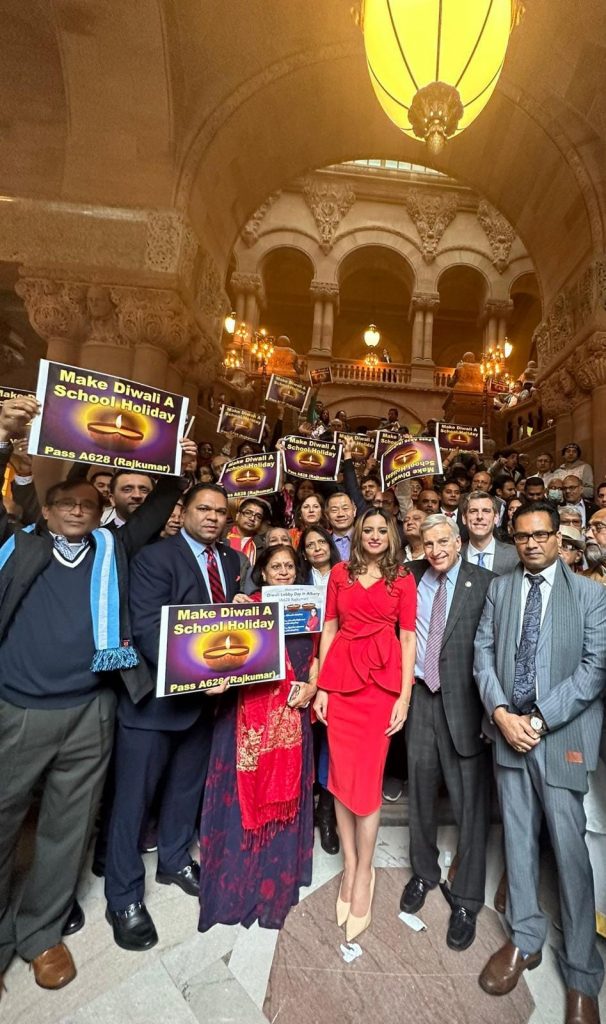 Rajkumar was joined by hundreds of supporters of Diwali as a School Holiday, including members of the State Senate and Assembly. They rallied in front of the Capitol building on Tuesday for the bill that would designate Diwali as a holiday in New York City public schools and a few other districts that have a large presence of Diwali observants.
Diwali is one of the most widely celebrated festivals and a national holiday in India and other South Asian countries and in Guyana, Surinam, Trinidad and Tobago, Fiji, Mauritius, Malaysia, Singapore, among others. The festival takes place in late October or early November as set by the Indian lunar calendar.
She told the rally: "The time has come to recognize over 200,000 Hindu, Sikh, Jain and Buddhist New Yorkers. To these communities, New York state says 'we see you.' After two decades of advocacy by the South Asian diaspora in New York City, our time has come".
Quoting from the great African American Congressman Shirley Chisholm, Rajkumar quipped, 'If they don't give you a seat at the table, bring a folding chair. She remarked: "I have brought this bill to the table to make sure all of our New American communities have a seat at the table."
According to Assemblymembers, this recognition is already in support of other ethnic and religious groups in New York, which is home to many residents of South-Asian descent. Jews, Catholics, Anglicans, and Muslims have school holidays for their important festivals.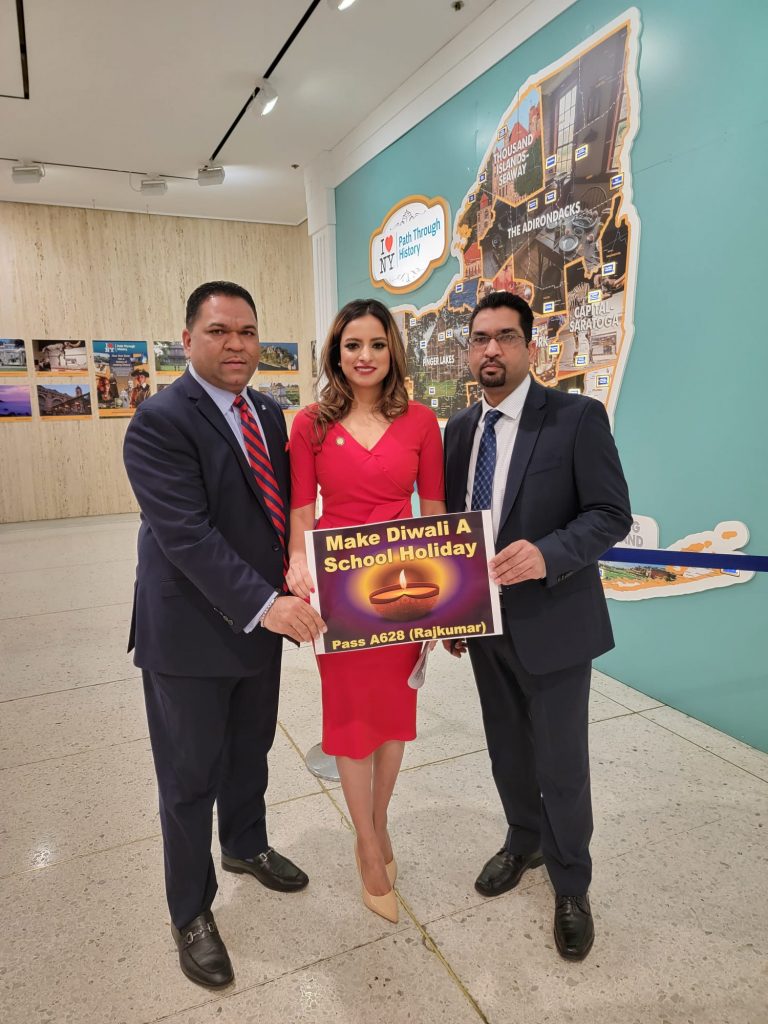 Granting such a school holiday, Assemblymembers agree, not only demonstrates the importance in recognition of New York's cultural diversity but the significance of its South-Asian community. If the bill is approved, the new education law will require that the fifteenth day of the Hindu lunisolar month will be an observed holiday for all New York state qualifying school districts.