The Indian High Commission in Guyana, at its Republic Day celebrations at the Pegasus Convention Center on January 26 evening, honored Dr Vishnu Bisram and four other prominent Guyanese with a plack for contributions to culture and or academia. They also received gifts. Also honored were outstanding students of 2022 CXC exams. President Irfaan Ali joined High Commissioner Dr KJ Srinivasa in presenting the honors. Present at the ceremonies were members of the diplomatic corps, Vice President Jagdeo, and Members of the cabinet.

Dr. Vishnu Bisram was honored for academics and his role in media and social welfare. Dr. Bisram is well known in Guyana, Trinidad, several other Caribbean societies, and among academics and political figures in India, Fiji, and elsewhere. He is a well-known pollster in Caribbean nations. He is a holder of multiple accredited doctorates, a rarity among Guyanese and Caribbean nationals. He is a well-respected and admired Indophile. Since a youngster, Dr. Bisram has been serving the Indian Diaspora in Guyana, America, Trinidad, India and other Indian diasporic countries, volunteering his time to uplift lives. He works very closely with the Guyanese and Trinidadian diaspora in America. He has traveled extensively researching and writing about the Indian diaspora. He founded Indian Community Media in America and has served as a columnist for several publications in the Caribbean and North America, penning thousands of articles on Guyana, India, the Caribbean, the Indian Diaspora, Guyanese diaspora, and Caribbean diaspora. He also founded several Indian organizations since a student in USA and India. He co-organized the Fourth Conference of Indians in the Diaspora to commemorate the 150thAnniversary of the presence of Indians in Guyana in 1988 at Columbia University. He also was an organizer of the First Global Convention of People of Indian Origin in 1989 in Manhattan that led to the launching of GOPIO. Dr. He worked as an educator for some forty years as well as a volunteer tutor winning multiple acclamation in his profession. Dr. Bisram organized several conferences on the Indian Diaspora including in India, Guyana, Trinidad, America, Fiji. He presented papers at international seminars and conferences. Bisram received many community honours and accolades for his service to the Diaspora and for outstanding leadership as a student in college.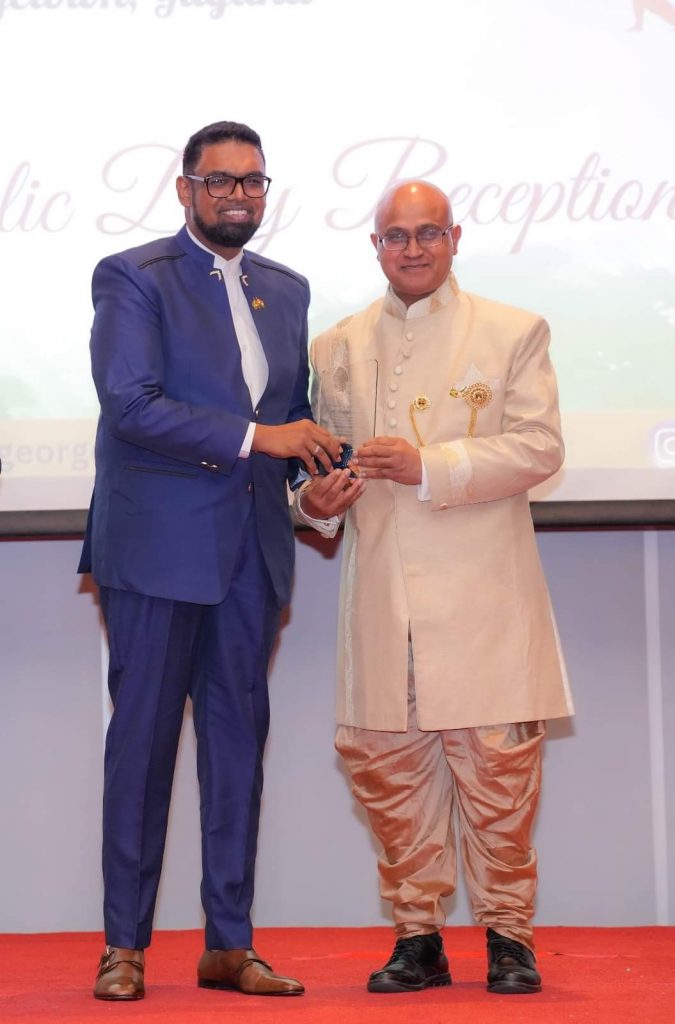 Swami Aksharananda had to leave early. He studied at Benaras Hindu University for BA and MA and received his PhD in Religion from the University of Wisconsin – Madison in USA. He is the principal founder and Principal of the prestigious Saraswati Vidya Niketan high school in Guyana. Swami Aksharananda's contribution for the betterment of Indian Diaspora is Guyana is widely known, acknowledged, and recognized. Being a member and co-founder of Hindu Swayamsevak Sangh, Guyana, he has been very active in promoting social, spiritual, and cultural awareness among Guyanese. Saraswati Vidya Niketan, the school founded by Swami-ji, has been instrumental in providing quality education competing with the best in the country and has been praised by succeeding governments. The school has also been lauded for providing secondary education to the underprivileged and lower economic strata of Guyanese society.
Prof. Tota Mangar is a historian par excellence and a well-acknowledged authority on Indo-Guyanese history. He has published many articles on indentureship. including "An experiment in East Indian Land Settlement Scheme in Transition: 175 Years of East Indian Arrival in Guyana', which is a classic piece that has been praised by researchers on Indian history. He organized several Indian diaspora conferences and arrival day celebrations and presented papers at same as well as at international conferences. Having served as Senior Lecturer, head of History department, and as Acting and Deputy Vice Chancellor of University of Guyana, he is recipient of many university and national awards of Guyana.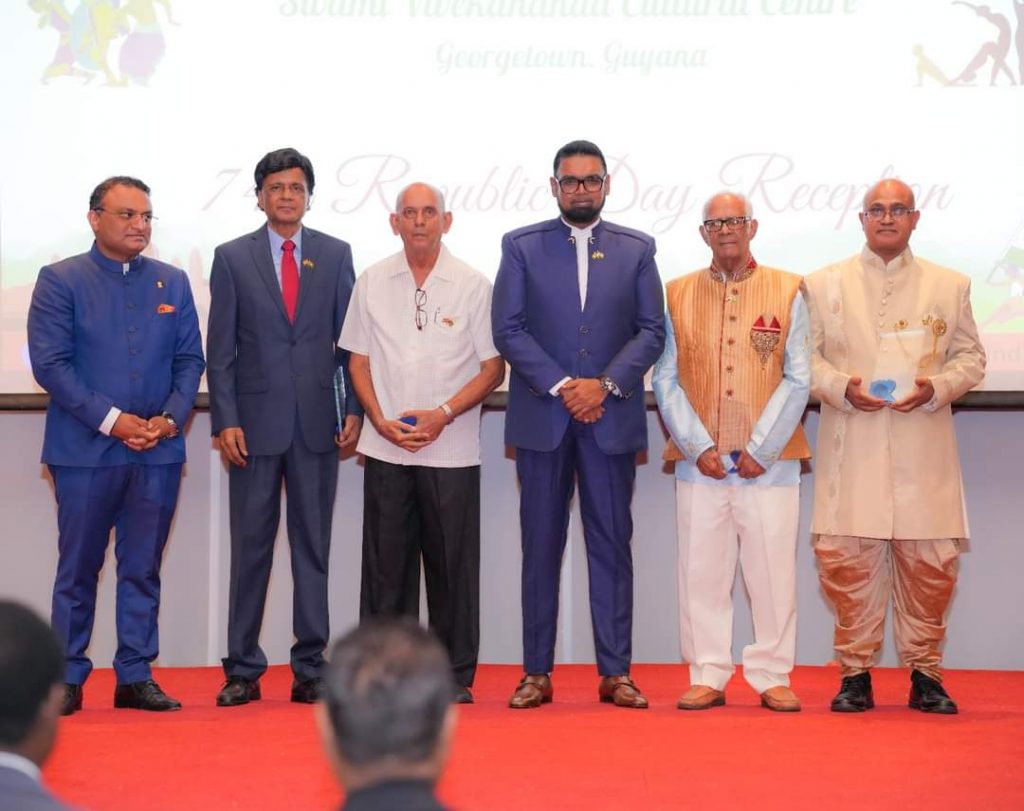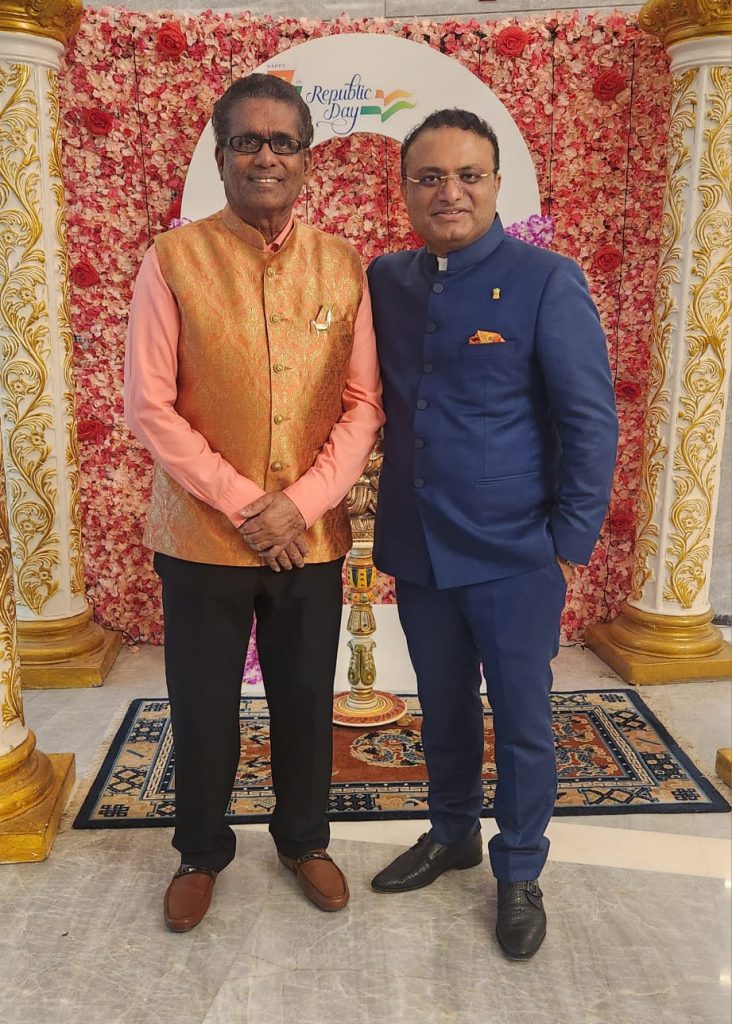 Mr. Ravindra Dev has been very active in social, cultural, and political life of Guyana since the early 1990s when he re-migrated from the USA where he was a Vice President of a major multi-national company. He presented papers at international conferences on the Indian diaspora including the 150th Anniversary of Arrival of Indians in Guyana in August 1988 held at Columbia University. He also helped to organize the First Global Convention of Indians in New York in July 1989 where he also presented a paper on governance in Guyana. The convention ked to the formation of "Global Organization of People of Indian Origin (GOPIO). He is presently Sanghachalak of 'Hindus for Selfless Services (HSS)', an organization dedicated to welfare of the people of Guyana and propagation of Indian culture. Dev is a consultant to the Guyana Times media group.
Mr. P. P. Shivraj is a well-known promoter of Indian culture since his youth. He was a supporter of activities of Gandhi Youth Organization during the 1960s and 1970s. And he used to teach Hindi at Kendra at Prashad Nagar in the 197os and 1980s. He joined Yoga and Sanskrit classes in Indian Cultural Centre, Georgetown encouraging others to do same. He wrote and passed all Sanskrit examinations with distinction. In 2001. he started teaching Sanskrit at the Indian Cultural Centre on an honorary basis. He also taught Sanskrit at the Guyana Pandits Council, Guyana Hindu Dharmic Sabha, and Radha Krishna Foundation in Berbice. He still teaches Sanskrit and Hindi at his home. He also assists the Indian Cultural Centre in holding Sanskrit examinations for the students in Guyana who are awarded Certificates in Sanskrit from well-known institutes in India. Mr. Shivraj was trained in Accounting and worked as an Auditor until his retirement. Since his retirement over a decade ago, he has volunteered his service on a full-time basis. He has been held in high esteem by members of the profession and by friends and colleagues, receiving recognition for his professional work and commitment to volunteerism.

by Parmanand Sukhu