Namaste to All,
The following poem is my submission to the Hindu Students' Council / UWI Indian Cultural Society for their Indian Arrival Day celebration. The theme for these 177th celebrations was 'Then vs. Now: Evolution of East Indian Heritage'. Please enjoy.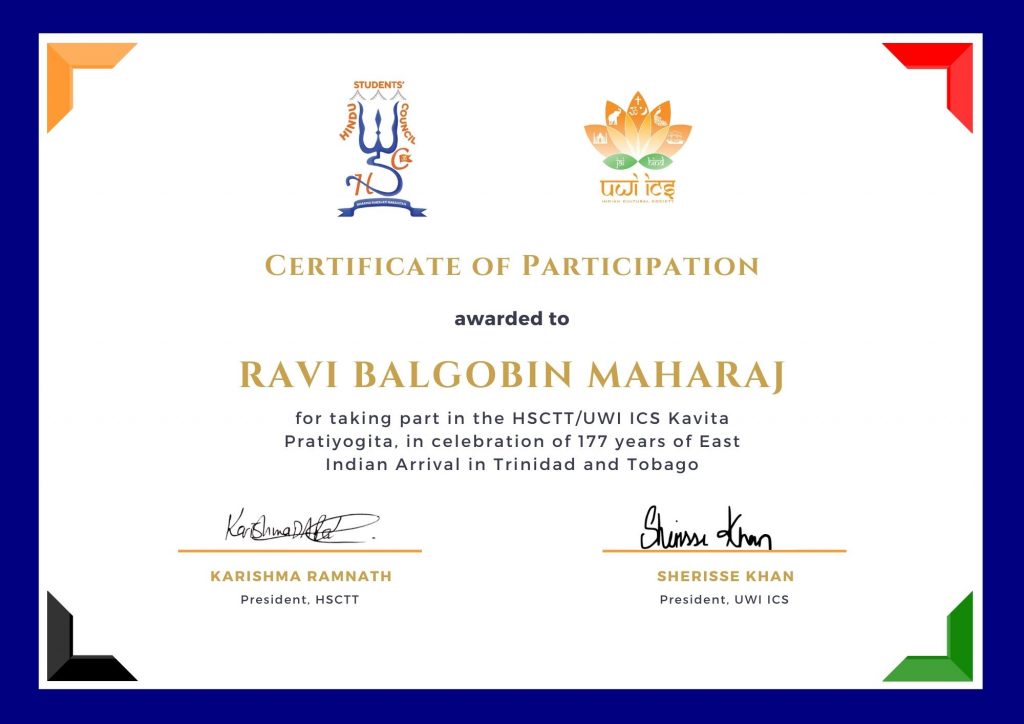 By Ravi Balgobin Maharaj
East & West Indian
The sun rises in the East, and travels to the West,
And the journey it makes, is turbulent at best,
It touches the oceans, mountains and valleys,
It touches my cheek, as I crouch down in the galley,
The sunlight guides me, towards a new land,
Leaving the Ganges behind, for beaches with sand,
I am promised work, to be paid fair wages,
I was encouraged to go, by politicians and sages,
I carry with me, all that I hold dear,
I hold on to my culture, as I bow down in prayer,
It's a trip filled with danger, many are dead,
While the rest all fear, what lies ahead,
I arrive at the port, and I'm given a new name,
The doctor deems me fit, and tells my master the same,
They put me to work, from sun-up to sun-down,
And in the fields I turn, from pale to brown,
They pay me less money, and talk about quota,
Yet they laugh at me, for eating in taria and lota,
They call me a savage, and treat me like animal,
They try to convert me, they think I'm a cannibal,
They compare me to the ones, they once held as slaves,
They claim to like me more, because I'm better behaved,
But I keep to myself, keep my heritage intact,
Because I see the way, that the whites changed the blacks,
Mother India still lives, deep in my heart,
Though we're a thousand, miles apart,
My connection to my culture, must always remain,
Passed down to generations, when they leave the cane,
I work and I save, to give my children education,
So that they might be able, to move away from the plantation,
I sacrifice my life, so that theirs will be great,
But more importantly, so they don't share in my fate,
I do what I have to, because I must,
In the hands of Bhagwan, I place my trust,
That one glorious day, my descendants will inherit,
The fruits of my labor, that I gave my blood, sweat and spirit.
I wake up in the morning, equal parts East and West Indian,
Though how I ended up here, is being lost to oblivion,
Much time has passed, since the East Indian migration,
Much knowledge has been lost, due to decades of duration,
I now know little, of the misery and woes,
Of the life that indentured workers, were exposed,
I go to school, my neighbor goes to market,
And the history of our families, is swept under the carpet,
We are driven to success, the same as our parents,
We focus on our duties, without much interference,
Every Sunday, we all go to pray,
Our devotion to religion, has not gone astray,
Despite being given a sermon, without explanation,
And reciting our bhajans, without a translation,
My entire life is beholden, to an old tradition,
That I can't relate to, without proper definition,
My identity is rooted, in an era bygone,
Shaped by experiences lived, decades before I was born,
I eat Indian food, and drink Indian drink,
But I hide it from friends, they think it is stink,
Besides roti and doubles, pholourie and kurma,
The rest of our food, it still taboo by stigma,
Chutney is accepted, when paired with some soca,
But not many of my friends, will eat dhal, rice and choka,
Any Indian music I listen to, must be in English,
Or according to others, it all sounds like gibberish,
Kurta and saree is used for only, special occasions,
Otherwise it makes us look, like some real coolie Indians,
And while a large audience might watch Indian soap-operas,
They wouldn't show up, to an Indian movie in cinemas,
Because Indian culture, is for some a convenience,
Used as a cover, for when questioned on intolerance,
Everyone has a friend, named Kumar, Shanti or Beharry,
Who they only remember, when they're feeling for some curry,
So I question my life, and I question my culture,
Because I question, how much Indian lives really matter,
Our modern society was built, on the backs of indentured workers,
But Indians have been kept in their place, by wealthy power brokers,
So I try to keep quiet, don't make any trouble,
With the hopes that one day, someone will burst the bubble,
And equality will be something, we all can enjoy,
And I can consider myself, a proud East Indian boy.
Happy Indian Arrival Day to One and All!
Best regards,
Ravi Balgobin Maharaj
THe Republic of Trinidad and Tobago
Mob: +1 868 476-6181
Email: ravibmaharaj@gmail.com
Skype: ravibmaharaj